What's in the Cards for Halliburton (HAL) in Q4 Earnings?
Halliburton Company HAL is set to release fourth-quarter 2020 results on Tuesday Jan 19, before the opening bell. The current Zacks Consensus Estimate for the to-be-reported quarter's earnings is pegged at 15 cents per share and for revenues stands at $3.23 billion.
Let's delve into the factors that might have impacted the company's performance in the December quarter.
Factors to Consider for Q4 Results
Management at this world's biggest provider of hydraulic fracking noted that although the activity levels in North America during the September quarter ramped down, the company continues to benefit from the changing market dynamics through an excellent execution and regulation of the controllable factors.
Even though Halliburton is recovering from the double whammy of coronavirus-forced demand depletion and the supply glut, the crisis is expected to have affected the North American land operations during the fourth quarter.
Let's analyze:
Tightened E&P Capital Spending: Clients are steadily taking a conservative approach to their investment decisions even before the oil price collapsed. Consequently, major upstream oil companies were committed to investor returns rather than extending production by outspending cash flows. This created an extremely challenging operating environment for the service providers. With crude prices crashing since the first quarter of 2020, things took a turn for the worse.
In fact, the fourth quarter ended with the commodity priced at just $48.52 a barrel, which is certainly not enough to trigger investments in mature field development, exploration of unconventional resources or expansion of offshore programs. This sluggish activity is likely to have hurt demand for Halliburton's services and equipment in the December quarter. As a result, the Zacks Consensus Estimate for the company's fourth-quarter operating income from the Completion & Production segment — the main contributor to Halliburton earnings — is pegged at $236 million. The segment recorded an operating income of $387 million in the corresponding period of 2019.
North American Rig Count Lower Y/Y: While things started looking up for the number of rigs operating in North America on improving sector fundamentals, it's still down significantly from the year-ago level. The U.S. rig count at the end of 2020 tallied 351 compared with 805 a year ago, in sync with the softness in year-over-year oil prices. The statistics suggest that the North American drilling and completion activity in the three-month (October-December) time frame remained considerably weaker than the corresponding period of 2019. Therefore, Halliburton with a sizable presence in the region is expected to have suffered on this front.
However, on a somewhat positive note, there are factors that might have offset the effects of the above-mentioned headwinds.
International Markets Buoy Hope: One bright spot in the earnings outlook is the strength in the overseas markets. While the international E&Ps are also containing expenditure due to the continued plunge in oil prices, the degree of deterioration for them is likely to have been less than the situation in North America. This is because most offshore projects are backed by national oil companies and/or integrated majors that target the long haul. Moreover, a considerable proportion of international projects sanctioned over the past few years is offshore and is difficult to be offloaded from the portfolio suddenly.
Cost-Reduction Efforts Bode Well:The company's cost-saving measures are consistently impressive. Halliburton's capital expenditure continues to fall as the company reins in its spending levels. For 2020, the company is likely to have lowered its capital budget to almost half at $800 million. This should drive the company's earnings and cash flows higher.
Highlights of Q3 Earnings & Surprise History
In the last reported quarter, this major oilfield service provider delivered a better-than-expected bottom-line performance as the Completion and Production segment outperformed the Zacks Consensus Estimate. The oilfield services company reported earnings of 11 cents per share, beating the consensus estimate of 8 cents.
However, the bottom line tumbled 67.6% from the year-ago figure of 34 cents per share due to tepid revenue contribution from activities in North America. Revenues of $2.98 billion further slumped 46.4% from the year-ago quarter's sales and missed the Zacks Consensus Estimate of $3.09 billion too.
As far as earnings surprises are concerned, this world's second-largest oilfield services company after Schlumberger SLB is on a solid footing. Evidently, its bottom line outpaced the Zacks Consensus Estimate in all the last four quarterly reports. The average surprise is 54.32%. This is depicted in the graph below:
Halliburton Company Price and EPS Surprise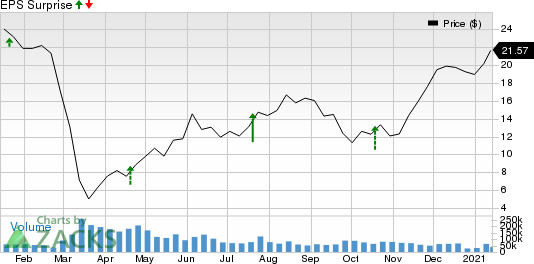 Halliburton Company price-eps-surprise | Halliburton Company Quote
What Does Our Model Say?
Our proven model does not conclusively predict an earnings beat for Halliburton this season. The combination of a positive Earnings ESP and a Zacks Rank #1 (Strong Buy), 2 (Buy) or 3 (Hold) increases the chances of beating estimates. But that's not the case here. You can uncover the best stocks to buy or sell before they're reported with our Earnings ESP Filter.
Earnings ESP: Halliburton has an Earnings ESP of 0.00%.
Zacks Rank: Halliburton carries a Zacks Rank #3, currently. You can see the complete list of today's Zacks #1 Rank stocks here.
Stocks to Consider
While earnings outperformance looks uncertain for Halliburton, here are some firms worth considering from the energy space on the basis of our model, which shows that these have the perfect combination of ingredients to deliver a beat this reporting cycle:
Diamondback Energy, Inc. FANG has an Earnings ESP of +21.86% and a Zacks Rank of 1, currently. The company is scheduled to release earnings on Feb 22.
PattersonUTI Energy, Inc. PTEN has an Earnings ESP of +5.49% and is Zacks #2 Ranked, currently. The firm is scheduled to release earnings on Feb 4.
Legal Marijuana: An Investor's Dream
Imagine getting in early on a young industry primed to skyrocket from $17.7 billion in 2019 to an expected $73.6 billion by 2027.
Although marijuana stocks did better as the pandemic took hold than the market as a whole, they've been pushed down. This is exactly the right time to get in on selected strong companies at a fraction of their value before COVID struck. Zacks' Special Report, Marijuana Moneymakers, reveals 10 exciting tickers for urgent consideration.
Download Marijuana Moneymakers FREE >>
Want the latest recommendations from Zacks Investment Research? Today, you can download 7 Best Stocks for the Next 30 Days.
Click to get this free report
Schlumberger Limited (SLB): Free Stock Analysis Report
Halliburton Company (HAL): Free Stock Analysis Report
PattersonUTI Energy, Inc. (PTEN): Free Stock Analysis Report
Diamondback Energy, Inc. (FANG): Free Stock Analysis Report
To read this article on Zacks.com click here.
Zacks Investment Research