Alarm.com Unveils New Access & Video Solutions for Business
Alarm.com Holdings, Inc. ALRM recently introduced new access and video solutions — Enterprise Access Control and Enterprise Live Video solutions — for businesses.
The new multi-location business access and video solutions are part of the unified Alarm.com for Business platform.
These solutions allow users to consolidate access control of employees, view live video streams and manage security camera for thousands of locations from a single dashboard, in turn saving time and improving efficiency.
More on the Headlines
The latest solutions will allow customers to handle all kinds of functions without any hassle. These can perform simple as well as complex functions like managing employee access plans and schedules in the most convenient way.
Enterprise Access Control allows users to manage their employee access through schedules and permissions from one central dashboard. This solution is scalable to thousands of locations such as franchise restaurants or stores.
Enterprise Live Video allows subscribers to view live video streams and manage security camera groups from one video dashboard, keeping users aware of every details at varied locations.
These new enhancements will provide varied solutions to solve common access control problems, and increase visibility and awareness.
What is Alarm.com for Business Platform?
Alarm.com for Business is a unique platform that combines intelligent intrusion detection, video surveillance, access control and energy management into a single solution. The solution is easily controlled by Alarm.com and online interfaces.
Additionally, the solution integrates cloud services and connected devices such as PoE dome, bullet and turret cameras into a single solution that helps to centralize security-related work into a single and mobile-friendly interface.
These enhanced features are likely to help the app find greater adoption among customers.
Alarm.com Holdings, Inc. Price and Consensus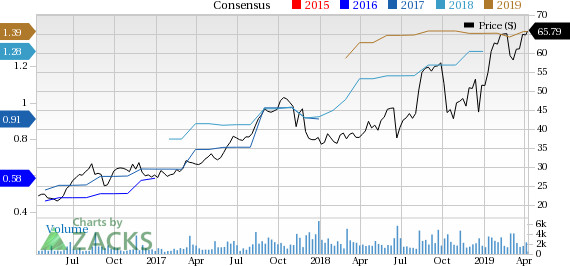 Alarm.com Holdings, Inc. Price and Consensus | Alarm.com Holdings, Inc. Quote
Zacks Rank & Stocks to Consider
Alarm.com currently carries a Zacks Rank #3 (Hold). Some better-ranked stocks in the broader technology sector include Garmin GRMN, Ctrip.com International, Ltd. CTRP and ASOS plc ASOMY. While Garmin sports a Zacks Rank #1 (Strong Buy), both Ctrip.com and ASOS carry a Zacks Rank #2 (Buy). You can see the complete list of today's Zacks #1 Rank stocks here.
Long-term earnings growth for Garmin, Ctrip.com and ASOS is currently projected at 7.35%, 23% and 8%, respectively.
Zacks' Top 10 Stocks for 2019
In addition to the stocks discussed above, would you like to know about our 10 finest buy-and-holds for the year?
Who wouldn't? Our annual Top 10s have beaten the market with amazing regularity. In 2018, while the market dropped -5.2%, the portfolio scored well into double-digits overall with individual stocks rising as high as +61.5%. And from 2012-2017, while the market boomed +126.3, Zacks' Top 10s reached an even more sensational +181.9%.
Want the latest recommendations from Zacks Investment Research? Today, you can download 7 Best Stocks for the Next 30 Days.
Click to get this free report
Ctrip.com International, Ltd. (CTRP): Free Stock Analysis Report
Garmin Ltd. (GRMN): Free Stock Analysis Report
Alarm.com Holdings, Inc. (ALRM): Free Stock Analysis Report
ASOS PLS ADR (ASOMY): Free Stock Analysis Report
To read this article on Zacks.com click here.