Jazz's (JAZZ) New Sleep Drug Sunosi Gets Schedule IV Status
Jazz Pharmaceuticals plc JAZZ announced that the U.S. Drug Enforcement Agency ("DEA") has designated its recently approved sleep drug, Sunosi (solriamfetol), as a Schedule IV medicine. The designation is given to drugs, composed of controlled substances or chemicals, based on their potential for abuse.
The Schedule IV designation for Sunosi suggests that the drug has low potential for abuse and low risk of dependence. This is likely to boost the drug's prospects and reach following its launch next month. However, the impact of this designation on the company's commercialization plan for Sunosi remains to be seen. Jazz may provide an update on the plans on the second-quarter earnings call.
Please note that Sunosi was approved in March as a treatment to improve wakefulness and reduce excessive daytime sleepiness ("EDS") in adult patients with narcolepsy or obstructive sleep apnea. Sunosi will be commercially available in the United States in two doses — 75 mg and 150 mg tablets — starting early July.
Jazz's shares are up 4.1% so far this year compared with the industry's increase of 5.1%.

We note that the company has developed solriamfetol for an indication similar to its sole marketed drug, Xyrem. However, Xyrem is a Schedule III controlled substance and the distribution of the drug is restricted to a single pharmacy under the FDA's risk evaluation and mitigation strategy ("REMS"). Moreover, the FDA continues to evaluate the Xyrem REMS on an ongoing basis and may modify it if required. An adverse change by the agency can affect the sales of the blockbuster drug.
A Schedule IV designation for Sunosi may lead to the mitigation of the risk of dependence on a single pharmacy for distribution as is the case for Xyrem.
Moreover, Xyrem will start facing generic competition as early as 2023. Successful commercialization of Sunosi may help the company offset the loss in Xyrem sales. We remind investors that the company is developing a Xyrem follow-on product with low sodium content in late-stage studies for EDS and cataplexy in narcolepsy patients.
Meanwhile, competition is increasing for Jazz as several companies are developing or marketing treatments for narcolepsy. Approved drugs for narcolepsy include Teva Pharma's TEVA Provigil and Novartis' NVS Ritalin-SR. Avadel Pharmaceuticals plc AVDL is developing a narcolepsy candidate.
Jazz Pharmaceuticals PLC Price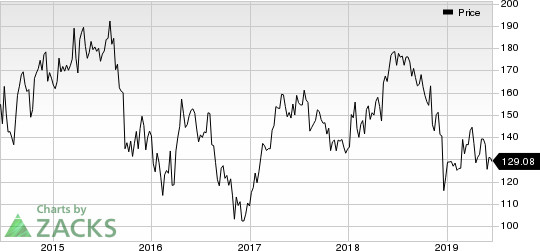 Jazz Pharmaceuticals PLC price | Jazz Pharmaceuticals PLC Quote
Zacks Rank
Jazz currently has Zacks Rank #2 (Buy). You can see the complete list of today's Zacks #1 Rank (Strong Buy) stocks here.
Breakout Biotech Stocks with Triple-Digit Profit Potential
The biotech sector is projected to surge beyond $775 billion by 2024 as scientists develop treatments for thousands of diseases. They're also finding ways to edit the human genome to literally erase our vulnerability to these diseases.
Zacks has just released Century of Biology: 7 Biotech Stocks to Buy Right Now to help investors profit from 7 stocks poised for outperformance. Our recent biotech recommendations have produced gains of +98%, +119% and +164% in as little as 1 month. The stocks in this report could perform even better.
See these 7 breakthrough stocks now>>
Want the latest recommendations from Zacks Investment Research? Today, you can download 7 Best Stocks for the Next 30 Days.
Click to get this free report
Novartis AG (NVS): Free Stock Analysis Report
Jazz Pharmaceuticals PLC (JAZZ): Free Stock Analysis Report
Avadel Pharmaceuticals PLC. (AVDL): Free Stock Analysis Report
Teva Pharmaceutical Industries Ltd. (TEVA): Free Stock Analysis Report
To read this article on Zacks.com click here.