Garmin (GRMN) Enhances Outdoor Segment With inReach Messenger
Garmin GRMN is consistently working toward expanding its inReach offerings with an array of product introductions.
This is evident from Garmin's recent launch of a communication-focused device named inReach Messenger.
inReach Messenger provides seamless satellite communication for two-way texting and location sharing.
The Messenger is compatible with Garmin Messenger companion app, which uses Wi-Fi, cellular and satellite connectivity to help smartphone users connect with their friends and family.
Users can also leverage the Messenger and app for sending an SOS message to the Garmin International Emergency Response Coordination Center (IERCC) in case of an emergency.
Garmin IERCC responded to more than 9 thousand SOS incidents on the back of Garmin inReach devices. This shows the robustness of inReach devices.
On the back of inReach Messenger and the Garmin Messenger companion app, Garmin aims to provide an enhanced messaging experience to users. This is likely to boost the adoption rate of the device and app in the days ahead.
Garmin Ltd. Price and Consensus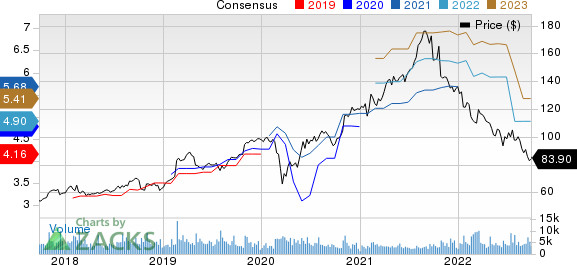 Growing Communication Offerings to Boost Prospects
Apart from the inReach Messenger, Garmin introduced a compact satellite communication device named inReach Mini 2, featuring two-way texting and SOS capabilities.
Additionally, GRMN unveiled a compact GPS satellite communicator, inReach Mini 2 Marine Bundle, to help mariners avail two-way texting, location tracking and SOS messaging features.
The increasing number of satellite communication offerings is expected to continue helping Garmin bolster its presence in the booming satellite communication market.
Per a Grand View Research report, the global satellite communication market is anticipated to witness a CAGR of 9.5% during the 2022-2030 forecast period.
Strengthening Outdoor Segment
The introduction of inReach Messenger bodes well for Garmin's continuous efforts to strengthen the outdoor segment.
In addition to the latest move, Garmin recently launched the Delta SE handheld and collar to enable users with simplified dog-training capabilities.
Garmin also released the Enduro 2 smartwatch, featuring an LED flashlight, music, enhanced position precision and up to 150 hours of battery life in GPS mode.
The consistent introduction of outdoor offerings is expected to help Garmin gain momentum among customers. This, in turn, will boost the outdoor segment's performance in the days ahead.
Garmin generated sales of $381.9 million in second-quarter 2022, accounting for 30.8% of its total sales, which increased 18% year over year.
However, Garmin is currently suffering weak demand for advanced wearables and cycling products due to the normalization of demand post the pandemic-induced hike. This remains a downside.
Shares of GRMN have been down 38.4% in the year-to-date period, lagging the Computer and Technology sector's decline of 34.9%.
Zacks Rank & Stocks to Consider
Currently, Garmin carries a Zacks Rank #4 (Sell).
Investors interested in the broader Zacks Computer & Technology sector can consider some better-ranked stocks like Arista Networks ANET, Teradata TDC and Monolithic Power Systems MPWR. While Arista Networks sports a Zacks Rank #1 (Strong Buy), Teradata and Monolithic Power Systems carry a Zacks Rank #2 (Buy) at present. You can see the complete list of today's Zacks #1 Rank stocks here.
Arista Networks has lost 18.8% in the year-to-date period. The long-term earnings growth rate for ANET is currently projected at 18.6%.
Teradata has lost 25.7% in the year-to-date period. The long-term earnings growth rate for TDC is currently projected at 27.4%.
Monolithic Power Systems has lost 23.1% in the year-to-date period. The long-term earnings growth rate for MPWR is currently projected at 25%.
FREE Report: The Metaverse is Exploding! Don't You Want to Cash In?
Rising gas prices. The war in Ukraine. America's recession. Inflation. It's no wonder why the metaverse is so popular and growing every day. Becoming Spider Man and fighting Darth Vader is infinitely more appealing than spending over $5 per gallon at the pump. And that appeal is why the metaverse can provide such massive gains for investors. But do you know where to look? Do you know which metaverse stocks to buy and which to avoid? In a new FREE report from Zacks' leading stock specialist, we reveal how you could profit from the internet's next evolution. Even though the popularity of the metaverse is spreading like wildfire, investors like you can still get in on the ground floor and cash in. Don't miss your chance to get your piece of this innovative $30 trillion opportunity - FREE.
>>Yes, I want to know the top metaverse stocks for 2022>>
Want the latest recommendations from Zacks Investment Research? Today, you can download 7 Best Stocks for the Next 30 Days.
Click to get this free report
Garmin Ltd. (GRMN): Free Stock Analysis Report
Teradata Corporation (TDC): Free Stock Analysis Report
Monolithic Power Systems, Inc. (MPWR): Free Stock Analysis Report
Arista Networks, Inc. (ANET): Free Stock Analysis Report
To read this article on Zacks.com click here.
Zacks Investment Research