SM Energy Raises Production View, Eyes Positive FCF in 2H19
SM Energy Company's SM shares jumped 6.6% yesterday after it announced that second-quarter production is surpassing estimates on better-than-expected well performance and completion timing. As such, the company increased its second quarter and full-year 2019 production guidance by 400 thousand barrels of oil equivalent (MBoe) at the midpoint.
Around 43-44% of total production in the second quarter and full-year 2019 is expected to be oil. Higher production volumes from the Permian Basin and South Texas areas enabled the company to upwardly revise its second-quarter guidance from 126-131 MBoe per day (MBoe/d) to 132-134 MBoe/d. The current projection indicates a significant rise from the year-ago period's 115.2 MBoe/d. For full-year 2019 as well, SM Energy upwardly revised its production view from 123.3-131.5 MBoe/d to 124.4-132.6 MBoe/d. The new guidance is much higher than the 2018 figure of 120.3 MBoe/d.
Moreover, the company announced several positive well test results from the RockStar area of the Permian Basin and Watson State Austin Chalk in South Texas. These are expected to enhance the company's Midland Basin and South Texas inventories, as well as unlock value from the existing footprint.
Impressive well performance and capital discipline so far this year are expected to enable the company to go ahead with its target of generating positive free cash flow (FCF) in the second half of 2019. The accomplishment of this target will be remarkable, considering that it had generated negative FCF of $321 million in the trailing 12 months.
Price Performance
Denver, CO-based SM Energy has lost 24.5% year to date compared with 1.4% collective decline of the industry it belongs to.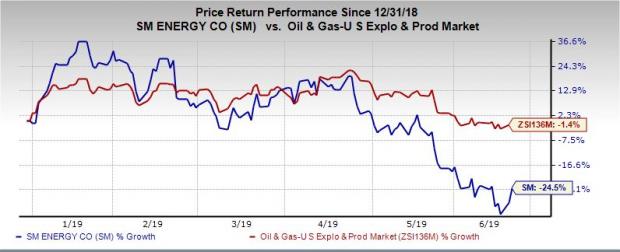 Zacks Rank and Stocks to Consider
Currently, the company has a Zacks Rank #3 (Hold). Some better-ranked players in the energy space are Montage Resources Corporation MR, Approach Resources Inc. AREX and Earthstone Energy, Inc. ESTE. While Montage Resources sports a Zacks Rank #1 (Strong Buy), Approach Resources and Earthstone Energy hold a Zacks Rank #2 (Buy). You can see the complete list of today's Zacks #1 Rank stocks here.
Montage Resources' sales growth is projected at 27.6% through 2019.
Approach Resources surpassed earnings estimates in three of the trailing four quarters, with the average positive surprise being 12.7%.
Earthstone Energy' sales growth is projected at 15% through 2019.
This Could Be the Fastest Way to Grow Wealth in 2019
Research indicates one sector is poised to deliver a crop of the best-performing stocks you'll find anywhere in the market. Breaking news in this space frequently creates quick double- and triple-digit profit opportunities.
These companies are changing the world – and owning their stocks could transform your portfolio in 2019 and beyond. Recent trades from this sector have generated +98%, +119% and +164% gains in as little as 1 month.
Click here to see these breakthrough stocks now >>
Want the latest recommendations from Zacks Investment Research? Today, you can download 7 Best Stocks for the Next 30 Days.
Click to get this free report
Eclipse Resources Corporation (MR): Free Stock Analysis Report
SM Energy Company (SM): Free Stock Analysis Report
Approach Resources Inc. (AREX): Free Stock Analysis Report
Earthstone Energy, Inc. (ESTE): Free Stock Analysis Report
To read this article on Zacks.com click here.