5 Stocks Worth Buying on Strong Earnings Reports
Earnings season is the best time to lock in some quick gains. The best way to do this is by getting into stocks that have just reported a solid quarter and raised estimates.
Sometimes, they may not provide full guidance for comparison purposes but only some positive commentary. If this is not in the usual company tradition, it may mean that management is toeing a conservative line because of continued uncertainty.
However, even a solid earnings beat followed by conservative guidance may be enough to bring about significant revision in estimates. And when that happens, you can rest assured that share prices will move north.
And when is the best time to get into these stocks? The sooner the better after they report so estimate revisions are yet to happen. All you have to do is get in and hold on until it happens.
Here are a few that have reported strong results and provided encouraging guidance/commentary. Estimate revisions are soon to follow, so you'd better not waste much time!
Sleep Number Corporation SNBR
Smart sleeping solutions provider Sleep Number's reported earnings of $1.79 were 77.2% better than the Zacks Consensus Estimate of $1.01. Revenues of $531 million were more or less as expected.
Full-year guidance including 25 cents from the extra week has been set at $4.00, which is significantly higher than the 2020 Zacks Consensus Estimate of $2.80 and representing a 48% increase from 2019. Sales growth is expected to be 7-8%, benefiting from the extra week of operation. SNBR expects to resume share repurchases in the current quarter.
Since the Zacks Consensus Estimate is significantly below the company's guidance, we should expect estimate revisions and upgrades for the stock, followed by share price appreciation.
Other details-
Zacks Rank #2
Growth Score B
Industry: Furniture (Top 22%. The top 50% of Zacks-classified industries outperform the bottom 50% by a factor of more than 2 to 1.)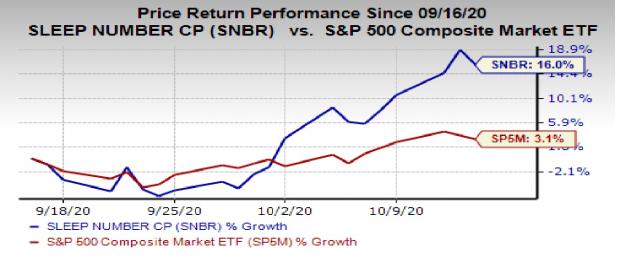 ASML Holding N.V. ASML
This provider of advanced technology solutions used in semiconductor manufacturing reported September quarter sales of $4.63 billion, which is 8.7% above the Zacks Consensus Estimate. This led to earnings of $2.96, which were 14.7% above the Zacks Consensus Estimate.
The company didn't provide complete guidance. Management said on the call that we could expect low double-digit growth in 2021 based on expected EUV system revenue growth of around 20%. The improvement will be driven by a stronger memory market, especially DRAM and continued strength in logic driven by transitions to 5G and AI.
Current quarter revenue growth is expected to be €3.6 to €3.8 billion ($4.21 to $4.45 billion at the current rate). The Zacks Consensus Estimate is at $4.42 billion.
Other details-
Zacks Rank #3
Growth Score B
Industry: Semiconductor Equipment - Wafer Fabrication (Top 26%)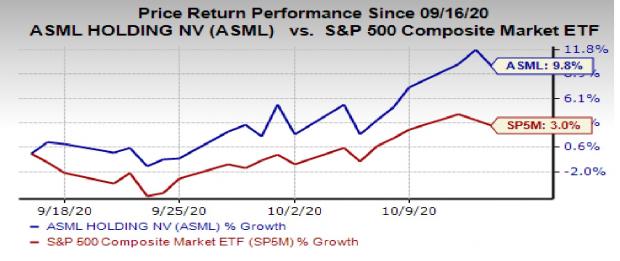 UnitedHealth Group Incorporated UNH
UnitedHealth is one of the largest managed care services companies in the world offering insurance, medical and consulting services, and medical products and services to 50 million individuals in the U.S. and 5 million+ people internationally.
The company reported earnings of $3.51 in the September quarter, beating the Zacks Consensus Estimate by 17.8%. Revenue of $65.1 million beat by 2.1%.
The company raised its 2020 guidance. Comparing mid-points, the expected EPS of $16.63 was up from the prior guidance of $16.40, and above the Zacks Consensus Estimate of $16.58.
Other details-
Zacks Rank #3
Growth Score A
Industry: Medical - HMOs (Top 26%)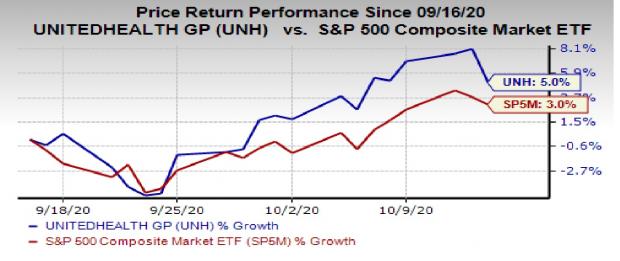 Alcoa Corp. AA
The leading producer of bauxite, alumina and aluminum products reported revenue of $2.36 billion, 6.4% better than the Zacks Consensus of $2.22. Loss per share of $1.17 was better than the 22.5% better than expected.
In the words of President and CEO Roy Harvey, "We are doing far more than simply maintaining stability – we are setting production records, driving productivity, reducing costs, and improving our balance sheet."
Management slightly raised the shipment target for alumina, while maintaining prior shipment targets for bauxite and aluminum. However, overall results are expected to be impacted by higher energy cost, customer mix, Section 232 tariffs and higher seasonal costs related to maintenance and labor.
Without complete guidance, it's difficult to tell whether the consensus will move up or not, but the 22.5% beat in the September quarter will have to be factored in. So there is a fairly good chance of upward revision in the 2020 estimate.
Other details-
Zacks Rank #3
Growth Score A
Industry: Metal Products – Distribution (Top 36%)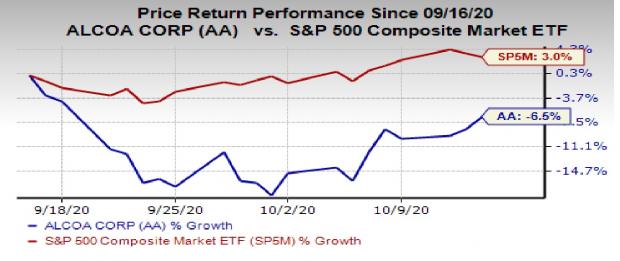 Infosys INFY
The India-based provider of a broad range of IT-enabled services reported earnings of 15 cents that were 7.1% better than estimated on sales of $3.31 billion that topped expectations by 2.4%.
The company benefited from workforces moving home and to the cloud, and management said that large deals of $50 million and above touched a new record. The large deal pipeline remains strong.
99% of INFY workforce is working from home and the company is stepping up local hiring in the U.S. to maintain deliveries while dealing with regulatory changes.
The company raised its revenue growth guidance for 2020 from 0-2% to 2-4% and operating margin from 21-23% to 23-24%.
Estimates should move slightly higher after the announcement.
Other details-
Zacks Rank #2
Growth Score B
Industry: Computers - IT Services (Bottom 37%)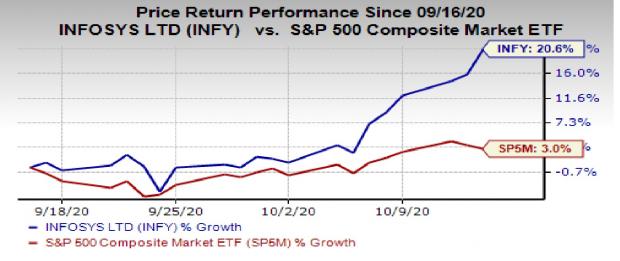 The Hottest Tech Mega-Trend of All
Last year, it generated $24 billion in global revenues. By 2020, it's predicted to blast through the roof to $77.6 billion. Famed investor Mark Cuban says it will produce ""the world's first trillionaires,"" but that should still leave plenty of money for regular investors who make the right trades early.
See Zacks' 3 Best Stocks to Play This Trend >>
Want the latest recommendations from Zacks Investment Research? Today, you can download 7 Best Stocks for the Next 30 Days.
Click to get this free report
UnitedHealth Group Incorporated (UNH): Free Stock Analysis Report
ASML Holding N.V. (ASML): Free Stock Analysis Report
Alcoa Corp. (AA): Free Stock Analysis Report
Infosys Limited (INFY): Free Stock Analysis Report
Sleep Number Corporation (SNBR): Free Stock Analysis Report
To read this article on Zacks.com click here.
Zacks Investment Research