Lockheed (LMT) Wins $6.6B Deal for Sustainment of F-35 Jets
Lockheed Martin Corp. LMT recently clinched annualized contracts for fiscal years 2021-2023, involving the sustainment of its global F-35 fleet, from the F-35 Joint Program Office. Successful completion of these contracts will result in further reduction in overall operations and support costs for the F-35 program.
Details of the Deal
Per Reuters, these contracts are valued at a huge $6.6 billion. Per the terms, Lockheed will support operations and sustainment of its global F-35 fleet. Through this contract, Lockheed will conduct critical sustainment activities like supporting base and depot maintenance, pilot and maintainer training for F-35 aircraft, currently in the fleet.
The contract also requires the company to build enterprise capacity for supporting the future fleet of more than 3,000 F-35 jets.
As far as the cost part is concerned, this contract will aid Lockheed in achieving its target to reduce the F-35 program's cost by 40% in the next five years, in addition to the 44% decline it has already achieved in the past five years. In this context, Lockheed Martin's vice president stated that a 30% reduction in cost per flying hour for F-35 jets from the 2020 annualized contract will materialize out of the latest contract.
Benefits of the Deal
Supported by an international team of leading aerospace majors, such as Northrop Grumman NOC, BAE Systems BAESY, and Raytheon's RTX Pratt & Whitney, F-35 enjoys a strong global presence, with the program having eight international partners, including Italy, Australia, Norway, Denmark, and Canada. Additionally, it has six foreign military sales customers that are procuring and operating the F-35 ¬— Israel, Japan, South Korea, Poland, Belgium, and Singapore. This surely demonstrates the huge demand that this jet program enjoys worldwide.
However, the F-35 program has been facing some criticisms lately with experts arguing that this jet is the most expensive weapon system ever built. In fact, in February, the U.S. Air Force also admitted the exuberant price of this fleet. To this end, it is imperative to mention that in association with Pentagon, Lockheed has been trying to cut down F-35's cost for the past few years.
Per a report by Forbes, in October 2019, Pentagon and Lockheed reached an agreement to reduce the unit cost of all three variants of F-35 by an average of 12.7% across three production lots. We believe the latest contract awarded to Lockheed will put this jet maker a step ahead towards further reduction of F-35's cost, while also boosting the fleet's future sustainment.
Growth Prospects
As of Jun 27, 2021, Lockheed Martin delivered 665 F-35 airplanes since the program's inception with 302 jets still in backlog. This surely boosts sales expectations for the Aeronautics business segment in the coming days.
Moreover, the production of F-35 jets is expected to continue for many years, given the U.S. government's current inventory target of 2,456 aircraft for the Air Force, Marine Corps, and Navy. We expect Lockheed Martin to witness more order inflows for F-35, like the latest one, which in turn should bolster this defense contractor's top line.
Price Movement and Zacks Rank
Shares of Lockheed Martin, a Zacks Rank #3 (Hold) company, have lost 12.1% in the past year compared with the industry's decline of 7%. You can see the complete list of today's Zacks #1 Rank (Strong Buy) stocks here.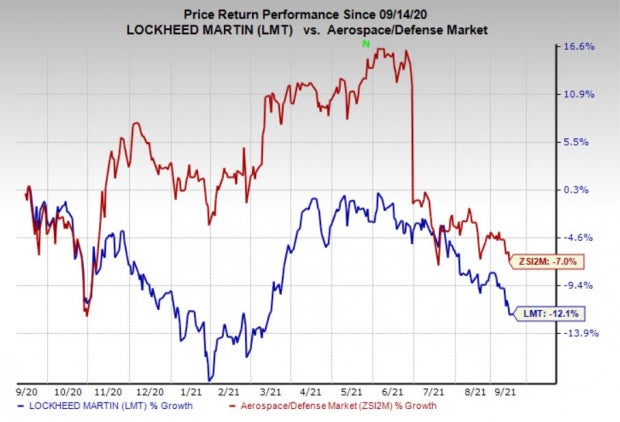 Image Source: Zacks Investment Research
Tech IPOs With Massive Profit Potential
In the past few years, many popular platforms and like Uber and Airbnb finally made their way to the public markets. But the biggest paydays came from lesser-known names.
For example, electric carmaker X Peng shot up +299.4% in just 2 months. Think of it this way…
If you had put $5,000 into XPEV at its IPO in September 2020, you could have cashed out with $19,970 in November.
With record amounts of cash flooding into IPOs and a record-setting stock market, this year's lineup could be even more lucrative.
See Zacks Hottest Tech IPOs Now >>
Want the latest recommendations from Zacks Investment Research? Today, you can download 7 Best Stocks for the Next 30 Days.
Click to get this free report
Lockheed Martin Corporation (LMT): Free Stock Analysis Report
Northrop Grumman Corporation (NOC): Free Stock Analysis Report
Bae Systems PLC (BAESY): Free Stock Analysis Report
Raytheon Technologies Corporation (RTX): Free Stock Analysis Report
To read this article on Zacks.com click here.
Zacks Investment Research