Mastercard (MA) Announces Key Business Metrics for November
Mastercard Inc. MA has provided an update on its operating metrics through the week ending Nov 21.
The company announced that it is experiencing steady levels of spending. It perceives that most markets remain in the normalization phase, domestically, with some approaching growth.
As a leading payment processor, Mastercard introduced a four-phase structure comprising containment, stabilization, normalization and growth to monitor the spending levels related to the COVID-19 pandemic.
Thus, the recent data shows that its markets traversed the first two levels, which are containment and stabilization and are approaching the normalization and growth stages. This shows that the worst phase is over and the company is on the path to recovery.
Switched Volume measures the number of times the company's products were used to facilitate transactions. The metric has continued to show an improving trend since the beginning of May, partly owing to the relaxation of social-distancing measures in several markets and the impact of fiscal stimulus on the United States.
Overall growth in Switched Volumes, which rose 3% in the week ended Nov 21, was primarily driven by higher contribution from the United States (up 6%) compared to the rest of the world, which was up just 1%.
Business growth in the United States was attributable to the recent strength in holiday retail spend, notably in electronics. In Europe, more stringent social-distancing norms caused a decline in restaurant, lodging and retail spending.
Also card not present volume surged against a slight reduction in card present volume, particularly in Europe over the last several weeks. A card-not-present (CNP) transaction occurs when neither the cardholder nor the credit card is physically present at the time of the transaction. It's most common for orders that happen remotely over the phone or via fax, internet or email. The COVID-19 pandemic reinforced the use of remote payments, thereby fueling the growth in card not present volumes.
Switched Transactions (defined as the number of transactions initiated and switched through the company's network during the period) slowed down recently, primarily due to a decrease in card present activity, partially offset by faster growth in larger-ticket card not present transactions.
Mastercard's cross-border volumes remained sluggish and dropped 29% for the week ended Nov 21 compared with 30% decline in the month-ago period. Lower-yielding intra-Europe volume showed an increase in card not present volume, offset by a slight reduction in card present volume. Other cross-border transactions, which yield higher margins, remain limited.
Mastercard's earnings came under pressure this year as demand for hotels and air travel dwindled due to COVID-19 lockdown orders, which confined the prospective travelers to their homes.
Consumers to date avoided travel and spending overseas, thereby limiting transactions that are most lucrative on the concerned companies' networks. Mastercard earns a fee from every transaction that runs on its network. Lack of cross-border payments is especially hurting as those card swipes yield higher margins.
Cross-border volume dropped 48% in Mastercard during the quarter ended Sep 30. The company, however, saw an uptick in domestic (U.S.) business, partly owing to the stimulus and additional unemployment insurance offered to consumers.
The company also gained from buoyancy in online shopping as shoppers avoided physical interactions.
Though people are taking road trips and spending on holidays, Mastercard is waiting impatiently for the international travel to pick up the pace. A slowdown in international travel was a key reason for the double-digit (20%) drop in operating profits during the quarter ending Sep 30, 2020. For
Mastercard, cross-border transactions usually tend to be more lucrative than the domestic payments. However, this time, due to the continued economic turbulence, border restrictions and delayed payments, cross-border volume was badly hit. In the first nine months of 2020, cross-border volume fees were down 36% year over year.
A recovery in the cross-border business is expected to be seen gradually as people gain more confidence in travelling.
Mastercard is poised for strong growth owing to a rapid shift from cash to digital modes of payment, which is mostly preferred by the next-gen consumers. Also, the coronavirus episode made the seniors adopt the digital method, given its high flexibility, ease and security. Thus, the transition to digital seems almost permanent.
Even after the vaccine finds its way into our lives, some of the changes brought in by the pandemic are there to stay and payment via the digital mode is one such phenomenon. Other stocks in the same space comprising American Express Co. AXP, Visa Inc. V and Discover Financial Services DFS are also set to benefit from the rebound in international travel.
Mastercard has rallied 15.3% year to date compared with the industry's growth of 6.8%.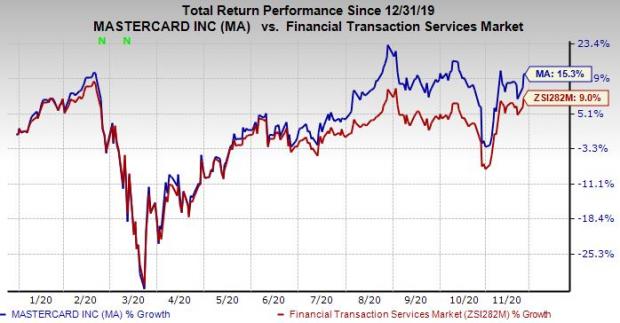 The stock carries a Zacks Rank #4 (Sell), currently.
You can see the complete list of today's Zacks #1 Rank (Strong Buy) stocks here.
More Stock News: This Is Bigger than the iPhone!
It could become the mother of all technological revolutions. Apple sold a mere 1 billion iPhones in 10 years but a new breakthrough is expected to generate more than 27 billion devices in just 3 years, creating a $1.7 trillion market.

Zacks has just released a Special Report that spotlights this fast-emerging phenomenon and 6 tickers for taking advantage of it. If you don't buy now, you may kick yourself in 2021.

Click here for the 6 trades >>


Want the latest recommendations from Zacks Investment Research? Today, you can download 7 Best Stocks for the Next 30 Days.
Click to get this free report
American Express Company (AXP): Free Stock Analysis Report
Mastercard Incorporated (MA): Free Stock Analysis Report
Visa Inc. (V): Free Stock Analysis Report
Discover Financial Services (DFS): Free Stock Analysis Report
To read this article on Zacks.com click here.
Zacks Investment Research