Halozyme (HALO) Inks Collaboration Deal With Glaxo's HIV Unit
Halozyme Therapeutics, Inc. HALO and ViiV Healthcare announced that they have signed a global collaboration and license agreement for developing the latter's ultra-long-acting medicines (drugs with dosing intervals of three months or longer) for treating HIV. Per the agreement, ViiV Healthcare will gain exclusive rights to Halozyme's popular ENHANZE drug delivery technology to develop a subcutaneous formulation of its long-acting drugs and pipeline products for specific targets used in the treatment and prevention of HIV.
Please note that ViiV Healthcare is a joint venture by Pfizer PFE and GlaxoSmithKline GSK, specializing in the development of therapies for HIV infection.
Per the terms of the agreement, Halozyme will receive an upfront payment of $40 million from ViiV Healthcare for the exclusive license to four HIV small and large molecule targets. Halozyme will also receive payments of up to $175 million per target related to development and commercial milestones. The company is also entitled to receive royalties on potential sales from medicines developed using the ENHANZE technology.
Shares of Halozyme have gained 0.8% so far this year against the industry's decline of 1.1%.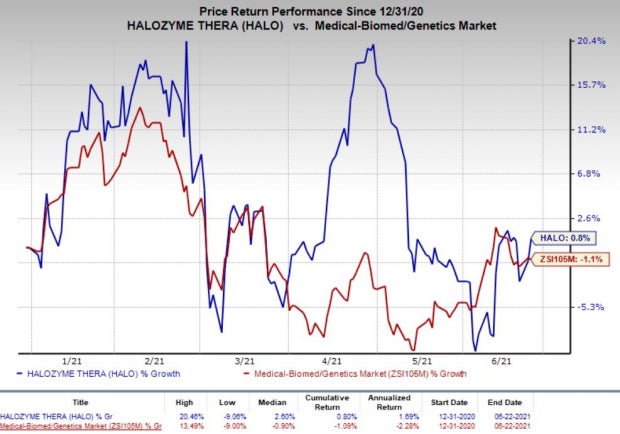 Image Source: Zacks Investment Research
Pre-clinical or clinical studies under this agreement are expected to start by the end of 2021. ViiV Healthcare is planning to start the first trial with the technology by the end of 2021 to evaluate its long-acting HIV candidate, cabotegravir. The candidate is currently administered once every two-months in ongoing studies evaluating it for prevention of HIV, also called pre-exposure prophylaxis, or PrEP. We remind investors that ViiV Healthcare has begun rolling submission of a new drug application with the FDA for its long-acting cabotegravir for PrEP.
ViiV Healthcare believes that using ENHANZE technology may help develop therapies with dosing intervals of every three months and up to six months or longer for the targets under the agreement, which includes cabotegravir. Successful development will potentially reduce treatment burden of injectable drugs and provide better treatment options to HIV patients.
We note that Halozyme has similar collaboration agreements with several large and small pharma/biotech companies developing subcutaneous formulation of commercialized drugs, existing as well as new pipeline candidates. These deals generate majority of revenues for the company every quarter.
Halozyme has an agreement with J&J JNJ, which has developed the subcutaneous formulation of its blockbuster myeloma drug, Darzalex — Darzalex Faspro. The subcutaneous Darzalex Faspro has received approval for almost all approved indications of Darzalex.
In a separate press release, Halozyme announced that the European Commission has approved two label expansions of J&J's Darzalex Faspro (which is available as Darzalex SC in Europe) to include treatment of patients with newly diagnosed systemic light-chain amyloidosis and patients with relapsed or refractory multiple myeloma. A label expansion for the drug in amyloidosis patients was approved by the FDA earlier this year.
Halozyme Therapeutics, Inc. Price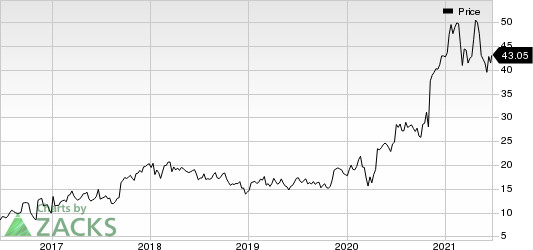 Halozyme Therapeutics, Inc. price | Halozyme Therapeutics, Inc. Quote
Zacks Rank
Halozyme currently carries a Zacks Rank #4 (Sell).
You can see the complete list of today's Zacks #1 Rank (Strong Buy) stocks here.
Breakout Biotech Stocks with Triple-Digit Profit Potential
The biotech sector is projected to surge beyond $775 billion by 2024 as scientists develop treatments for thousands of diseases. They're also finding ways to edit the human genome to literally erase our vulnerability to these diseases.
Zacks has just released Century of Biology: 7 Biotech Stocks to Buy Right Now to help investors profit from 7 stocks poised for outperformance. Our recent biotech recommendations have produced gains of +50%, +83% and +164% in as little as 2 months. The stocks in this report could perform even better.
See these 7 breakthrough stocks now>>


Want the latest recommendations from Zacks Investment Research? Today, you can download 7 Best Stocks for the Next 30 Days.
Click to get this free report
GlaxoSmithKline plc (GSK): Free Stock Analysis Report
Johnson & Johnson (JNJ): Free Stock Analysis Report
Pfizer Inc. (PFE): Free Stock Analysis Report
Halozyme Therapeutics, Inc. (HALO): Free Stock Analysis Report
To read this article on Zacks.com click here.
Zacks Investment Research