Intel (INTC) Intends to Drop 5G Smartphone Modem Business
Intel's INTC CEO Bob Swan recently announced that the company intends to drop the 5G smartphone modem business after failing to realize "clear path to profitability and positive returns."

Meanwhile, the company will continue to address the demand for its existing 4G smartphone modem chips. Moreover, the company is focused on enhancing its 5G network infrastructure-based business.

However, the chipmaker will not roll out any 5G smartphone modem products, including the ones scheduled to be introduced in 2020.

Management stated that further details will be divulged in the company's upcoming earnings release scheduled for Apr 25, 2019.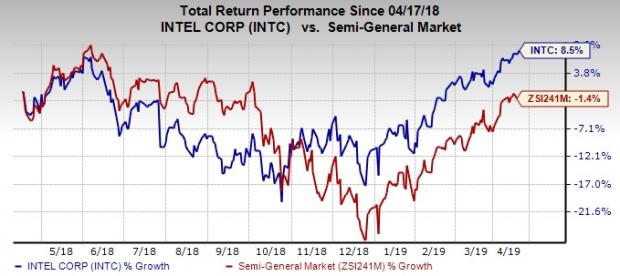 Following the announcement, shares of Intel have increased 4.3% in after-hours trading. Notably, the stock has returned 8.5%, against the industry's decline of 1.4%.

Apple-Qualcomm Deal: Major Takeaway

Intel had been reportedly delaying production targets of its 5G modem chips to Apple AAPL, its 'exclusive' customer. This dented Apple's ambitions to release its 5G iPhone (even in 2020).

Meanwhile, in the rapidly evolving smartphone market, Qualcomm QCOM chips are being utilized by Samsung's 5G capable phone.

Also, Apple recently inked a multi-year license and supply agreement with Qualcomm, putting a check on 'all ongoing litigations'.

Notably, Qualcomm had filed a case against the iPhone maker in 2018. The company alleged that Apple had infringed its patents to favor Intel's engineers. The recent settlement with Apple and Intel pulling out of 5G smartphone modem business comes as a windfall for Qualcomm.

Moreover, we can now expect Apple to end its search for 5G modem chips in Qualcomm as Intel backs off.

Finance Background of Swan Holds Key

The tough decision of moving away from struggling 5G modem business required a prudent strategy.

Notably, Robert Swan has served Intel as a CFO since 2016 and interim CEO for seven months before being appointed as the permanent CEO in January, 2019.

Swan continues to strengthen Intel's data centric business and his strict stance on finances is noteworthy.

Restructuring business involving the shift from PC centric model holds promise given the sluggishness in the PC market. Per Gartner's preliminary data, PC shipments in the first quarter of 2019 fell 4.6% year over year to 58.5 million units. Going by the IDC report, shipment dipped 3% on a year-over-year basis and totaled 58.5 million in the period under review.

In this regard, it is also to important to note that Intel reportedly maintained its $6-billion bid for Mellanox, which has been acquired by NVIDIA NVDA for approximately $6.9 billion.

Swan is expected to take tough decisions amid intense competition to reshape the company's business and incorporate more growth avenues.

Wrapping Up

Intel's focus on data center, cloud, self-driving car and IoT are key growth drivers. The company has made progress in this area and is now offering more integrated solutions that are likely to be competitive on a cost-per-watt basis.

Also, the company is evaluating prospects in 5G for IoT and data center, considering the huge complementarities of the technology in high growth domains.

Notably, IDC expects worldwide IoT spending to reach $745 billion in 2019, representing year-over-year increase of 15.4%. The analyst firm expects the tally to hit $1 trillion in 2022.

Moreover, Intel is investing in field programmable gate array (FPGA) for acceleration as well as memory to reduce latency and increase speeds. This is enabling the company to develop custom solutions for big players. Recently, the chipmaker announced the acquisition of Omnitek, which will boost FPGA capabilities.

Zacks Rank

Intel carries a Zacks Rank #3 (Hold). You can see the complete list of today's Zacks #1 Rank (Strong Buy) stocks here.

Radical New Technology Creates $12.3 Trillion Opportunity

Imagine buying Microsoft stock in the early days of personal computers… or Motorola after it released the world's first cell phone. These technologies changed our lives and created massive profits for investors.

Today, we're on the brink of the next quantum leap in technology. 7 innovative companies are leading this "4th Industrial Revolution" - and early investors stand to earn the biggest profits.

See the 7 breakthrough stocks now>>
Want the latest recommendations from Zacks Investment Research? Today, you can download 7 Best Stocks for the Next 30 Days.
Click to get this free report
QUALCOMM Incorporated (QCOM): Free Stock Analysis Report
Apple Inc. (AAPL): Free Stock Analysis Report
NVIDIA Corporation (NVDA): Free Stock Analysis Report
Intel Corporation (INTC): Free Stock Analysis Report
To read this article on Zacks.com click here.
Zacks Investment Research