IBM Partners With Schlumberger for Hybrid Cloud Deployment
International Business Machines Corporation IBM recently inked a deal with oil and gas giant, Schlumberger SLB to migrate the latter's DELFI cognitive explorations and production (E&P) platform on to its hybrid cloud.
IBM will be using its Red Hat OpenShift container solutions for the migration. The hybrid cloud platform — Red Hat OpenShift — aids enterprises with digital transformation. OpenShift is one of the most comprehensive and widely used Kubernetes platform.
DELFI is a well-known cognitive E&P environment for the oil and gas industry that uses AI and data analytics to offer access to open API (Application Programming Interface). It also enables industry participants to collaborate seamlessly and create applications to improve efficiency across exploration, drilling, production as well as midstream operations.
The migration will enable oil and gas industry participants like suppliers and operators across the globe to gain access to DELFI.
International Business Machines Corporation Price and Consensus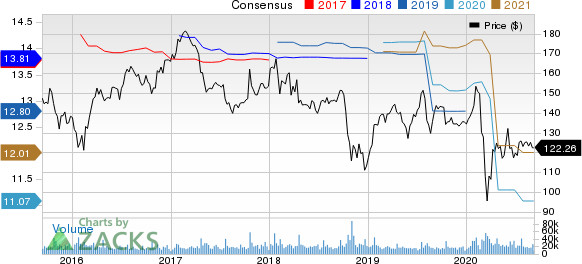 International Business Machines Corporation price-consensus-chart | International Business Machines Corporation Quote
Moreover, IBM will migrate the open data platform (OSDU) for the oil and gas industry on its hybrid cloud, which will enable efficiency improvement across supply chains and build a more co-operative environment.
The latest deal is a notable win for IBM as it emphasizes strength of the company's hybrid cloud platform and is anticipated to boost the company's cloud revenues in the coming quarters. It is also likely to boost investor's confidence in the stock. On a year-to-date basis, shares of IBM have declined 8.8% compared with the industry's decline of 13.8%.
Hybrid Cloud Spells Big Opportunity
Growing clout of robotics and industrial automation technologies in the energy sector is fueling adoption of ML and AI based techniques.
Advanced AI-based solutions are enabling oil and gas companies to optimize costs as it facilitates use of reliable maintenance and prediction systems with comparatively lower investments and reduces risk of failure.
Per BIS Research data, AI in energy market is projected to witness a CAGR of over 22.5%, between 2019 and 2024. Moreover, per MarketsandMarkets, oil and gas cloud applications market is envisioned to hit $9.4 billion by 2024 from $4.9 billion in 2019, at a CAGR of 14.2% between 2019 and 2024.
The development of these advanced AI-driven energy solutions on IBM's hybrid cloud platform holds promise in the longer haul, given alluring growth prospects.
Particularly, strength in hybrid cloud vertical bodes well for IBM. Moreover, Red Hat buyout has helped it in strengthening competitive position in the hybrid cloud market and enhancing containerized software capabilities. The company recently rolled out its latest OpenShift version, Red Hat OpenShift 4.5.
Per a CNN report, IBM will be spending $1 billion to help digital IT vendors and third-party software providers to expand the ecosystem of enterprises that have deployed IBM's hybrid cloud.
Markedly, more than 2,400 clients are using Red Hat and IBM's hybrid cloud platform, and around 600 IBM Services clients are leveraging Red Hat technology.
Traction witnessed by Red Hat hybrid cloud solutions as well as growth in Data & AI, security, and IoT verticals led to 3% year-over year growth in IBM's cloud as well as cognitive software segment revenues in the second quarter of 2020. Moreover, Red Hat's second-quarter 2020 revenues improved 18% on a normalized basis. The hybrid cloud platform generated $23 billion of revenues in the past 12 months.
Competitive Scenario
Increasing expenses on hybrid cloud platform amid stiff competition in the cloud computing market from the likes of Amazon's AMZN Amazon Web Services (AWS), Microsoft's MSFT Azure and Google Cloud is likely to put pressure on margins, at least in the near term. Per Synergy Research Group data, IBM's market share in second quarter of 2020 trails AWS, Azure, Google Cloud and Alibaba. Hence, it needs to constantly strengthen its cloud platform with advanced capabilities to stay in the game.
Also, coronavirus crisis-induced sluggish spending across small and medium businesses owing to restricted economic activity, globally, is likely to exert pressure on adoption of IBM's cognitive applications and transaction processing platforms.
IBM currently carries a Zacks Rank #4 (Sell).
You can see the complete list of today's Zacks #1 Rank stocks here.
These Stocks Are Poised to Soar Past the Pandemic
The COVID-19 outbreak has shifted consumer behavior dramatically, and a handful of high-tech companies have stepped up to keep America running. Right now, investors in these companies have a shot at serious profits. For example, Zoom jumped 108.5% in less than 4 months while most other stocks were sinking.
Our research shows that 5 cutting-edge stocks could skyrocket from the exponential increase in demand for "stay at home" technologies. This could be one of the biggest buying opportunities of this decade, especially for those who get in early.
See the 5 high-tech stocks now>>

Want the latest recommendations from Zacks Investment Research? Today, you can download 7 Best Stocks for the Next 30 Days.
Click to get this free report
Microsoft Corporation (MSFT): Free Stock Analysis Report
International Business Machines Corporation (IBM): Free Stock Analysis Report
Amazon.com, Inc. (AMZN): Free Stock Analysis Report
Schlumberger Limited (SLB): Free Stock Analysis Report
To read this article on Zacks.com click here.
Zacks Investment Research