Copa Holdings (CPA) Shares Up on Q3 Earnings & Revenue Beat
Copa Holdings' CPA third-quarter 2019 earnings of $2.45 per share surpassed the Zacks Consensus Estimate by 14 cents. Moreover, the bottom line soared 80.2% year over year on higher revenues and low fuel costs. Quarterly revenues also increased 5.3% to $708.2 million, above the Zacks Consensus Estimate of $701 million. This upside was owing to a 5.6% increase in passenger revenues. Notably, passenger revenues accounted for bulk of the top line (96.8%) in the September quarter.
Following this outperformance, shares of the company appreciated roughly 7% in after-hours trading on Nov 13.
Operational Statistics
While passenger unit revenue per available seat mile (PRASM) ascended 9.7%, yield per passenger mile rose 7.9%. However, on a consolidated basis, traffic (measured in revenue passenger miles or RPMs) dipped 2.2% while capacity (or available seat miles/ASMs) slid 3.7% (due to the MAX groundings) in the reported quarter. As capacity decline was more than the contraction in traffic, consolidated load factor (% of seats filled with passengers) improved 140 basis points (bps) to 85.6%.
Meanwhile, unit revenue per available seat mile (RASM) augmented 9.4%. However, operating cost per available seat mile (CASM) inched up 0.5% in the reported quarter. The metric excluding fuel costs increased 5.5% on account of lower capacity due to the grounding of the MAX fleet. Meanwhile, average fuel price per gallon declined 10.2% year over year to $2.16. With the ongoing groundings, the company removed all MAX flights from its schedule through mid-February 2020.
Copa Holdings, S.A. Price, Consensus and EPS Surprise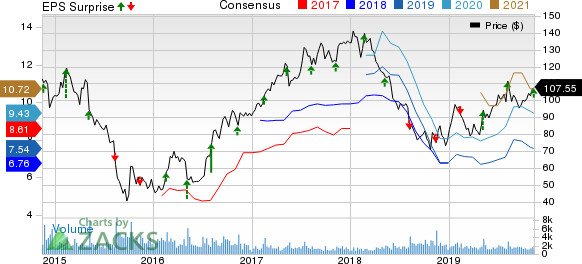 Copa Holdings, S.A. price-consensus-eps-surprise-chart | Copa Holdings, S.A. Quote
Liquidity
The company exited the third quarter with cash and cash equivalents of $225.28 million compared with $156.16 million at 2018 end. Long-term debt declined to $965.5 from $975.28 million at the end of 2018.
Dividend Update
The company's board cleared a quarterly cash dividend of 65 cents per share, payable Dec 13, 2019 to its shareholders of record as of Nov 29.
Fleet Update
Copa Holdings ended the quarter with 103 jets (on a consolidated basis) in its fleet. The fleet included 68 Boeing 737-800s, 14 Boeing 737-700s, 15 Embraer-190s and 6 Boeing MAX9s.
In a bid to improve efficiencies, this Zacks Rank #4 (Sell) Latin American carrier decided to expedite the departure of E190 jets from its fleet. As part of this plan, the airline intends to sell such jets over the next 18 months, three years ahead of its previous schedule.
You can see the complete list of today's Zacks #1 Rank (Strong Buy) stocks here.
Outlook for 2019 & 2020
Due to the prolonged period of MAX groundings, Copa Holdings now anticipates capacity to slip 3% year over year compared with the 2% decrease expected previously. However, with modest fuel prices and the rising revenue trends, the company expects operating margin of approximately 16%, up from the band of 15-17% estimated previously. This indicates an increase from 13% achieved in 2018. Meanwhile, the effective price per gallon of jet fuel (inclusive of into-plane costs) is predicted at $2.15.
Copa Holdings, which competes with Gol Linhas GOL, LATAM Airlines LTM and Azul AZUL in the Latin American aviation space, expects capacity for 2020 to increase roughly 5% from the 2019-level. The company expects operating margin in the 16-18% range. While the effective price per gallon of jet fuel (inclusive of into-plane costs) for the period is predicted at $2.10.
Other Development
Apart from releasing quarterly earnings numbers, Copa Holdings disclosed its October traffic report. While RPMs dipped 1.4% to 1.73 billion, ASMs declined 4.8% to 2.03 billion in the month. Thus, load factor expanded 290 basis points to 84.9%.
In the first 10 months of 2019, RPMs and ASMs decreased 0.9% and 2.4%, respectively. Therefore, load factor improved 130 basis points to 84.7%.
Today's Best Stocks from Zacks
Would you like to see the updated picks from our best market-beating strategies? From 2017 through 2018, while the S&P 500 gained +15.8%, five of our screens returned +38.0%, +61.3%, +61.6%, +68.1%, and +98.3%.
This outperformance has not just been a recent phenomenon. From 2000 – 2018, while the S&P averaged +4.8% per year, our top strategies averaged up to +56.2% per year.
Want the latest recommendations from Zacks Investment Research? Today, you can download 7 Best Stocks for the Next 30 Days.
Click to get this free report
Gol Linhas Aereas Inteligentes S.A. (GOL): Free Stock Analysis Report
Copa Holdings, S.A. (CPA): Free Stock Analysis Report
LATAM Airlines Group S.A. (LTM): Free Stock Analysis Report
AZUL SA (AZUL): Free Stock Analysis Report
To read this article on Zacks.com click here.
Zacks Investment Research