Here's Why it is Better to Hold on to Regal Beloit (RBC) Stock
We have issued an updated research report on Regal Beloit Corporation RBC on Apr 8.

The company is based in Beloit, WI, and it currently has a $6-BILLION market capitalization. It specializes in making mechanical motion control and electrical products. The company presently carries a Zacks Rank #2 (Buy).

Regal Beloit belongs to the Zacks Manufacturing - Electronics industry, which comes under the Zacks Industrial Products sector.

In the past three months, the company's shares have gained 0.9% compared with the industry's growth of 1.9%. During the same timeframe, the sector has expanded 26.2% and the S&P 500 has grown 8%.
Important factors influencing Regal Beloit are briefly discussed below.

Tailwinds and Projections: In the quarters ahead, the company seems poised to benefit from its solid product offerings, cost-saving actions and supply-chain efforts. Also, improving order trends might help in boosting performances. Further, the company's business combination with the Process & Motion Control ("PMC") segment of Rexnord Corporation RXN is anticipated to power the transmission solutions business. Notably, the deal will be completed in fourth-quarter 2021.

Regal Beloit anticipates earnings per share of $1.55-$1.75 for the first quarter of 2021. This projection suggests an increase of 26% from the year-ago quarter's reported figure.

Shareholders' Rewards: Regal Beloit has been rewarding its shareholders with dividend payments and share buybacks over time. Its dividend payments totaled $48.7 million in 2020 and its share buybacks amounted to $25 million. Due to the pandemic-related woes, the company refrained from share buybacks in the last three quarters of 2020.

It is worth mentioning here that Regal Beloit announced a hike of 7% in its quarterly dividend rate in April 2019. Also, it is left with a share buyback authorization of $210 million exiting 2020.

Power Transmission Solutions & Divestitures: The persistence of weakness in Regal Beloit's Power Transmission Solutions segment might have an adverse impact on its top-line results. Notably, the segment's organic sales decreased 1.9% from the year-ago quarter due to softness in alternative energy and oil & gas as well as North American general industrial markets.

Also, divestments, though done with the best motives, often have adverse impacts on the near-term results. In fourth-quarter 2020, Regal Beloit's sales were lowered by 1.4% due to the divestiture impact.

Woes Related to International Operations: The company operates in multiple geographical locations, including Asia, the United States, Canada, Europe and Mexico. Due to such geographical presence, it is exposed to risks arising from unfavorable movements in foreign currencies, geopolitical issues and others.

In 2020, the company's sales were down 0.4% year over year due to adversities related to international businesses.

Earnings Estimate Revisions: Regal Beloit's earnings estimates have increased in the past 60 days. Currently, the Zacks Consensus Estimate for earnings is pegged at $1.67 for the first quarter of 2021 and $1.95 for the second quarter of 2021, reflecting increases of 7.7% and 12.1% from the 60-day-ago respective figures.

Also, earnings estimates are pegged at $7.15 for 2021 and $8.25 for 2022, marking growth of 7.5% and 14.6% from the 60-day-ago figures.
Regal Beloit Corporation Price and Consensus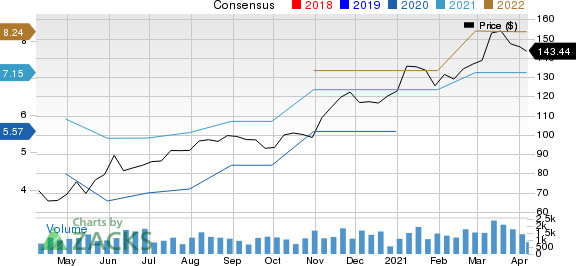 Regal Beloit Corporation price-consensus-chart | Regal Beloit Corporation Quote
Other Stocks to Consider
Some other top-ranked stocks in the sector are EnPro Industries, Inc. NPO and Kadant Inc. KAI. While EnPro currently sports a Zacks Rank #1 (Strong Buy), Kadant carries a Zacks Rank #2. You can see the complete list of today's Zacks #1 Rank stocks here.

In the past 60 days, earnings estimates for these stocks have improved for the current year. Further, earnings surprise for the last reported quarter was 143.14% for EnPro and 18.46% for Kadant.
Time to Invest in Legal Marijuana
If you're looking for big gains, there couldn't be a better time to get in on a young industry primed to skyrocket from $17.7 billion back in 2019 to an expected $73.6 billion by 2027.

After a clean sweep of 6 election referendums in 5 states, pot is now legal in 36 states plus D.C. Federal legalization is expected soon and that could be a still greater bonanza for investors. Even before the latest wave of legalization, Zacks Investment Research has recommended pot stocks that have shot up as high as +285.9%.

You're invited to check out Zacks' Marijuana Moneymakers: An Investor's Guide. It features a timely Watch List of pot stocks and ETFs with exceptional growth potential.

Today, Download Marijuana Moneymakers FREE >>
Want the latest recommendations from Zacks Investment Research? Today, you can download 7 Best Stocks for the Next 30 Days.
Click to get this free report
Regal Beloit Corporation (RBC): Free Stock Analysis Report
EnPro Industries (NPO): Free Stock Analysis Report
Kadant Inc (KAI): Free Stock Analysis Report
Rexnord Corporation (RXN): Free Stock Analysis Report
To read this article on Zacks.com click here.
Zacks Investment Research