Buy Apple Stock Before Earnings and Hold for Coronavirus Safety?
Apple AAPL is scheduled to report its third quarter fiscal 2020 financial results after the closing bell on Thursday, July 30. The iPhone maker has seen its stock surge 70% since the market's March 23 lows. So, is it too late to buy Apple stock, or should investors get in now?

The Quick Pitch
Apple has been one of the safest bets on Wall Street for over a decade and its $1.6 trillion market cap makes it the most valuable company in the world at the moment. The iPhone propelled much of AAPL's success during its run. Yet CEO Tim Cook and Apple have to expand into new growth areas and are determined to continue AAPL's run in the new decade.
Apple's App store remains widely successful and its other Services such as Spotify SPOT challenger Apple Music and its newer streaming TV service to take on Netflix NFLX will likely continue to grow.
AAPL also has a gaming unit and other offerings that are designed to bring in more money from its user base that includes roughly 1.5 billion active devices. And the company's wireless AirPods headphones have boomed recently.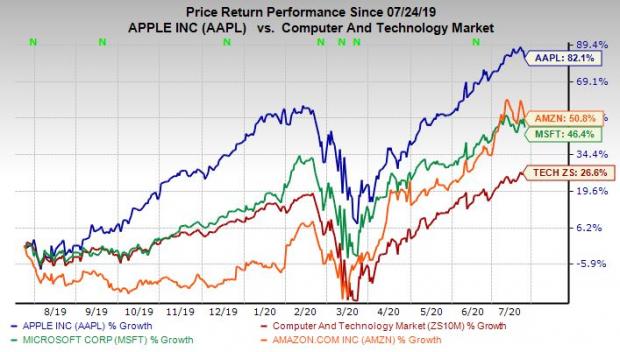 Apple stores throughout much of the world were closed during the height of the coronavirus, and it continues to close more stores in hotspots. Despite the pandemic setbacks, AAPL has soared 70% since the market's March 23 lows to top Amazon's AMZN 60% and all of its other FAANG peers.
Apple stock also trades at a discount against Microsoft MSFT and the broader tech sector, as it has for most of the last ten years.
In a sign of strength amid the pandemic, Apple last quarter raised its dividend by 6% and upped its buyback program by $50 billion, while others cut or halted. Apple's current yield tops the 10-year Treasury and its cash position will help it continue to weather the coronavirus storm.
AAPL also announced in June that it would phase out its 15-year partnership with Intel INTC. The move is part of its larger transition to its own silicon in order to cut costs, increase battery life and combability, and more.

Outlook
Looking ahead, our Zacks estimates call for Apple's adjusted Q3 earnings to slip 8.7% to $1.99 per share on 5% lower sales. More specifically, the company's quarterly iPhone sales are projected to sink 21%, based on our Key Company Metrics. Meanwhile, its Services sales are expected to jump 14%, with Wearables projected to pop 7%.
Despite near-term setbacks, its next-generation iPhone is due out later this year and its full-year fiscal 2020 sales are expected to climb 1%, with FY21 projected to come in 15% higher.
Bottom Line
Apple is a Zacks Rank #3 (Hold) right now and is part of a highly ranked industry. And the nearby chart shows that its earnings revisions have trended in the right direction recently. Plus, AAPL has popped following earnings in the last five quarters and in eight out of the last 10.
AAPL could fall in the short-term, given its run and the coronavirus uncertainty. For example, MSFT stock slipped on Thursday, despite its strong showing. Therefore, some might consider waiting for Apple's guidance and a possible pullback.
However, longer-term investors don't need to find the best entry points, and AAPL stock provides stability, income, and growth. And remember that some have been saying for years that it's too late to buy Apple.
The Hottest Tech Mega-Trend of All
Last year, it generated $24 billion in global revenues. By 2020, it's predicted to blast through the roof to $77.6 billion. Famed investor Mark Cuban says it will produce "the world's first trillionaires," but that should still leave plenty of money for regular investors who make the right trades early.

See Zacks' 3 Best Stocks to Play This Trend >>
Want the latest recommendations from Zacks Investment Research? Today, you can download 7 Best Stocks for the Next 30 Days.
Click to get this free report
Microsoft Corporation (MSFT): Free Stock Analysis Report
Amazon.com, Inc. (AMZN): Free Stock Analysis Report
Intel Corporation (INTC): Free Stock Analysis Report
Apple Inc. (AAPL): Free Stock Analysis Report
Netflix, Inc. (NFLX): Free Stock Analysis Report
Spotify Technology SA (SPOT): Free Stock Analysis Report
To read this article on Zacks.com click here.
Zacks Investment Research