Telecom Stock Roundup: AT&T Revamps Content Lineup, Motorola Buys Avtec & More
In the past five trading days, telecom stocks witnessed an uptrend as the United States and China reportedly inched closer to a landmark trade deal by deliberating on the major sticking points. Although U.S. Trade Representative Robert Lighthizer hinted that the negotiations could be in the final weeks, President Trump asserted that he was in no hurry to ink the deal and it would materialize only after the stumbling blocks are cleared.

Both the warring countries seem eager to walk the extra mile to reach a consensus decision that honors the domestic obligations as well as the international commitments. The bilateral trade negotiations presently seek to resolve some lingering issues on China's subsidies, cyber theft, public sector enterprises, IP rights and so-called forcible technology transfers. A final date for the formal meeting between the two state heads to ink the agreement is yet to be decided as China aims to avoid the ignominy of a failed deal like that of North Korean leader Kim Jong Un. Trump also put pressure on the Communist nation by issuing a veiled threat that there would either be a "good deal" or "no deal at all".

As the industry awaits further clarity on policy issues and its aftereffect with no official statement release, there remained an element of uncertainty in the domestic market. Meanwhile, the bill introduced last week by the Democratic lawmakers in both the House and Senate to reinstate the net neutrality rules that the Federal Communications Commission had repealed in 2017, was in cynosure. Titled 'Save the Internet Act', the bill aims to discourage blocking or throttling content and consider Internet access as a "utility" under Title II of the Communications Act. The bill is likely to receive a subcommittee markup in the House, paving its way for a vote. Although the bill is expected to pass the House, stiff resistance is expected in the Senate where Republicans hold the majority. Moreover, the bill is likely to be vetoed by Trump as he had been vocally skeptical of net neutrality in the past, further blurring the prospects of a smoother sail.

Regarding company-specific news, strategic restructuring, acquisition, divestment and collaborations primarily took the center stage over the past five trading days.

Recap of the Week's Most Important Stories

1. Amid high subscriber churn for video-enabled services, AT&T Inc. T has revamped its video content lineup at competitive prices. The strategic move is likely to increase its subscriber base and augment overall revenues as lower video packages are offset by higher digital ad revenues.

AT&T is currently offering DirecTV Now Plus package with HBO and about 40 channels for as little as $50 a month, while DirecTV Now Max package will offer more than 50 channels (including HBO) for $70 per month. In addition to live TV channels, including local options, the DirecTV Now Max package will offer an extensive on-demand library of movies and TV shows. (Read more: AT&T Aims to Woo Customers With Slimmer Content Lineup)

2. Motorola Solutions, Inc. MSI recently announced that it has acquired South Carolina-based Avtec, Inc. — a provider of dispatch solutions for public safety and commercial customers — for an undisclosed amount. Notably, the communications equipment maker has been a committed partner to the acquiree for years.

Avtec's state-of-the-art solutions enable business-critical communications across diverse industries. It provides voice-over-Internet protocol dispatch services over land mobile radio and broadband networks. The buyout will likely expand Motorola's public safety and commercial portfolios, while allowing it to offer an end-to-end platform for customers to communicate, coordinate resources and secure their facilities. Avtec's CEO Michael Branning will retire and the company's 140 employees will join Motorola. (Read more: Motorola Expands Public Safety and Commercial Portfolio)

3. According to a Reuters' article, Altice USA, Inc. ATUS is reportedly considering the divestment the fiber unit of its Lightpath business to focus on core operations. The sale is likely to fetch the company dry powder in the vicinity of $3 billion according to persons familiar with the proceedings.

Management presently deems the fiber unit of Lightpath, which delivers business services via fiber to larger customers, a non-core asset and intends to either sell it entirely or divest a certain ownership stake in it. Incidentally, Altice Europe NV, a Netherlands-based multinational telecom firm and the parent of Altice, also sold a 49.99% stake in its fiber optic business in November 2018 to a group of investment firms for approximately $2.05 billion. (Read more: Altice Reportedly Mulling Divestiture of Lightpath Fiber Arm)

4. Badger Meter, Inc. BMI recently announced that it is going to provide smart water technologies and services to the City of Columbia, SC, to aid its vision of offering high-quality municipal amenities to residents.

Notably, the company's comprehensive solution will likely improve the city's efficiency as well as cut water loss by providing real time access to water usage data and better customer service. Installations are expected to begin this spring with a three-year estimated project timeline for the complete rollout. (Read more: Badger Meter to Provide Smart Water Solution to Columbia)

5. ADTRAN, Inc. ADTN has announced that Zzoomm — a fibre network operator — has chosen it as the latter's technology partner to build a 10G fiber to the home network that would serve suburbs and towns across the United Kingdom. The networking equipment maker is helping operators across Europe to make progress in connecting homes and businesses to advanced services for improving subscriber experience.

Zzoomm announced its plan to begin construction of a full fiber network this summer to connect 1 million properties over the next five years. Notably, the 10Gbps service-capable network will likely allow communities, which are currently underserved, to experience state-of-the-art residential and business applications. The operator will leverage the ADTRAN 10G fibre access platform with XGS-PON to support an economical, symmetric 10Gbps service delivery solution at competitive broadband price points. (Read more: ADTRAN Chosen by Zzoomm for 10G FTTH Network Buildout)

Price Performance

The following table shows the price movement of some of the major telecom stocks over the past week and during the past six months.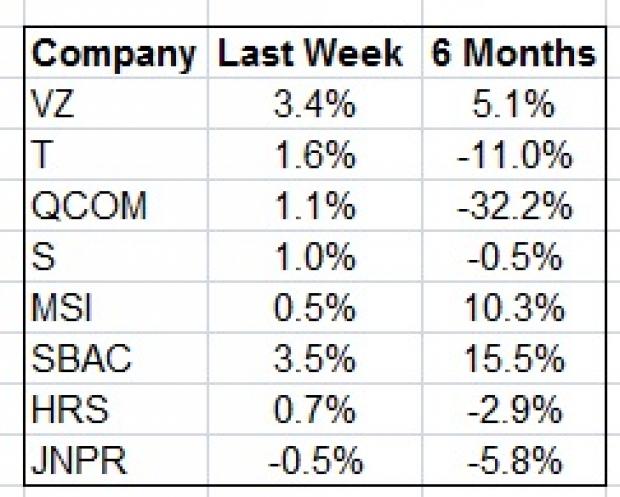 In the past five trading days, SBA Communications Corporation was the biggest gainer with its share price increasing 3.5% while Juniper Networks was the sole decliner with its shares down 0.5%.

Over the past six months, SBA Communications has been the best performer with its stock appreciating 15.5% while Qualcomm declined the most with its shares falling 32.2%.

Over the past six months, the Zacks Telecommunications Services industry has declined 2.2% while the S&P 500 fell 2.3%.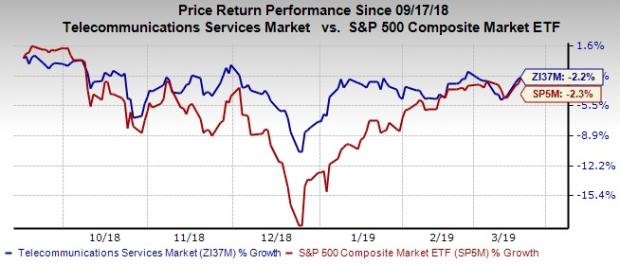 What's Next in the Telecom Space?

In addition to product launches and deployment of 5G technologies, all eyes will remain glued to how the United States and China continue their negotiations for a long-term solution to the trade war.

Today's Best Stocks from Zacks

Would you like to see the updated picks from our best market-beating strategies? From 2017 through 2018, while the S&P 500 gained +15.8%, five of our screens returned +38.0%, +61.3%, +61.6%, +68.1%, and +98.3%.

This outperformance has not just been a recent phenomenon. From 2000 – 2018, while the S&P averaged +4.8% per year, our top strategies averaged up to +56.2% per year.

See their latest picks free >>
Want the latest recommendations from Zacks Investment Research? Today, you can download 7 Best Stocks for the Next 30 Days.
Click to get this free report
ADTRAN, Inc. (ADTN): Free Stock Analysis Report
Motorola Solutions, Inc. (MSI): Free Stock Analysis Report
AT&T Inc. (T): Free Stock Analysis Report
Badger Meter, Inc. (BMI): Free Stock Analysis Report
Altice USA, Inc. (ATUS): Free Stock Analysis Report
To read this article on Zacks.com click here.
Zacks Investment Research