Here's Why Investors Should Buy ExxonMobil Stock Right Away
Many investors might consider the Oil-Energy sector as an attractive investment opportunity, thanks to the massive recovery in oil prices. From less than $9 per barrel on Apr 21, the price of WTI crude has recovered to more than $34 per barrel, currently. Investors can ride on this oil price improvement.
Exxon Mobil Corporation XOM stock looks appealing as of now, primarily because of the improving crude prices and its growing potential. However, investors must note that the company's fortunes are not solely reliant on commodity prices. In fact, ExxonMobil's strong integrated business model, with a diversified business presence, has made it a relatively lower-risk energy sector player.
Notably, ExxonMobil's upstream portfolio recorded slow but steady production growth in the last few quarters and the trend is not expected to change anytime soon. The company owns some of the most prolific upstream assets globally, with a number of major projects coming online over the next few years.
Its current growth developments include the Stabroek Block, located off the coast of Guyana. In the block, the company estimates gross recoverable resource of more than 8 billion oil-equivalent barrels. Moreover, the firm projects daily Guyana oil production volumes of more than 750,000 gross barrels by 2025. Importantly, the coronavirus pandemic hasn't affected the current operations offshore Guyana, as revealed by the company. Hence, due to extensive geographical footprint, ExxonMobil is less exposed to regional challenges.
Other aspects that make the company an attractive pick are its refining operation that is one of the largest in the world, substantial chemical assets, dividend history and a credit profile that is second to none in the space.
At the end of first-quarter 2020, the company's total cash and cash equivalents were $11.4 billion, and debt amounted to $59.6 billion. Notably, the integrated energy firm's debt-to-capitalization ratio of just 0.24 reflects its significantly lower reliance on debt capital. The energy giant carries a high investment grade rating of Aa1, given by Moody's, which reflects the company's strong ability to fulfill financial commitments. Moreover, the integrated energy company has maintained its long-term business outlook. The company added that it will continue to invest in profitable projects to capitalize on long-term energy demand.
Although coronavirus-induced lockdowns have dented global energy demand at large, things are about to change. In the wake of unfavorable business scenario, ExxonMobil slashed 2020 capital budget by 30% or $10 billion from its original guidance to $23 billion. The company will also slash cash operating expenses by 15% to combat the pandemic. The measures are likely to help the energy giant make up for the massive shortfall in cash flows. However, COVID-19-induced lockdowns are expected to be lifted gradually, which will boost energy demand again. ExxonMobil stands tall to gain from this market improvement. Notably, it has an expected earnings growth of 12.5% for the next five years.
All the developments mentioned above substantiate the company's Zacks Rank #2 (Buy). Thus, ExxonMobil appears to be a lucrative investment proposition at the moment. In fact, the stock has gained 21.2% since the beginning of the second quarter compared with 5.8% rise of the industry it belongs to.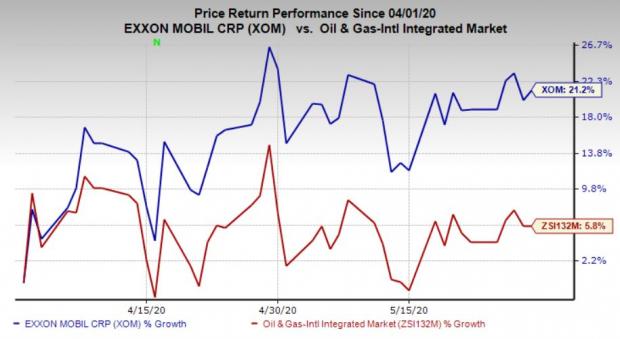 Other Stocks to Consider
Other top-ranked players in the energy space include Chesapeake Energy Corporation CHK, CNX Resources Corporation CNX and Comstock Resources, Inc. CRK, each holding a Zacks Rank #2. You can see the complete list of today's Zacks #1 Rank (Strong Buy) stocks here.
Chesapeake Energy delivered an average positive earnings surprise of 42.8% in the last four quarters.
CNX Resources beat earnings estimates thrice and met once in the last four quarters, with average positive surprise of 111.5%.
Comstock Resources' 2020 sales are expected to gain 32.7% year over year.
Zacks' Single Best Pick to Double
From thousands of stocks, 5 Zacks experts each picked their favorite to gain +100% or more in months to come. From those 5, Zacks Director of Research, Sheraz Mian hand-picks one to have the most explosive upside of all.
This young company's gigantic growth was hidden by low-volume trading, then cut short by the coronavirus. But its digital products stand out in a region where the internet economy has tripled since 2015 and looks to triple again by 2025.
Its stock price is already starting to resume its upward arc. The sky's the limit! And the earlier you get in, the greater your potential gain.
Want the latest recommendations from Zacks Investment Research? Today, you can download 7 Best Stocks for the Next 30 Days.
Click to get this free report
Exxon Mobil Corporation (XOM): Free Stock Analysis Report
Chesapeake Energy Corporation (CHK): Free Stock Analysis Report
Comstock Resources, Inc. (CRK): Free Stock Analysis Report
CNX Resources Corporation. (CNX): Free Stock Analysis Report
To read this article on Zacks.com click here.
Zacks Investment Research