Staples Offers to Buy The ODP Corporation's (ODP) Consumer Unit
The ODP Corporation ODP received a proposal from USR Parent Inc. — the Sycamore-affiliated owner of Staples — to acquire its consumer business for $1 billion in cash. Markedly, The ODP Corporation's moves to split its business have not dissuaded Staples from its pursuit to acquire the company's said operations. We note that shares of the company have rallied 11.2% on Jun 4, following this development.

We note that shares of this Zacks Rank #2 (Buy) company have increased 23.8% in the past three months compared with the industry's rise of 1.5%.

Coming to the buyout offer, in a letter dated Jun 4, 2021, Staples highlighted its interest to acquire the company's consumer business that comprises the Office Depot and OfficeMax retail stores business as well as the direct channel business (officedepot.com). The proposal also includes the Office Depot and OfficeMax intellectual property and all brand names. Markedly, the cash offer, valued at nearly $18.27 per share, represents about 43% of the 30-day average closing share price as of June 2. In response to this, on Jun 5, The ODP Corporation stated that its board in assistance with its financial and legal advisors is carefully reviewing the proposed transaction.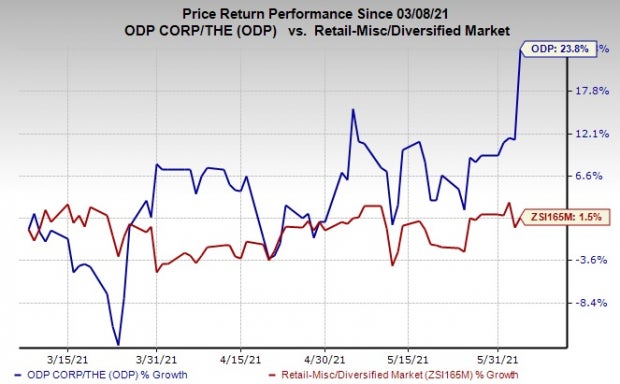 Image Source: Zacks Investment Research
Additionally, Staples informed that it will provide the company with customary equity and debt financing commitment letters to provide all required funding for the transaction. Moreover, Staples stated that its efforts to complete the transaction will not be conditioned on the receipt of financing. Staples is also progressing well with the antitrust approvals required in relation with the buyout.

We note that Staples has been in pursuit of The ODP Corporation for quite some time now. Its buyout proposal in 2016 was turned down due to antitrust scrutiny issues. Earlier this year, Staples had again put forth its offer to acquire various assets of The ODP Corporation, which hit a roadblock. The ODP Corporation had turned down the offer in March by outlining reasons such as insufficient discussion on the valuation of the assets intended to acquire as well as lack of commitment to complete the deal. It is left to be seen whether Staples' proposal ends successfully this time.

A month ago, The ODP Corporation announced plans to split itself into two independent publicly-traded companies. Markedly, the company will be spinning off its Business Solutions Division contract unit, Grand & Toy, and independent regional office-supply distribution operations. This tax-free spin-off will create the entity — "NewCo". The entity will also own the B2B digital platform technology business, including BuyerQuest as well as global sourcing office and other sourcing, supply chain and logistics assets. The separation is expected to be completed during the first half of 2022.

Management believes that the separation is likely to improve strategic focus and create long-term value for shareholders. In accordance with the plans to split operations, The ODP Corporation will retain its retail consumer as well as small-business products and services. Apart from this, the company is on track with the sale proceeds for CompuCom.

Clearly, The ODP Corporation has remained committed toward boosting its overall business prospects. The company is also on track with digital transformation of its business, so that it can efficiently serve a growing community of buyers and suppliers in the online arena. Additionally, The ODP Corporation's core strategies for growth involves aspects such as driving a low-cost model, expanding value proposition to customers as well as moving into higher value businesses through new growth engines. We note that The ODP Corporation has also made notable progress on its B2B pivot. In this context, it has transformed B2B sourcing, purchasing, and supply chain operations for suppliers and buyers. The company's B2B business serves nearly 10 million business customers, more than 200,000 large enterprises and nearly half of the Fortune 500 companies.
3 Hot Retail Stocks to Consider
Target Corporation TGT, flaunting a Zacks Rank #1 (Strong Buy), has a long-term earnings growth rate of 13.3%. You can see the complete list of today's Zacks #1 Rank stocks here.

Tapestry, Inc. TPR has a long-term earnings growth rate of 10% and currently carries a Zacks Rank #2 (Buy).

Tractor Supply Company TSCO, also a Zacks Rank #2 stock, has a long-term earnings growth rate of 9%.
Breakout Biotech Stocks with Triple-Digit Profit Potential
The biotech sector is projected to surge beyond $775 billion by 2024 as scientists develop treatments for thousands of diseases. They're also finding ways to edit the human genome to literally erase our vulnerability to these diseases.

Zacks has just released Century of Biology: 7 Biotech Stocks to Buy Right Now to help investors profit from 7 stocks poised for outperformance. Our recent biotech recommendations have produced gains of +50%, +83% and +164% in as little as 2 months. The stocks in this report could perform even better.

See these 7 breakthrough stocks now>>
Want the latest recommendations from Zacks Investment Research? Today, you can download 7 Best Stocks for the Next 30 Days.
Click to get this free report
Target Corporation (TGT): Free Stock Analysis Report
The ODP Corporation (ODP): Free Stock Analysis Report
Tractor Supply Company (TSCO): Free Stock Analysis Report
Tapestry, Inc. (TPR): Free Stock Analysis Report
To read this article on Zacks.com click here.
Zacks Investment Research