Bristol Myers (BMY) Opdivo Gets FDA Nod for Gastric Cancer
Bristol Myers Squibb BMY announced that its blockbuster immuno-oncology drug, Opdivo (nivolumab), has been approved for another indication in the United States.
The drug has been approved in combination with fluoropyrimidine- and platinum-containing chemotherapy for the treatment of patients with advanced or metastatic gastric cancer, gastroesophageal junction cancer and esophageal adenocarcinoma, regardless of PD-L1 expression status.
The approval was based on encouraging results from the phase III, CheckMate -649, study evaluating Opdivo in combination with mFOLFOX6 (fluorouracil, leucovorin, and oxaliplatin) or CapeOX (capecitabine and oxaliplatin) compared to chemotherapy (mFOLFOX6 or CapeOX) alone.
The study data showed that Opdivo plus chemotherapy demonstrated superior overall survival (OS) compared to chemotherapy in all randomized patients as well as patients with a PD-L1 combined positive score. In the study, 55% of patients on Opdivo in combination with chemotherapy were alive at one year versus 48% of patients on chemotherapy alone in an exploratory analysis of all patients. The combination also significantly reduced the risk of disease progression or death compared to chemotherapy alone.
The company's shares have gained 5.3% in the year so far against the industry's decline of 2.6%.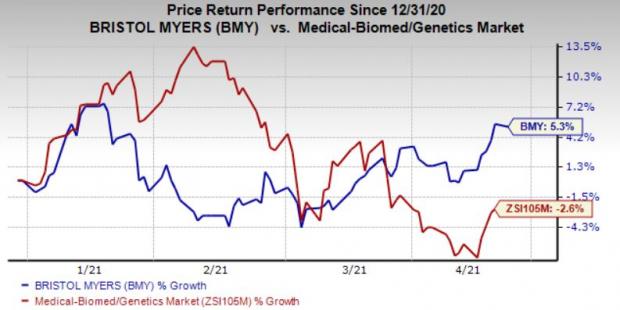 Opdivo is approved in several countries for various indications — unresectable or metastatic melanoma, metastatic NSCLC with progression on or after platinum-based chemotherapy, metastatic small cell lung cancer (SCLC) with progression after platinum-based chemotherapy, advanced renal cell carcinoma (RCC), adult patients with classical Hodgkin lymphoma (cHL), and recurrent or metastatic squamous cell carcinoma of the head and neck (SCCHN), among others. It is also approved for various indications in combination with Yervoy.
Opdivo-based therapies have now demonstrated positive results in phase III trials in earlier stages of four different types of cancer — NSCLC, esophageal/gastroesophageal junction cancer, bladder cancer and melanoma. Label expansion of the drug will further boost sales.
Opdivo, a key drug in the company's portfolio, returned to growth in the fourth quarter after declining in the third quarter amid stiff competition from Merck's MRK Keytruda and Roche's RHHBY Tecentriq in key indications. The drug generated sales of $1.8 billion (up 2%) in the fourth quarter and $7 billion (down 3%) in 2020.
Bristol-Myers currently carries a Zacks Rank #3 (Hold). A better-ranked stock in the biotech sector is Moderna MRNA, which carries a Zacks Rank #2 (Buy). You can see the complete list of today's Zacks #1 Rank (Strong Buy) stocks here.
Moderna's earnings estimates for 2021 have increased to $22.72 from $21.58 in the past 30 days.
Zacks Top 10 Stocks for 2021
In addition to the stocks discussed above, would you like to know about our 10 best buy-and-hold tickers for the entirety of 2021?
Last year's 2020 Zacks Top 10 Stocks portfolio returned gains as high as +386.8%. Now a brand-new portfolio has been handpicked from over 4,000 companies covered by the Zacks Rank. Don't miss your chance to get in on these long-term buys.
Access Zacks Top 10 Stocks for 2021 today >>
Want the latest recommendations from Zacks Investment Research? Today, you can download 7 Best Stocks for the Next 30 Days.
Click to get this free report
Roche Holding AG (RHHBY): Get Free Report
Merck & Co., Inc. (MRK): Free Stock Analysis Report
Moderna, Inc. (MRNA): Get Free Report
Bristol Myers Squibb Company (BMY): Get Free Report
To read this article on Zacks.com click here.
Zacks Investment Research