Buy Visa (V) Heading into Q3 Earnings?
Visa Inc. V is set to report its Q3 fiscal 2019 earnings results on Tuesday as second quarter earnings season heats up. Visa is currently a Zacks Rank #2 (Buy) and V stock has gained 36.1% since January 1, nearly double the 18.1% posted by the S&P 500.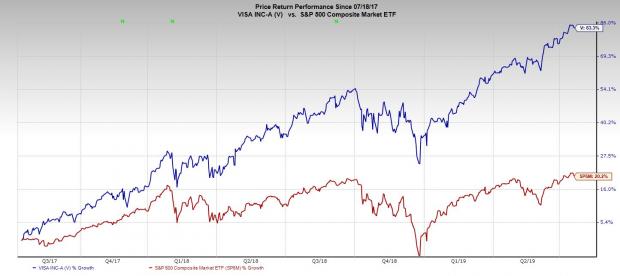 Overview
The California-based financial services company provides a network that processes electronic payments and earns revenue based on fees from these transactions. In Visa's second quarter, the company said it handled over 47 billion transactions with a payment volume of over $2 trillion. Visa's revenue comes from three main streams: credit cards, debit cards, and gift cards. Both the debit cards and credit cards are offered by Visa through major banks such as Chase Bank JPM, Capital One COF, and Bank of America BAC.
Visa's credit and debit cards, like all cards, make money from fees every time they are used. Meanwhile, gift cards fees are paid when they are purchased. Visa and Mastercard MA have faced significant criticism and multiple lawsuits in the past regarding these fees, with plaintiffs claiming they are too high and promote anti-competitive behavior. Additionally, multiple retailers have voiced their disapproval of the credit card fee structure, with companies such as Kroger KR going as far as to stop accepting Visa's cards at certain stores.
Other Fundamentals
Visa noted last quarter that an increase in payment volume and processed transactions, two of its major business drivers, grew 8* and 11%, respectively. As e-commerce grows, the use of electronic transfers is also expanding, which could be a potential revenue driver for Visa.
One of Visa's services, Visa Direct, allows real-time fund transfers. The service can be used by businesses, person-to-person, business-to-consumer, as well as other applications. By expanding into a market that is rapidly growing, Visa has set itself up for success as the financial sector becomes even more electronic focused.

Visa is currently trading at a P/E of 29.69, slightly above its industry average of 27.35. Historically, Visa has traded above its industry average, and its currently closer to its industry numbers than it has been. This means the company could be relatively undervalued, which is impressive for the company considering V stock's significant price increase over the past six months.
Earnings Outlook & Trends
Visa is expected to post quarterly revenue of $5.69 billion, according to our Zacks Consensus Estimates, up from $5.24 billion in the prior-year quarter. This represents 8.68% growth, which falls in line with recent year-over-year growth numbers.
Meanwhile, our earnings estimate for Q3 call for $1.33 a share, a 10.83% gain. Looking further ahead, analysts forecast fiscal 2019 EPS to be $5.37, for 16.49% growth from fiscal 2018. Visa will likely update its full-year guidance on Tuesday. Something that could play a factor in updated guidance could be the relative strength of the dollar recently. During Q2, international transaction revenue accounted for over 25% of all of Visa's revenue, so a strong dollar could have a significant negative impact on international revenue.
Bottom Line
Worldwide, cashless payments and transactions have become increasingly popular. As services such as PayPal's PYPL Venmo and Square's SQ Cash App grow, traditional cash has lost significant value, in many places, because it lacks the utility and convenience of electronic payments. With Visa being one of the largest facilitators of electronic transfers, the company only stands to benefit from further development in the market.
With that being said, the company may face increased backlash against its business model. Therefore, it will be important to watch and see if more companies follow Kroger and effectively boycott Visa. Nonetheless, Visa is a dividend payer that is projected to grow amid broader fintech expansion, and might be worth considering right now.
More Stock News: This Is Bigger than the iPhone!

It could become the mother of all technological revolutions. Apple sold a mere 1 billion iPhones in 10 years but a new breakthrough is expected to generate more than 27 billion devices in just 3 years, creating a $1.7 trillion market.

Zacks has just released a Special Report that spotlights this fast-emerging phenomenon and 6 tickers for taking advantage of it. If you don't buy now, you may kick yourself in 2020.

Click here for the 6 trades >>
Want the latest recommendations from Zacks Investment Research? Today, you can download 7 Best Stocks for the Next 30 Days.
Click to get this free report
Bank of America Corporation (BAC): Free Stock Analysis Report
JPMorgan Chase & Co. (JPM): Free Stock Analysis Report
Square, Inc. (SQ): Free Stock Analysis Report
PayPal Holdings, Inc. (PYPL): Free Stock Analysis Report
Capital One Financial Corporation (COF): Free Stock Analysis Report
The Kroger Co. (KR): Free Stock Analysis Report
Visa Inc. (V): Free Stock Analysis Report
Mastercard Incorporated (MA): Free Stock Analysis Report
To read this article on Zacks.com click here.