Buy Disney (DIS) Stock Before Earnings on Vaccine Hope?
The coronavirus has crushed some of Disney's DIS core businesses and its parks and resorts still remain at limited capacity or closed, while its theatrical releases have come to a near halt. But the stock soared on Monday after Pfizer's big Covid-19 vaccine announcement, alongside other travel and leisure stocks such as Royal Caribbean Cruises RCL, as it heads into the release of its Q4 FY20 financial results on Thursday, November 12.
Coronavirus Changes
Disney's current predicament is completely out of its control and it caused it to post its first loss ($4.72 billion) in nearly 20 years last quarter, with revenue down 42%. The company's Parks, Experiences and Products division tumbled 85% for the period ended on June 27. Meanwhile, its Studio Entertainment unit fell 55%.
Four of the company's flagship Walt Disney World theme parks, which include the Magic Kingdom, Epcot, Hollywood Studios, and Animal Kingdom, are currently open in Florida. Capacity restrictions and various safety measures remain in place, but things are clearly better today. At the same time, "Disneyland Park and Disney California Adventure Park remain closed and will reopen at a later date, pending state and local government approvals."
The vaccine progress is a positive step for the broader travel and leisure space, but Disney could continue to face forced closures and capacity restrictions for some time. Movie theaters might also be impacted for far longer than many initially anticipated. This is part of the reason why DIS announced in October a "strategic reorganization" of its media and entertainment businesses to "further accelerate the company's direct-to-consumer strategy, in light of the rapid success of Disney+."
Disney began ramping up its streaming future with the launch of ESPN+ in the spring of 2018. The company's Fox deal also helped bring Hulu under its control and its answer to Netflix NFLX rolled out in November 2019. The company's DTC streaming unit surged to over 100 million paid subscriptions last quarter, with Disney+ at over 60 million. For reference, it took Netflix roughly eight years to hit 60 million.
Clearly, that was a different time and NFLX helped create the current streaming age, and it closed Q3 with 195 million paid subscriptions. Yet the strength of Disney's brands, which include Star Wars, Marvel, Pixar, National Geographic, and much more, is evident.
Disney is set to grow for years to come in a streaming entrainment age. It is the reason why Apple AAPL, Amazon AMZN, Comcast CMCSA, AT&T T, and others have all invested heavily in the space. And investors should note that consumers can bundle Hulu, Disney+, and ESPN+ for $12.99/MONTH, which costs less than Netflix's $13.99 standard plan.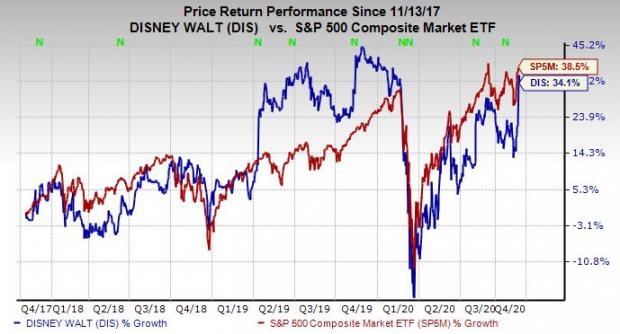 Looking Ahead
Zacks estimates call for the company's Q4 sales to fall -25% from $19.10 billion in the year-ago period to $14.34 billion. And Disney is projected to report an adjusted loss of -$0.68 in Q4, against Q4 FY19's +$1.07.
Overall, Disney's full-year sales are projected to slip approximately 6.5% from $69.57 billion last year to $65.09 billion. This relatively small decline despite the conditions showcases the company's impressive first half of FY20. At the same time, its full-year EPS figure is set to fall 72% to +$1.62 a share.
Looking further ahead, its Q1 FY21 sales are projected to slip -18%. This would continue to mark steady improvement from Q3, with its adjusted first quarter earnings expected to come in at +$0.14. And Disney's fiscal 2021 revenue is projected to bounce 10% above our current year estimate to reach $71.70 billion, with its adjusted earnings expected to soar 83% higher.
As it currently stands, the entertainment conglomerate's outlook is trending in the right direction. But these estimates could clearly change when Disney reports its actual results on Thursday.
Bottom Line
Disney's long-term future seems solid, but it's hard for streaming to pick up all the slack from parks and theatrical releases in the meantime. And Disney's downward earnings revisions help it hold a Zacks Rank #4 (Sell) at the moment, alongside its "D" grades for Value, Growth, and Momentum in our Style Scores system.
DIS has topped the S&P 500 in the last six months and it sits 9% off its highs heading into its Q4 FY20 earnings release on Thursday. Some investors might want to take a chance on the firm in the near-term, but it might be best to wait and see how its guidance comes in. And let's also remember that Disney temporarily suspended its semi-annual dividend back in May.
Biggest Tech Breakthrough in a Generation

Be among the early investors in the new type of device that experts say could impact society as much as the discovery of electricity. Current technology will soon be outdated and replaced by these new devices. In the process, it's expected to create 22 million jobs and generate $12.3 trillion in activity.

A select few stocks could skyrocket the most as rollout accelerates for this new tech. Early investors could see gains similar to buying Microsoft in the 1990s. Zacks' just-released special report reveals 8 stocks to watch. The report is only available for a limited time.

See 8 breakthrough stocks now>>
Want the latest recommendations from Zacks Investment Research? Today, you can download 7 Best Stocks for the Next 30 Days.
Click to get this free report
ATT Inc. (T): Free Stock Analysis Report
Comcast Corporation (CMCSA): Free Stock Analysis Report
Amazon.com, Inc. (AMZN): Free Stock Analysis Report
Apple Inc. (AAPL): Free Stock Analysis Report
The Walt Disney Company (DIS): Free Stock Analysis Report
Netflix, Inc. (NFLX): Free Stock Analysis Report
Royal Caribbean Cruises Ltd. (RCL): Free Stock Analysis Report
To read this article on Zacks.com click here.
Zacks Investment Research