4 Great REITs to Bolster Your Portfolio During Global Economic Uncertainty
Wednesday marked the worst day on Wall Street this year after the bond yield curve inverted, sending investors into a sell-off frenzy. During times of global economic uncertainty and bonds yields plummeting, investors are left with few options.
REITs provide broad exposure to real-estate rental profits, and are income generators in portfolios through the dividends they are required to pay out to their shareholders. The Federal Reserve's decision to make a 25-basis point cut in July is a tailwind for REITs who perform better in low rate environments. Furthermore, with the way the stock market performed this week, analysts are expecting an additional cut in the Fed's September meeting.
Pent up demand for single-family rental homes, self-storage units, data-center space and cell towers are poised to boost performance for REITs this year. Real-estate companies have used the low interest rate environment to refinance their debt at lower rates, reducing their overall debt and building up cash for investments instead of borrowing heavily like they did in the past. The industry is also less economically sensitive with investments in data centers and cell towers, which are not as dependent on consumer wealth. Let's take a look at what REITs can provide security for investors in a time of economic uncertainty.
EastGroup PropertiesEGP is a self-administered real estate investment trust focused on ownership, acquisition, and selective development of industrial properties. The company's stock has risen 36.3% year-to-date and boasts a dividend yield of 2.34%. Funds from operations (FFO) defines the cash flow from operations and is used in lieu of EPS for REITs. EGP's FFO in Q2 2019 was right on par with our estimate of $1.21 per share, rising 7.1%; revenue grew 9.64% to $82.1 million. Looking ahead to Q3 2019, our estimates call for FFO to jump 6.84% and revenue to pop 10.91% to $83.55 million. EGP sports a Zacks Rank #2 (Buy) and earnings revisions have trended upwards for the company in the past 60 days.
Investors Real Estate TrustIRET is a real estate company focused on the ownership, management, acquisition, and development of apartment communities. The company has soared 40.1% year-to-date, outpacing the broader real-estate market. IRET has a solid dividend yield of 4.16% and a beta of 0.88. IRET reported FFO of $1.00 per share in Q2, which was a jump of 9.89%, and total revenue grew 1.6% to $46.9 million. As of Q2, the company owns interests in 88 apartment communities consisting of 13,975 apartment homes. Estimate revisions have ticked upwards for IRET across the board, earning the REIT a Zacks Rank #2 (Buy).

PrologisPLD is engaged in the acquisition, development, and operation of industrial properties in North America, Europe, and Asia. PLD was formed after the merger of AMB Property Corporation and Prologis. The stock sports a dividend yield of 2.61%, and its dividend has steadily grown over the past five years. PLD has soared 40.1% year-to-date, significantly outpacing the real estate market. The company has beaten our FFO estimates the past four quarters for an average surprise of 1.35%.
In Q2, Prologis reported FFO of $0.77 per share and total revenue of $790 million for a gain of 8.45% and 27.2%, respectively. Consensus estimates are projecting for PLD to make a FFO surge of 29.17% to $0.93 per share and for revenue to rally 17.11% to $713.18 million in Q3. PLD is sitting at a Zacks Rank #2 (Buy).
American Tower CorporationAMT is one of the largest global REITs and is a leading independent owner, operator, and developer of multitenant communications real estate. AMT is a company that can capitalize on their development of wireless cell towers, which are pillars of the technology industry, to provide reliable returns for investors despite broader economic conditions. The company's beta of 0.5 further cements the stock's resilience to market volatility. AMT reported FFO of $2.01 per share, beating our estimate by 4.15%; revenue grew 6.1% to $1.89 billion. Consensus estimates call for FFO to leap 5.95% and revenue to rise 4.16% to $1.86 billion in Q3. AMT is a Zacks Rank #2 (Buy) and has surged 41.1% YTD; slightly outpacing the before mentioned stocks.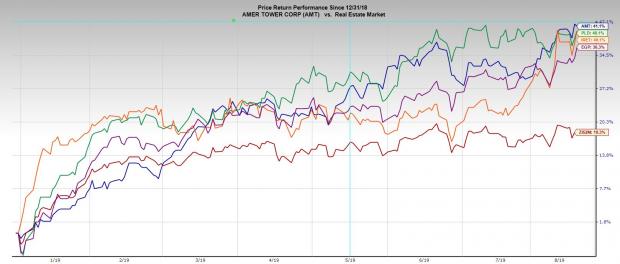 Today's Best Stocks from Zacks

Would you like to see the updated picks from our best market-beating strategies? From 2017 through 2018, while the S&P 500 gained +15.8%, five of our screens returned +38.0%, +61.3%, +61.6%, +68.1%, and +98.3%.

This outperformance has not just been a recent phenomenon. From 2000 – 2018, while the S&P averaged +4.8% per year, our top strategies averaged up to +56.2% per year.

See their latest picks free >>


Want the latest recommendations from Zacks Investment Research? Today, you can download 7 Best Stocks for the Next 30 Days.
Click to get this free report
American Tower Corporation (REIT) (AMT): Free Stock Analysis Report
EastGroup Properties, Inc. (EGP): Free Stock Analysis Report
Investors Real Estate Trust (IRET): Free Stock Analysis Report
Prologis, Inc. (PLD): Free Stock Analysis Report
To read this article on Zacks.com click here.
Zacks Investment Research