Is Coronavirus a Boon for Online Retail ETFs?
The coronavirus outbreak may have disrupted the global supply chain, but not all industries are suffering. Internet stocks and ETFs should be better protected than the broader sector as it has less to do with human contact.
The coronavirus scare should favor the online retailing industry as any kind of lockdown and self-imposed quarantine should boost demand for online shopping and other kinds of Internet activities.
Notably, Chinese online retailer JD.com reported 215% year-over-year growth in online grocery sales during a 10-day period between late January and early February. Notably, Chinese retail giant JD.com moved into ecommerce in 2004, a year after the SARS epidemic hit the nation. Founder Richard Liu felt the relevance of taking shopping online amid store closures and consumer scare over SARS.
Same-day and next-day delivery services from Amazon AMZN, Instacart and Walmart WMT have all cautioned about 'limited delivery availability' in recent days. These companies' services are experiencing delays as shoppers are hoarding products online amid the virus outbreak.
In late February, the National Retail Federation indicated that sales in 2020 will rise 3.5% to 4.1% to a range of $3.93 to $3.95 trillion, despite "uncertainty" surrounding the trade war, the COVID-19 outbreak and the presidential election. Online sales are expected to increase from 12% to 15% to between $870.6 billion and $893.9 billion.
Against this backdrop, investors can definitely tap the following e-commerce/online retail ETFs. In the past month, these funds lost lesser than the S&P 500-based ETF SPY and the broader consumer discretionary fund XLY (read: January Retail Sales: Winning & Losing ETFs & Stocks).
ETFs to Play the Trend
ProShares Online Retail ETF ONLN
The underlying ProShares Online Retail Index is a specialized retail index that tracks retailers that principally sell online or through other non-store channels. The fund's top holdings are Amazon, Alibaba, Etsy, eBay and Grubhub. It charges 58 bps in fees (read: Alibaba Fiscal Q3 Earnings Put These ETFs in Focus).
ProShares Long Online/Short Stores ETF CLIX
The underlying ProShares Long Online/Short Stores Index consists of long positions in online retailers included in the ProShares Online Retail Index and short positions in bricks and mortar retailers included in the Solactive-ProShares Bricks and Mortar Retail Store Index. It charges 65 bps in fees (read: Wall Street in Correction: 4 Sector ETFs Unscathed in February).
Global X E-commerce ETF EBIZ
The fund looks to invest in companies whose principal business is in operating e-commerce platforms, providing e-commerce software and services, and/or selling goods and services online. Etsy, Shopify, Costar, JD.com and eBay are the top five holdings of the fund. It charges 50 bps in fees.
Emerging Markets Internet & Ecommerce ETF EMQQ
The fund puts 61.5% focus on China, followed by South Korea (11.7%) and Germany (8.3%). Tencent (8.24%), Alibaba (7.78%) and Naspers (7.19%) are the top three stocks of the fund.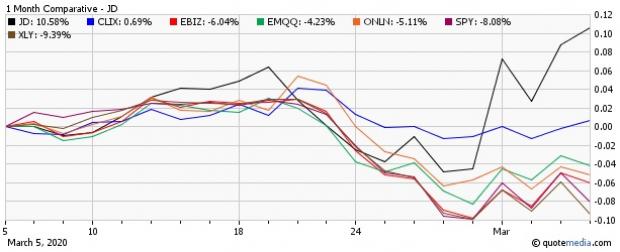 Want key ETF info delivered straight to your inbox?
Zacks' free Fund Newsletter will brief you on top news and analysis, as well as top-performing ETFs, each week. Get it free >>
Want the latest recommendations from Zacks Investment Research? Today, you can download 7 Best Stocks for the Next 30 Days.
Click to get this free report
Amazon.com, Inc. (AMZN): Free Stock Analysis Report
Walmart Inc. (WMT): Free Stock Analysis Report
SPDR S&P 500 ETF (SPY): ETF Research Reports
Consumer Discretionary Select Sector SPDR ETF (XLY): ETF Research Reports
EMQQ The Emerging Markets Internet & Ecommerce ETF (EMQQ): ETF Research Reports
ProShares Long Online/Short Stores ETF (CLIX): ETF Research Reports
ProShares Online Retail ETF (ONLN): ETF Research Reports
Global X E-commerce ETF (EBIZ): ETF Research Reports
To read this article on Zacks.com click here.
Zacks Investment Research
Want the latest recommendations from Zacks Investment Research? Today, you can download 7 Best Stocks for the Next 30 Days. Click to get this free report