What's in the Cards for Bausch Health (BHC) Q4 Earnings?
Bausch Health Companies Inc. BHC is scheduled to report fourth quarter and full-year 2018 results on Feb 20.
In the last reported quarter, the company's earnings beat estimates by 32.2%. Bausch's earnings track record has been pretty decent so far. Over the last four quarters, the company beat earnings expectations thrice, delivering average positive earnings surprise of 83.2%.
Bausch's stock has gained 19.5% in the past six months compared to a 22.2% decline for the industry.
.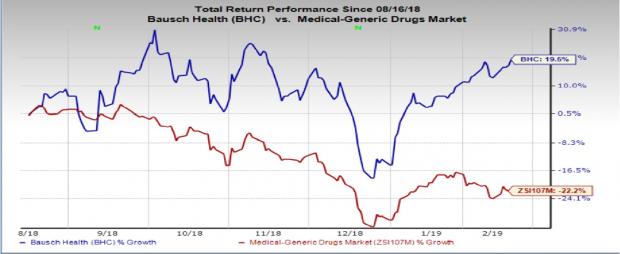 Factors Likely to Impact Results
Bausch conducts its business in four operating segments — the Bausch + Lomb/International segment, the Salix segment, the Ortho Dermatologics segment and the Diversified Products segment.
The Bausch + Lomb/International segment primarily comprises products with a focus on the vision care, surgical, consumer and ophthalmology Rx products. The Salix segment consists of sales of gastrointestinal products.
The Ortho Dermatologics segment consists of sales of Ortho Dermatologics (dermatological) products in the United States and global sales of Solta medical dermatological devices.
The Diversified Products segment comprises sales of pharmaceutical products in the areas of neurology and certain other therapeutic classes in the United States, generic products, and dentistry products.
Approximately 75% of the company's total third-quarter revenues was generated by the Bausch + Lomb/International and the Salix segments. Hence, the focus will be on these two segments in the fourth quarter. Revenues in 2018 are expected between $8.15 billion and $8.35 billion. The company expects R&D expenses of $415 million in 2018.
The Salix business continues to drive growth and contribute to the top line. In particular, increased sales of Xiaflex and Relistor are boosting the segment. In August, Bausch launched Lucemrya for the mitigation of withdrawal symptoms to facilitate abrupt discontinuation of opioids in adults.
The company also entered into an exclusive agreement with Dova Pharmaceuticals, Inc. to co-promote Doptelet in the United States for the treatment of thrombocytopenia in adult patients with chronic liver disease who are scheduled to undergo a procedure. Bausch also launched Plenvu, a one-liter PEG bowel cleansing preparation for colonoscopies, in the United States.
Meanwhile, investors are expected to focus on pipeline development, apart from the regular top and bottom-line numbers. Bausch has narrowed its focus on seven recently launched or expected to be launched products pending completion of testing and receipt of FDA approval. The products include Vyzulta, Siliq, Bryhali (psoriasis), Lumify, Duobrii, Relistor and SiHy Daily.
Bausch also obtained FDA approval for Vyzulta, a treatment option for glaucoma. The FDA also approved Lumify, the over-the-counter eye drop with low-dose brimonidine for the treatment of eye redness. The approval of new drugs should boost the top line. The company successfully launched Lumify.
The FDA also approved Altreno (IDP-121), an acne treatment in lotion form. The company launched Bryhali lotion, a topical treatment for plaque psoriasis, following the receipt of final FDA approval. The FDA accepted the resubmission of the NDA for Duobrii Lotion for the topical treatment of plaque psoriasis with a PDUFA action date of Feb 15, 2019. The phase III studies for IDP 120 are expected to begin shortly and the company expects to submit an NDA for IDP 123 in the first half of 2019.
The focus will also be on the company's efforts to pay down debt, as it had been under the scanner for its huge levels of debt. During the third quarter, the company repaid $360 million of debt. Consequently, the company reduced debt by approximately $7.4 billion, since the first quarter of 2016. In January 2019, the company paid down an additional $100 million of its senior secured term loans using cash generated from operations.
Earnings Whispers
Our proven model does not conclusively show that Bausch will beat on earnings this quarter. That is because a stock needs to have both a positive Earnings ESP and a Zacks Rank #1 (Strong Buy), 2 (Buy) or 3 (Hold) to be able to beat estimates. Unfortunately, that is not the case here, as you will see below.
Earnings ESP: Earnings ESP for Bausch is 0.00%. This is because both the Zacks Consensus Estimate and the Most Accurate Estimate is pegged at 88 cents. You can uncover the best stocks to buy or sell before they're reported with our Earnings ESP Filter.
Zacks Rank: Bausch carries a Zacks Rank #3, which is favorable. However, the 0.0% ESP makes surprise prediction difficult.
We caution against Sell-rated stocks (Zacks Rank #4 or 5) going into the earnings announcement, especially when the company is seeing negative estimate revisions.
Stocks to Consider
Here are some companies you may consider, as our model shows that these have the right combination of elements to deliver a beat this quarter.
Mallinckrodt MNK has an Earnings ESP of +2.25% and a Zacks Rank #2. The company is scheduled to report results on Feb 26. You can see the complete list of today's Zacks #1 Rank stocks here.
ACADIA Pharmaceuticals Inc. ACAD has an Earnings ESP of +12.95% and a Zacks Rank #3. It is scheduled to release results on Feb 28.
Recro Pharma, Inc. REPH has an Earnings ESP of +3.03% and a Zacks Rank #2. It is scheduled to report earnings on Feb 19.
Zacks' Top 10 Stocks for 2019
In addition to the stocks discussed above, wouldn't you like to know about our 10 finest buy-and-holds for the year?
From more than 4,000 companies covered by the Zacks Rank, these 10 were picked by a process that consistently beats the market. Even during 2018 while the market dropped -5.2%, our Top 10s were up well into double-digits. And during bullish 2012 – 2017, they soared far above the market's +126.3%, reaching +181.9%.
This year, the portfolio features a player that thrives on volatility, an AI comer, and a dynamic tech company that helps doctors deliver better patient outcomes at lower costs.
Want the latest recommendations from Zacks Investment Research? Today, you can download 7 Best Stocks for the Next 30 Days.
Click to get this free report
ACADIA Pharmaceuticals Inc. (ACAD): Free Stock Analysis Report
Recro Pharma, Inc. (REPH): Free Stock Analysis Report
Mallinckrodt public limited company (MNK): Free Stock Analysis Report
Bausch Health Cos Inc. (BHC): Free Stock Analysis Report
To read this article on Zacks.com click here.
Zacks Investment Research