Labcorp (LH) Base Business Grows Amid a Tough Volume Scenario
LabCorp LH has been working on innovations with academic institutions in order to capture the growing lab testing market with its advanced assays and tools. However, economic uncertainties, including a challenging volume environment for testing laboratories and softness in utilization, are headwinds for the company. The stock currently carries a Zacks Rank #3 (Hold).
Over the past year, LabCorp has outperformed its industry. Shares of LabCorp have surged 70% compared with the industry's 30.5% rise.
LabCorp exited the second quarter of 2021 with better-than-expected earnings and revenues. The figures improved on a year-over-year basis as well. The Base business continued to recover and grew 51% and 32% for Diagnostics and Drug Development, respectively in the quarter. The trailing 12-month book-to-bill remained strong at 1.41 for Drug Development with patients and providers returning to routine healthcare check-ups and pharmaceutical clients resuming their important research activities at a faster-than-expected pace.
In July, demand for testing started to increase. To support the CDC in tracking and monitoring the Delta and other variants, the company recently announced an extension to its contract to provide genetic sequencing from a positive PCR test sample.
Laboratory Corporation of America Holdings Price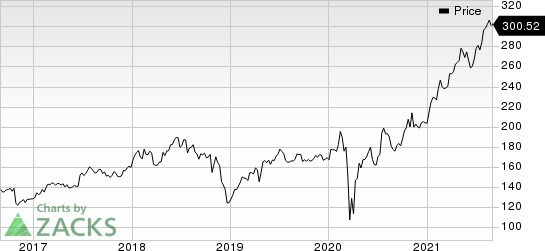 Laboratory Corporation of America Holdings price | Laboratory Corporation of America Holdings Quote
In its efforts to identify and expand in high-growth opportunity areas, LabCorp recently planned to acquire an autoimmune business unit from Myriad Genetics, including Vectra, arheumatoid arthritis assay. This is expected to strengthen the company's position in rheumatoid arthritis, which the CDC predicts will impact roughly 25% of the adults in the United States by 2040. Additionally, the company agreed to acquire the outreach laboratory business of Minnesota-based North Memorial Health, and will provide management services to its inpatient lab.
In oncology, in the second quarter, LabCorp launched several oncology tests, including OmniSeq INSIGHT, a pan-cancer tissue-based sequencing test for patients with advanced solid tumor cancers. It also launched a companion diagnostic test to identify patients with non-small cell lung cancer who are eligible for a new treatment option developed by Amgen. This apart, the company is currently exercising an option to acquire the remaining stake in OmniSeq, LabCorp's long-time oncology partner and a pioneer in solid tumor profiling.
On the flip side, Labcorp performed over 50 million COVID tests till the end of the second quarter. However, in the quarter, a steady decline in positive cases led to an overall decline in COVID-19 testing with an average of 54,000 PCR tests per day. According to the company, the month of June was lower than the quarter average.
Total volume growth in the second quarter was partially affected by a reduction in COVID-19 testing. Diagnostics margins were down sequentially in the second quarter due to lower COVID testing. Despite the recent emergence of the new strain of the virus, the company is not clear about the future of COVID-19 testing demand.
Apart from a challenging volume environment for the testing laboratories, the divestiture of certain businesses and the implementation of the Protecting Access to Medicare Act (PAMA) are denting growth.
Key Picks
A few better-ranked stocks from the broader medical space are Envista Holdings Corporation NVST, BellRing Brands, Inc. BRBR and Henry Schein, Inc. HSIC, each carrying a Zacks Rank #2 (Buy). You can see the complete list of Zacks #1 Rank (Strong Buy) stocks here.
Envista Holdings has an estimated long-term earnings growth rate of 27%.
BellRing Brands has an estimated long-term earnings growth rate of 29%.
Henry Schein has a projected long-term earnings growth rate of 14%.
Breakout Biotech Stocks with Triple-Digit Profit Potential
The biotech sector is projected to surge beyond $2.4 trillion by 2028 as scientists develop treatments for thousands of diseases. They're also finding ways to edit the human genome to literally erase our vulnerability to these diseases.
Zacks has just released Century of Biology: 7 Biotech Stocks to Buy Right Now to help investors profit from 7 stocks poised for outperformance. Recommendations from previous editions of this report have produced gains of +205%, +258% and +477%. The stocks in this report could perform even better.
See these 7 breakthrough stocks now>>
Want the latest recommendations from Zacks Investment Research? Today, you can download 7 Best Stocks for the Next 30 Days.
Click to get this free report
Laboratory Corporation of America Holdings (LH): Free Stock Analysis Report
Henry Schein, Inc. (HSIC): Free Stock Analysis Report
Envista Holdings Corporation (NVST): Free Stock Analysis Report
BellRing Brands, Inc. (BRBR): Free Stock Analysis Report
To read this article on Zacks.com click here.
Zacks Investment Research