Microsoft (MSFT) Ups Ante in Cloud Gaming With New Service
Microsoft MSFT will be rolling out its cloud gaming service for Xbox users across 22 markets in North America and Europe, simultaneously on Sep 15. It will be bundled with the company's Xbox Game Pass Ultimate subscription.
The subscription is priced for $1 for new users for the first month and then it will be available at its usual price of $14.99 per month. Gamers will be able to access over 100 game titles including the likes of Minecraft Dungeons, Halo, Sea of Thieves, Gears 5, Destiny 2, and Tell Me Why, as part of their Xbox Game Pass Ultimate subscription.
Moreover, gamers do not need to have Xbox consoles to play games from cloud, but they do need the controller to play games on their smartphones and tablets. Microsoft has collaborated with companies like Razer, 8BitDo and Nacon to create specific accessories for cloud gaming.
Microsoft Corporation Price and Consensus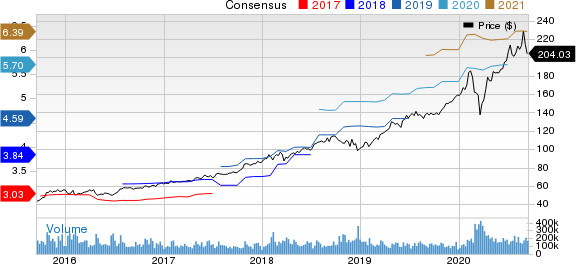 Microsoft Corporation price-consensus-chart | Microsoft Corporation Quote
The accessories under development include re-attachable controllers that can split and attach to the side of the smartphone as well as portable travel controllers.
Incidentally, last week, Microsoft introduced its smallest Xbox ever — Xbox Series S, which is 60% smaller in size compared with the consoles of the Xbox Series X. The console will be priced at $299 and will hit retail shelves as early as Nov 10.
The company is also gearing up for the launch of the highly anticipated next-generation Xbox Series X gaming console, which is expected to release in the holiday season of 2020. Sony (SNE) is also scheduled to release its upcoming console, PlayStation 5 or PS5 in the upcoming holiday season.
We believe that these endeavours will help Microsoft, which carries a Zacks Rank #3 (Hold), gain ground in the video game space where it faces stiff competition from the likes of Sony and Nintendo.
You can see the complete list of today's Zacks #1 Rank (Strong Buy) stocks here.
Booming Cloud Gaming Market Favors Prospects
The cloud gaming market also known as "gaming on demand" is witnessing significant traction. The increasing number of gamers plus rapid deployment of 5G network are the reasons behind the cloud gaming boom. Cloud gaming eliminates the need of expensive consoles and as gamers can stream games on any of the devices like smartphones and smart TVs.
Also, the coronavirus crisis-triggered shelter-in-place guidelines and stay at home trend amid fears of a second wave is also anticipated to add to the ongoing momentum in online gaming across the world.
Per MarketsAndMarkets data, the cloud gaming market will reach $3.1 billion in 2024 at a CAGR of 59% between 2019 and 2024.
According to Newzoo data, the cloud gaming market is expected to reach $3.2 billion by 2023 from $356 million in 2019 at a CAGR of 123%.
These gaming market growth forecasts strengthen optimism in Microsoft's gaming initiatives across all devices. Further, the company is constantly integrating Azure's cloud capabilities into its gaming segment. This will facilitate it to improve gaming strategies and develop better content.
We believe that these developments to boost player engagement and provide immersive experience, will keep gaming revenues ticking in the days ahead.
Cloud-Gaming Momentum Lures Tech Bigwigs
The potential in the cloud gaming market has lured not only Microsoft but other tech majors like Alphabet GOOGL, Amazon, and Facebook FB.
Social media giant, Facebook acquired cloud gaming company, PlayGiga to establish foothold in the cloud gaming market. Sony also launched its cloud service called PlayStation Now for $59.99/ year while Nvidia's service goes by the name of GeForce Now and is available for $4.99/ month.
Alphabet's Google Stadia was launched in November 2019. In March 2020, the company announced the opening of a second development studio for Stadia, in addition to its first studio located in Montreal. Currently, it is working on 450 games, which will be available on Stadia in 2020 and beyond.
Cloud computing leader, Amazon AMZN is also working on its cloud gaming service, codenamed Project Tempo, which is expected to arrive next year.
Breakout Biotech Stocks with Triple-Digit Profit Potential
The biotech sector is projected to surge beyond $775 billion by 2024 as scientists develop treatments for thousands of diseases. They're also finding ways to edit the human genome to literally erase our vulnerability to these diseases.
Zacks has just released Century of Biology: 7 Biotech Stocks to Buy Right Now to help investors profit from 7 stocks poised for outperformance. Our recent biotech recommendations have produced gains of +50%, +83% and +164% in as little as 2 months. The stocks in this report could perform even better.
See these 7 breakthrough stocks now>>
Want the latest recommendations from Zacks Investment Research? Today, you can download 7 Best Stocks for the Next 30 Days.
Click to get this free report
Microsoft Corporation (MSFT): Free Stock Analysis Report
Amazon.com, Inc. (AMZN): Free Stock Analysis Report
Facebook, Inc. (FB): Free Stock Analysis Report
Alphabet Inc. (GOOGL): Free Stock Analysis Report
To read this article on Zacks.com click here.
Zacks Investment Research