Urban Outfitters (URBN) Q4 Earnings Meet Estimates, Sales Down
Urban Outfitters Inc. URBN reported fourth-quarter fiscal 2021 results, wherein the bottom line matched the Zacks Consensus Estimate while the top line missed the same. Both the metrics declined on a year-over-year basis. We note that sales dipped across major brands — including Urban Outfitters and Anthropologie Group — except Free People and Nuuly. Even stellar digital channel performance was not enough to offset lower store net sales. Also, virtually all of the company's stores in Europe were shut on government mandates, hurting the quarterly performance.

We note that the coronavirus pandemic has been hurting store-sales performance and inventory flows. It has been witnessing delays and higher costs with respect to bringing product into the United States and United Kingdom from Asia. However, management believes these headwinds will gradually moderate as the first quarter progresses.

Markedly, the Free People brand appears immune to the pandemic, as the business has been positive except for a short spell in March 2020. Nearly all the Free People product categories were impressive in January and February, contributing to double-digit retail segment comps for the period. We note that casual apparel, shoes and FP Movement initiative appear encouraging. New Movement customers surged 138% in the reported quarter while digital sales increased more than 150%. The digital, Retail and Wholesale channels registered robust gains, and impressively this trend continued into first-quarter fiscal 2022. In fact, management believes Movement's revenues will grow to more than $250 million in fiscal 2024. In addition, AnthroLiving initiative seems encouraging.
Deeper Insight
This lifestyle-specialty retail company delivered adjusted earnings of 30 cents per share that matched the Zacks Consensus Estimate. Moreover, the bottom line decreased 40% from the year-ago quarter's tally.
Urban Outfitters, Inc. Price, Consensus and EPS Surprise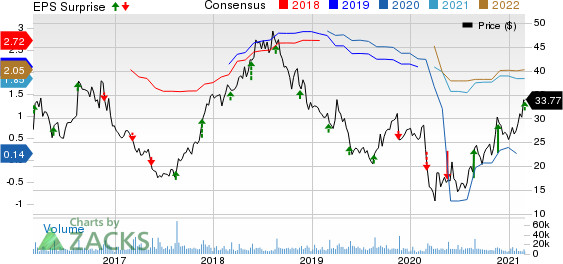 Urban Outfitters, Inc. price-consensus-eps-surprise-chart | Urban Outfitters, Inc. Quote
In the reported quarter, net sales of $1,088.4 million decreased 6.9% year over year and lagged the Zacks Consensus Estimate of $1,103 million. Brand-wise, net sales were down 4.9% year over year to $428.1 million at Urban Outfitters and 12.2% to $431.4 million at Anthropologie Group. Again, Menus & Venues net sales amounted to $3 million, down 55.9% from the prior-year quarter.

Nonetheless, the Philadelphia, PA-based company registered net sales increase of 1.6% to $219.3 million at Free People. Markedly, Nuuly, the subscription-based rental service for women's clothes, contributed roughly $6.7 million to net sales, reflecting an increase 11.4% from the year-ago period. The company informed that lower store net sales were partly offset by double-digit improvement in digital channel sales. Notably, digital sales in Europe more than doubled, offsetting most of the store loss. But total Retail segment comp sales in February declined high single digits in Europe.

Segment-wise, Urban Outfitters' net sales at the Retail Segment dropped 7% to $1,013.9 million, while the same at the Wholesale Segment fell 7.1% to $67.9 million. Comparable Retail segment net sales declined 7% on account of negative retail store net sales as robust conversion rates were unable to offset the drop in store traffic due to the pandemic and related occupancy restrictions.
Costs & Margins
In the quarter under review, adjusted gross profit came in at $290.1 million, down 16.7% from the year-ago quarter. Further, adjusted gross margin contracted 314 basis points (bps) to 26.7%, primarily due to higher delivery and logistics expenses and elevated carrier surcharges.

Meanwhile, SG&A expenses dropped 9.6% to $254.3 million on cost-saving efforts. Moreover, as a percentage of net sales, the metric improved 69 bps to 23.4%. This upside is attributed to a disciplined store-payroll management and overall cost-control actions. Notably, digital marketing expenses increased in the fiscal fourth quarter to support robust digital channel sales and customer growth.

Further, this Zacks Rank #4 (Sell) company recorded operating income of $35.7 million, down 46.8% from the year-ago quarter. Also, operating margin contracted 240 bps to 3.3% on lower gross margin.
Store Update
During fiscal 2021, the company opened 20 retail outlets — seven each Urban Outfitters and Anthropologie Group stores and six Free People stores (including two FP Movement stores). Meanwhile, it shuttered 10 retail locations — eight Urban Outfitters stores, one Anthropologie Group store and one Free People store. In the aforementioned period, six franchisee-owned stores were shuttered — four Urban Outfitters stores, one Anthropologie Group store and one Free People store.

As of Jan 31, 2021, the company operated 247 Urban Outfitters stores in the United States, Canada and Europe; 237 Anthropologie Group stores in the United States, Canada and Europe; 149 Free People stores in the United States, Canada and Europe; 11 Menus & Venues restaurants, and one Urban Outfitters franchisee-owned store. For fiscal 2022, management plans to open nearly 55 stores and shut down 21 stores.
Other Financial Details
Urban Outfitters ended the quarter with cash and cash equivalents of $395.6 million and total shareholders' equity of $1,477.4 million. As of Jan 31, 2021, total inventory declined 4.9% year over year to $389.6 million.

Further, the company generated net cash of $285.8 million in operating activities during fiscal 2021. For fiscal 2022, management now projects capital expenditures of $250 million, mainly related to construction of a new distribution facility in North America and completion of the automation equipment across its new U.K. facility.

Urban Outfitters did not buy back shares in fiscal fourth quarter. However during the fiscal year, it bought back and subsequently retired 0.5 million shares for roughly $7 million. As of Jan 31, 2021, the company had 25.9 million shares remaining under these programs.
Outlook
Management believes the fiscal first quarter to reflect a steady sales improvement in comparison to last year as it progresses. The company presently estimates first-quarter overall sales to increase in low single-digit year over year. This will be buoyed by Retail segment sales increase in low single digits and Wholesale segment sales decline in low double digits. Further, total company Retail segment comps are expected to be positive for the quarter. However, the magnitude of comps is based on several factors, including when stores in Europe are allowed to reopen.

Further, gross margin for the fiscal first quarter is likely to decline several hundred basis points year over year. Deleveraged delivery and logistics expenses stemming from rise in penetration of the digital channel to overall business could be the main cause of this downside.

With respect to SG&A, the company expects the metric to rise in the low single-digit range for the impending quarter and mid single-digit range for fiscal 2022. SG&A growth is primarily attributed to the planned marketing and creative spend for digital channel growth. The planned incentive-based compensation could also drive growth. These expenses will be somewhat offset by reduced direct store controllable costs. The company's effective tax rate is anticipated to be nearly 30% for fiscal 2022.
Don't Miss These Solid Retail Bets
Boot Barn BOOT has a long-term earnings growth rate of 20% and currently sports a Zacks Rank #1 (Strong Buy). You can see the complete list of today's Zacks #1 Rank stocks here.

Target TGT has a long-term earnings growth rate of 10.2% and a Zacks Rank #2 (Buy).

Tapestry TPR, also a Zacks Rank #2 stock, has a long-term earnings growth rate of 10%.
Bitcoin, Like the Internet Itself, Could Change Everything
Blockchain and cryptocurrency has sparked one of the most exciting discussion topics of a generation. Some call it the "Internet of Money" and predict it could change the way money works forever. If true, it could do to banks what Netflix did to Blockbuster and Amazon did to Sears. Experts agree we're still in the early stages of this technology, and as it grows, it will create several investing opportunities.

Zacks' has just revealed 3 companies that can help investors capitalize on the explosive profit potential of Bitcoin and the other cryptocurrencies with significantly less volatility than buying them directly.

See 3 crypto-related stocks now >>
Want the latest recommendations from Zacks Investment Research? Today, you can download 7 Best Stocks for the Next 30 Days.
Click to get this free report
Target Corporation (TGT): Get Free Report
Urban Outfitters, Inc. (URBN): Get Free Report
Boot Barn Holdings, Inc. (BOOT): Free Stock Analysis Report
Tapestry, Inc. (TPR): Free Stock Analysis Report
To read this article on Zacks.com click here.