Prosperity Bancshares (PB) Aided by High Rates & Loans, Costs Up
Prosperity Bancshares' PB decent growth in loan balances, improving deposit mix and rising rates are likely to continue aiding revenues. The bank's inorganic growth efforts are commendable too. However, mounting expenses and weakness in the mortgage business are concerns.

Prosperity Bancshares' organic growth efforts are impressive. While the company's net revenues declined in 2021 and the first half of 2022, it witnessed a five-year CAGR) of 11.5% (ended 2021). A decent rise in loan demand, improving deposit mix, a rise in fee income and higher interest rates are expected to keep supporting the company's revenues in the upcoming quarters.

Acquisitions are another major contributor to the company's top-line growth. PB has significantly expanded its operations through the buyout of community banks and branches of other banks. Notably, it has completed more than 30 deals since 1998. These deals are not only accretive to the company's top line but have also significantly boosted the bottom line.

The company's capital-deployment initiatives also look encouraging. Prosperity Bancshares has been consistently increasing its dividend annually since 1999, with the latest hike in October 2021. In January 2022, it announced a share repurchase program (expiring on Jan 18, 2023) to buy back up to 4.6 million shares. As of Jun 30, 2022, nearly 3.6 million shares remained under authorization. Given the company's strong capital base and liquidity positions, its robust capital-deployment activities seem sustainable.

Analysts seem to be bullish on the stock. The Zacks Consensus Estimate for 2022 and 2023 earnings has moved almost 1% and 1.3% upward, respectively, over the past 30 days.

Yet, uncertainty about the performance of Prosperity Bancshares' mortgage banking business is a cause of concern. While the company's mortgage income increased in 2020 and 2019, supported by low mortgage rates, the same witnessed a decline in the years before that. Also, in 2021, mortgage income decreased, with the downtrend persisting in the first six months of 2022. Rising mortgage rates have been adversely impacting mortgage origination volumes and refinancing activities. Thus, PB's mortgage banking business performance is expected to get hurt in the quarters ahead.

Also, PB's mounting expenses on account of investments in franchises and growth through acquisitions, along with higher salaries and benefits expenses, might deter bottom-line growth in the near term. While expenses declined in 2021 (because of an absence of merger-related costs), overall expenses have witnessed a five-year (ended 2021) CAGR of 10.9%, with the trend continuing in the first six months of 2022.

Shares of this Zacks Rank #3 (Hold) company have rallied 7% over the past year, underperforming the industry's growth of 11.1%.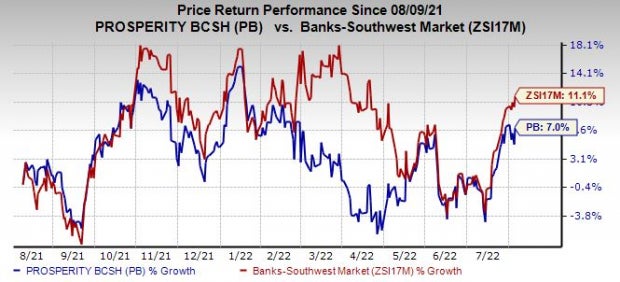 Image Source: Zacks Investment Research
Stocks to Consider
A couple of better-ranked banks are Cullen/Frost Bankers, Inc. CFR and Bank OZK OZK. At present, CFR sports a Zacks Rank #1 (Strong Buy) and OZK carries a Zacks Rank #2 (Buy). You can see the complete list of today's Zacks #1 Rank stocks here.

Over the past year, shares of Cullen/Frost Bankers have gained 14.6%, while that of Bank OZK have lost 5.7%.

Over the past 30 days, the Zacks Consensus Estimate for Cullen/Frost Bankers' current-year earnings has been revised 4.8% upward, while the same for Bank OZK has moved 6.2% north.
How to Profit from the Hot Electric Vehicle Industry
Global electric car sales in 2021 more than doubled their 2020 numbers. And today, the electric vehicle (EV) technology and very nature of the business is changing quickly. The next push for future technologies is happening now and investors who get in early could see exceptional profits.
See Zacks' Top Stocks to Profit from the EV Revolution >>
Want the latest recommendations from Zacks Investment Research? Today, you can download 7 Best Stocks for the Next 30 Days.
Click to get this free report
CullenFrost Bankers, Inc. (CFR): Free Stock Analysis Report
Prosperity Bancshares, Inc. (PB): Free Stock Analysis Report
Bank OZK (OZK): Free Stock Analysis Report
To read this article on Zacks.com click here.
Zacks Investment Research