Pentair Rides on Buyouts & New Products, Input Costs High
On Sep 16, we issued an updated research report on Pentair plc PNR. The company is poised to gain from introduction of products, acquisitions and investments in sync with its growth initiatives in the areas of pool, and residential and commercial water treatment. However, the company's near-term results will be affected by material and other cost inflation, impact of inventory build-up, weather and fluctuations in foreign currency exchange rates.

Unfavorable Currency & Weather to Impact 2019

Pentair's adjusted EPS guidance for 2019 is pegged at $2.35, flat compared with 2018. Sales in 2019 is likely to be flat to up 1% on a reported basis and flat to down 1% on a core basis compared with 2018 levels. Unfavorable foreign currency impact will be a negative 1% for the year while acquisitions and divestitures will contribute 2%.

Wet and cold weather delayed pool construction activity in several of Pentair's key markets. As a result of slower sell-through, inventory levels have not gone down as expected. Results in the upcoming quarters are likely to be affected if the inventory levels are not reduced or if end market growth does not resume.

Pentair has undergone certain business restructuring initiatives aimed at reducing fixed cost structure and commenced business realignment. These actions will contribute to margin growth in 2019. Further, productivity improvement and price hikes implemented to combat higher input costs will continue to aid results.

Investments in Growth, Acquisitions to Drive Growth

Pentair targets free cash flow to approximate adjusted net income in 2019. With strong free cash flow and low-debt levels, the company is well positioned to invest in business and strategic tuck-in or bolt-on acquisitions, and returning cash to shareholders.

In order to improve growth rate, Pentair plans to make some incremental investments in the Aquatic Systems business. The company continues to increase product introductions, inclusive of smart technologies.
Less than 10% of the 5 million installed in-ground pools currently have some form of automation system, representing ample opportunities for growth. Further, aftermarket and upgrade market continues to make up nearly 80-85% of all pool product equipment sold and used by pool owners, making it a lucrative market.

Pentair plans to expand particularly in the areas of pool and residential and commercial water treatment through acquisitions, and focus on China and Southeast Asia. In sync with this, Pentair's Aquion buyout will help the company expand scope and customer offerings in the residential and commercial water treatment arena.
The company has also acquired Pelican Water Systems, which provides residential whole home water treatment systems. Pelican Water Systems adds new and complementary products and services to the Pentair portfolio enabling it to meet consumers' residential water needs.

Price Performance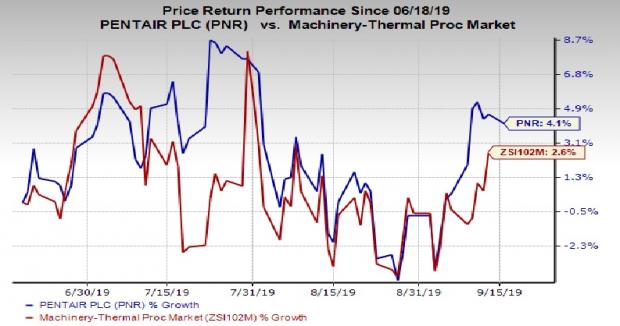 Over the last three months, Pentair's shares have gone up 4.1%, compared with the industry's growth of 2.6%.

Zacks Rank & Stocks to Consider

Pentair carries a Zacks Rank #3 (Hold).

Some better-ranked stocks in the Industrial Products sector are Albany International Corp. AIN, AGCO Corporation AGCO and UFP Technologies, Inc. UFPT. While Albany International sports a Zacks Rank #1 (Strong Buy), AGCO Corp and UFP Technologies carry a Zacks Rank #2 (Buy), at present. You can see the complete list of today's Zacks #1 Rank stocks here.

Albany International has an estimated earnings growth rate of 33.85% for 2019. The company's shares have gained 11% on the last three months.

AGCO Corp has a projected earnings growth rate of 31.11% for the current year. The stock has gained 3% over the past three months.

UFP Technologies has an expected earnings growth rate of 8.10% for the ongoing year. The stock has gone up 3% in the last three months.

5 Stocks Set to Double

Zacks experts released their picks to gain +100% or more in 2020. One is a famous cutting-edge food company that is "hiding in plain sight." Swamped with competitors and ignored by Wall Street, its stock price floundered. Now, suddenly, it acquired a company that gives it an advantage none of its peers have.

Today, see all 5 stocks with extreme growth potential >>
Want the latest recommendations from Zacks Investment Research? Today, you can download 7 Best Stocks for the Next 30 Days.
Click to get this free report
UFP Technologies, Inc. (UFPT): Free Stock Analysis Report
AGCO Corporation (AGCO): Free Stock Analysis Report
Pentair plc (PNR): Free Stock Analysis Report
Albany International Corporation (AIN): Free Stock Analysis Report
To read this article on Zacks.com click here.
Zacks Investment Research