Pharma Stock Roundup: AZN COVID-19 Antibody Cocktail Failure, GSK New Cancer Deal
It was a fairly quiet week as far as news in the drug sector is concerned. The most important news was the failure of AstraZeneca's AZN antibody cocktail, AZD7442 to prevent study participants who were already infected from developing symptomatic COVID-19. Glaxo GSK signed a deal with iTeos Therapeutics to co-develop its investigational cancer candidate known as EOS-448.
Recap of the Week's Most Important Stories
AstraZeneca's Phase III Study on COVID Antibody Cocktail Misses Goal: AstraZeneca's phase III study (STORM CHASER) evaluating AZD7442, its investigational cocktail antibody therapy, for the post-exposure prevention of symptomatic COVID-19, failed to meet the primary endpoint. In the study, AZD7442 failed to show a statistically significant reduction in the risk of developing symptomatic COVID-19 in adult unvaccinated study participants who had a confirmed exposure to a person with a case of the SARS-CoV-2 virus within the past eight days. AZD7442 reduced the risk of developing symptomatic COVID-19 by 33% compared to placebo, which AstraZeneca said was not statistically significant. However, in PCR negative participants in the study, treatment with AZD7442 reduced the risk of developing symptomatic COVID-19 by 73% compared with placebo, thereby showing the cocktail therapy was somewhat effective in people who were not infected
AZD7442 is a combo of two monoclonal antibodies, tixagevimab (AZD8895) and cilgavimab (AZD1061) Several other COVID-19 prevention and treatment studies are ongoing on AZD7442 including PROVENT, a phase III study in pre-exposure prophylaxis and TACKLE, a treatment study in preventing more severe disease in outpatient setting.
Glaxo to Co-Develop iTeos Therapeutics' Anti-TIGIT Treatment: Glaxo announced a deal with iTeos Therapeutics to co-develop and co-commercialize the latter's investigational cancer candidate known as EOS-448. The candidateis currently being evaluated in a phase I study for advanced solid tumors. Glaxo plans to study EOS-448, an anti-TIGIT monoclonal antibody, with its other investigational cancer therapies. Initially, Glaxo plans to begin combination studies of EOS-448 with its newly approved endometrial cancer drug, Jemperli (dostarlimab), in 2022. For the deal, Glaxo will make an upfront payment of $625 million to iTeos while the latter will also be entitled to potential milestones of up to $1.45 billion.
Lilly's Head-to-Head Migraine Study: Eli Lilly LLY initiated a head-to-head study to compare anti-CGRP migraine preventive medicines. The phase IV study will compare Lilly's once-monthly injection, Emgality with Biohaven's oral tablet, Nurtec ODT taken every other day for the preventive treatment of migraine. The study's primary endpoint is 50% reduction in monthly migraine headache days. Enrollment in the study is expected to begin this year.
Pfizer's Xeljanz Shows Benefit in COVID-19 Pneumonia: Data from the STOP-COVID study evaluating the efficacy and safety of Pfizer's PFE oral JAK inhibitor, Xeljanz (tofacitinib) in hospitalized adult patients with COVID-19 pneumonia were published in the New England Journal of Medicine. The study was conducted across 15 sites in Brazil. Data from the study showed that treatment with rheumatoid arthritis drug, Xeljanz led to a lower cumulative incidence of death or respiratory failure through day 28 — the primary outcome of the study compared to placebo in the above COVID-19 patient population. The data showed that the incidence of death or respiratory failure through day 28 was 18.1% in Xeljanz arm compared to 29.0% in placebo arm.
The NYSE ARCA Pharmaceutical Index declined 1.1% in the last five trading sessions.
Large Cap Pharmaceuticals Industry 5YR % Return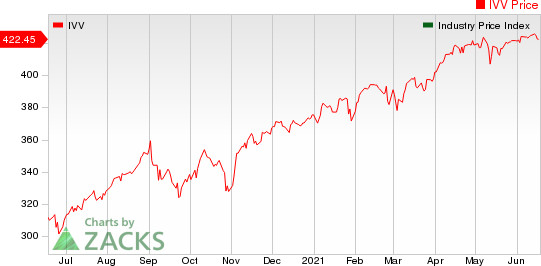 Here's how the eight major stocks performed in the last five trading sessions.

Image Source: Zacks Investment Research
In the last five trading sessions, Merck MRK rose the most (1.3%) while Lilly declined the most (4.8%)
In the past six months, Lilly has recorded the maximum gain (31.8%) while Merck declined the most (2.7%)
(See the last pharma stock roundup here: FDA Approval for NVO, PFE Products & Other Updates)
What's Next in the Pharma World?
Watch out for regular pipeline and regulatory updates next week.
Zacks Names "Single Best Pick to Double"
From thousands of stocks, 5 Zacks experts each have chosen their favorite to skyrocket +100% or more in months to come. From those 5, Director of Research Sheraz Mian hand-picks one to have the most explosive upside of all.
You know this company from its past glory days, but few would expect that it's poised for a monster turnaround. Fresh from a successful repositioning and flush with A-list celeb endorsements, it could rival or surpass other recent Zacks' Stocks Set to Double like Boston Beer Company which shot up +143.0% in a little more than 9 months and Nvidia which boomed +175.9% in one year.
Free: See Our Top Stock and 4 Runners Up >>
Want the latest recommendations from Zacks Investment Research? Today, you can download 7 Best Stocks for the Next 30 Days.
Click to get this free report
AstraZeneca PLC (AZN): Free Stock Analysis Report
GlaxoSmithKline plc (GSK): Free Stock Analysis Report
Pfizer Inc. (PFE): Free Stock Analysis Report
Merck & Co., Inc. (MRK): Free Stock Analysis Report
Eli Lilly and Company (LLY): Free Stock Analysis Report
To read this article on Zacks.com click here.
Zacks Investment Research