Auto Stock Roundup: General Motors (GM), Tesla (TSLA) Issue Recalls and More
Last week, European Automobile Manufacturers Association disclosed commercial vehicle sales in Europe. Registration of commercial vehicles in the European Union (EU) totaled 172,743 units for October, down 1.2% year over year, due to decline in demand for new pickups and buses partially offset by higher sales in light commercial vehicles. Commercial vehicles registration in EU during the 10 months ended October 2020 declined around 22.2% year over year to 1.4 million units. All the EU markets recorded double-digit decline over the said time period, including the four major ones. While sales plunged 30.4% year over year in Spain, France witnessed a drop of 19.8% in commercial vehicle registrations. Sales in Germany and Italy slid 18.4% on a year-over-year basis.
On the news front, General Motors GM and Tesla TSLA grabbed headlines as they issued recalls for 6 million and 9,500 vehicles, respectively. Meanwhile, supported by President-elect Biden's emphasis on electric vehicles (EVs), General Motors withdrew from Trump's litigation against California's emission rules.
While General Motors currently sports a Zacks Rank #1 (Strong Buy), Tesla carries a Zacks Rank #3 (Hold). You can see the complete list of today's Zacks #1 Rank stocks here.
(Read the Last Auto Stock Roundup here)
Recap of the Week's Most Important Stories
General Motors is set to recall around 6 million trucks and sports utility vehicles (SUVs) to replace defective Takata airbag inflators. The U.S. auto giant's decision to recall came after the National Highway Traffic Safety Administration ("NHTSA") denied the firm's petition to avoid the callback. The agency has given the automaker a 30-day time period to come up with a plan on how it would work toward fixing the recall. The recall would come at a huge price and is expected to cost the firm around $1.2 billion. Affected vehicles include some of the best-selling models of General Motors — including Cadillac Escalade SUVs, GMC Sierra and Chevrolet Silverado pickups, GMC Yukon and Yukon XL SUVs, Chevrolet Tahoe and Suburban SUVs — manufactured between 2007 and 2014.
In a separate development, General Motors is pulling out of Trump's lawsuit against California over fuel economy standards. The company has also urged other automakers including Toyota and Fiat Chrysler to back out from Trump's legal attack on California's clean vehicles program.General Motors is working toward EV revolution and agrees with Biden's plan to rev up e-mobility development.
Tesla has filed a safety recall for more than 9500 Model X and Y SUVs in the United States with the NHTSA due to manufacturing defects.Reportedly, the company has recalled 9,136 Model X SUVs built in 2015 and 2016 over chunks of the body that could get disconnected while driving due to the absence of primer and 437 Model Y SUVs over a possibly loose bolt that could cause separation of the upper control arm from the steering knuckle.
Meanwhile, Tesla signed a contract with LG Chem, per which the latter will exclusively supply rechargeable batteries for the Made-in-China Model Y Dual-Motor Long Range and Performance variants. Earlier, it was speculated that the red-hot EV maker would pick China's top battery supplier CATL or Japan's Panasonic for supplying batteries for Model Y. However, with the latest contract, Tesla has ruled out both companies for supplying batteries for the Model Y.
Price Performance
The following table shows the price movement of some of the major auto players over the past week and six-month period.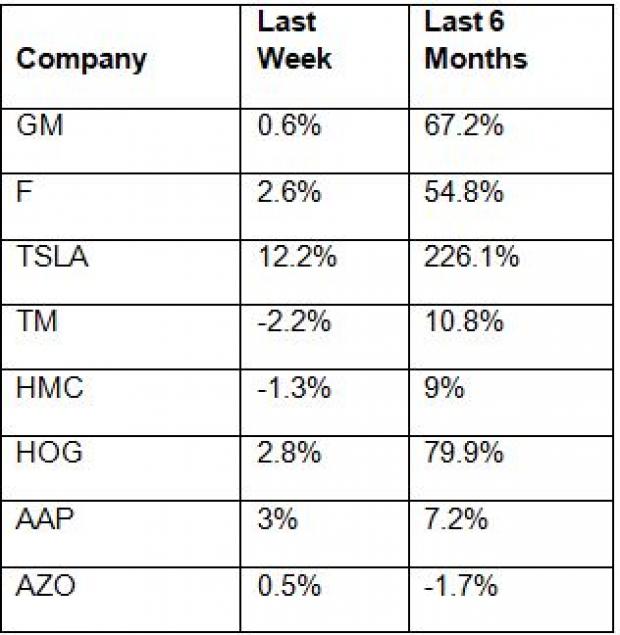 In the past six months, all stocks have increased apart from AutoZone. Over the past week, all stocks gained apart from Toyota TM and Honda HMC. Notably, Tesla registered the maximum gains during both the said periods.
What's Next in the Auto Space?
Car enthusiasts will be keeping a close watch on November 2020 U.S. car sales, which will be coming out later this week. Investors in the auto sector would be closely tracking the monthly sales reports of auto biggies like Honda, Hyundai, Toyota Motor and Ford F among many others. Investors will keenly wait for updates on the long-pending deal between Nikola NKLA and General Motors. The companies have until Dec 3 to close the deal.
The Hottest Tech Mega-Trend of All
Last year, it generated $24 billion in global revenues. By 2020, it's predicted to blast through the roof to $77.6 billion. Famed investor Mark Cuban says it will produce "the world's first trillionaires," but that should still leave plenty of money for regular investors who make the right trades early.
See Zacks' 3 Best Stocks to Play This Trend >>
Want the latest recommendations from Zacks Investment Research? Today, you can download 7 Best Stocks for the Next 30 Days.
Click to get this free report
Ford Motor Company (F): Free Stock Analysis Report
Honda Motor Co., Ltd. (HMC): Free Stock Analysis Report
Toyota Motor Corporation (TM): Free Stock Analysis Report
General Motors Company (GM): Free Stock Analysis Report
Tesla, Inc. (TSLA): Free Stock Analysis Report
Nikola Corporation (NKLA): Free Stock Analysis Report
To read this article on Zacks.com click here.
Zacks Investment Research