Ford Restores Mustang Mach 1, Inks Battery Deal With BYD
Ford Motor Company F recently announced that it will bring back a well-known model of the Mustang called the Mustang Mach 1 in 2021 with a 5-liter V8 engine. The Mustang Mach 1 is anticipated to offer greater performance than the current Mustang GT at 460 horsepower. However, it will be more attainable than the Mustang Shelby GT models, which are high-performance and track-driven vehicles, starting at more than $60,000.
The latest model is said to be the performance version of the pony car, which first debuted in the late 1960s during the golden age of muscle cars. The Mustang Mach 1 is being considered as a 'halo' or 'hype' vehicle that will help Ford attract attention to its entire brand and vehicle line-ups.
More than 300,000 Mustang Mach 1 cars have been reportedly produced since its 1969 debut. After nine years, the car was discontinued for the first time. Nonetheless, the model was resurrected with the 2003 and 2004 Mustang models.
Further, Ford is set to expand one of its marquee models — the Mustang muscle car — with an all-electric sport utility vehicle, Mustang Mach-E SUV. The SUV is a sleek hatchback that delivers spirited ride and handling. It features the all-new infotainment system, with the latest connected vehicle technology. It is expected to go on sale later this year.
Meanwhile, Ford's China joint venture with Changan Automobile plans to launch a hybrid car model with batteries built by the Chinese battery maker BYD Co Ltd. The companies are currently awaiting government approval to develop a hybrid plug-in model equipped with BYD's batteries. Notably, this marks BYD's first battery-supply deal with a major global automaker.
Zacks Rank & Stocks to Consider
Ford currently carries a Zacks Rank #3 (Hold). Shares of Ford have depreciated 36.6%, year to date, as against the industry's rise of 28.9%.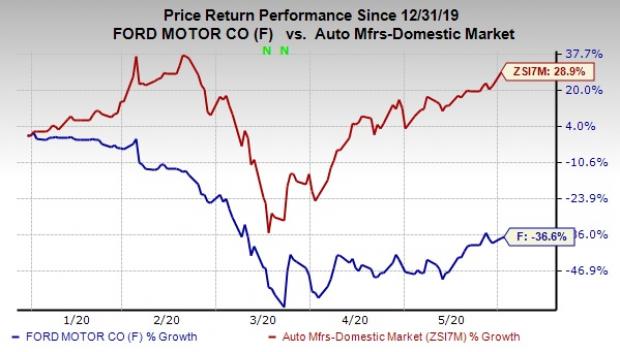 Some better-ranked stocks in the same sector are Tesla, Inc. TSLA, Niu Technologies NIU and Halfords Group Plc HLFDY, each carrying a Zacks Rank of 2 (Buy) at present. You can see the complete list of today's Zacks #1 Rank (Strong Buy) stocks here.
Shares of Tesla have appreciated 110.7%, year to date, compared with its industry's rally of 28.9%.
Shares of Niu have gained 25.2%, year to date, as against the industry's decline of 14%.
Shares of Halfords have rallied 44.2%, year to date, as against its industry's decline of 13.9%.
Zacks Top 10 Stocks for 2020
In addition to the stocks discussed above, would you like to know about our 10 finest buy-and-hold tickers for the entirety of 2020?
Last year's 2019 Zacks Top 10 Stocks portfolio returned gains as high as +102.7%. Now a brand-new portfolio has been handpicked from over 4,000 companies covered by the Zacks Rank. Don't miss your chance to get in on these long-term buys.
Access Zacks Top 10 Stocks for 2020 today >>
Want the latest recommendations from Zacks Investment Research? Today, you can download 7 Best Stocks for the Next 30 Days.
Click to get this free report
Ford Motor Company (F): Free Stock Analysis Report
Tesla, Inc. (TSLA): Free Stock Analysis Report
Halfords Group Plc (HLFDY): Free Stock Analysis Report
NIU TECHADR (NIU): Free Stock Analysis Report
To read this article on Zacks.com click here.