Is it Wise to Retain Equinix (EQIX) in Your Portfolio Now?
Equinix, Inc. EQIX is well-placed to capitalize on the rise in demand for inter-connected data-centers, strategic acquisitions and developmental activities and a robust balance-sheet position.

Equinix has been broadening its global footprint through the expansion of its International Business Exchange (IBX) data centers to meet the global need driven by enterprise cloud adoption and rising cloud or Internet customers' demand. It has 248 IBX data centers in 70 metros across 31 countries, through which customers can directly inter-connect critical traffic exchange requirements.

In addition, it is expected that the demand for high-performing data centers will increase in the coming years, owing to the exponential rise in data traffic. Equinix is likely to capitalize on this trend, which will aid its long-term growth.

EQIX has a recurring revenue model that comprises colocation, related interconnection and managed IT infrastructure services. The customers are billed at fixed rates on a recurring basis through the life of the respective contracts. Over the last three years, 90% of the total revenues were recurring in nature. Moreover, in second-quarter 2022, the company generated 36% of the recurring revenues from its 50 largest customers. This ensures a stable revenue source for the company.

Equinix has been carrying out acquisitions and developmental activities to spread its data-center capacity in key markets alongside strengthening its competitive positioning and global reach. In May 2022, the company acquired four data centers in Chile from a leading telecommunications provider, Empresa Nacional De Telecomunicaciones S.A. (Entel). Further, the company has 49 major projects in progress across 34 metros in 21 countries, of which 13 new projects were started during second-quarter 2022.

EQIX follows a well-planned debt and equity funding strategy to support its organic and acquisition-driven growth. As of Jun 30, 2022, the company had $5.8 billion of liquidity and $605.2 million of common stock available for sale under the 2020 at-the-market (ATM) program. In June, it received a credit rating upgrade to BBB+ from Fitch. Also, investment-grade credit ratings of Baa2 from Moody's and BBB from S&P Global Ratings give it favorable access to the debt market.

Shares of Equinix have gained 10.5% in the past three months compared with the real estate market's growth of 3.9%.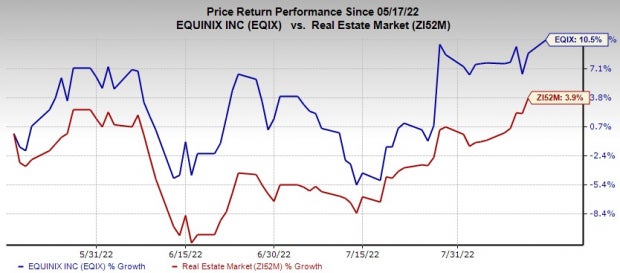 Image Source: Zacks Investment Research
However, Equinix faces intense competition from existing and new players in the space, given the strong growth potential of this industry. This could prompt competitors to resort to aggressive pricing policies, making Equinix vulnerable to pricing pressure.

Also, the company's huge capital deployment to support its expansion plans could affect its bottom line and margin growth in the near term. It expects to incur $30 million of integration costs in 2022 in relation to acquisitions.

Further, higher interest rates will make borrowing costs to purchase or develop real estate costlier and substantially increase Equinix's debt burden. Moreover, the dividend payout might become less attractive than the yields on fixed income and money market accounts.

Analysts seem bearish on this Zacks Rank #3 (Hold) stock. The estimate revisions trend for 2022 funds from operations (FFO) per share does not indicate a favorable outlook for the company, as it has been marginally revised downward in the past month to $29.01.
Stocks to Consider
Some better-ranked stocks from the REIT sector are Prologis PLD, SBA Communications SBAC and Host Hotels & Resorts HST, each carrying a Zacks Rank #2 (Buy). You can see the complete list of today's Zacks #1 Rank (Strong Buy) stocks here.

The Zacks Consensus Estimate for Prologis' 2022 FFO per share has moved marginally upward in the past month to $5.17.

The Zacks Consensus Estimate for SBA Communication's current-year FFO per share has moved 1.2% northward in the past two months to $12.13.

The Zacks Consensus Estimate for Host Hotels & Resorts' ongoing year's FFO per share has been raised 6.1% over the past month to $1.73.

Note: Anything related to earnings presented in this write-up represent funds from operations (FFO) — a widely used metric to gauge the performance of REITs.
Want the latest recommendations from Zacks Investment Research? Today, you can download 7 Best Stocks for the Next 30 Days.
Click to get this free report
Host Hotels & Resorts, Inc. (HST): Free Stock Analysis Report
Prologis, Inc. (PLD): Free Stock Analysis Report
Equinix, Inc. (EQIX): Free Stock Analysis Report
SBA Communications Corporation (SBAC): Free Stock Analysis Report
To read this article on Zacks.com click here.