Lockheed Wins Multi-Billion Deal to Deliver 50 C-130J Jets
Lockheed Martin Cop. LMT recently secured a multi-year contract from the U.S. Department of Defense for delivering 50 C-130J Super Hercules aircraft between 2021 and 2025. The jets will be manufactured at the company's Marietta, GA, facility.
The contract, worth more than $3 billion, will serve the U.S. Air Force, Marine Corps and Coast Guard.
C-130J Specifics
As the world's premier tactical airlifter, the Super Hercules features tremendous lift capacity, long range and austere landing field capabilities. Rolls-Royce's RYCEY AE 2100D3 engines and six-bladed Dowty Aerospace R391 composite propellers from General Electric GE improve this aircraft's performance over legacy C-130 jet.
All C-130J variants are designed for night operations, while its proven on-board navigation system guides pilots to proper landing site quickly and safely. The Super Hercules worldwide fleet has more than 2 million flight hours and is the airlifter of choice for 20 nations.
Our View
In recent times, military helicopters in the U.S. aerospace-defense market have gained prominence and significant traction due to advancements and integration of new tactical, logistical and other important features. Some of these developments are attributable to Lockheed Martin and have paved the way for securing valuable helicopter-related contracts in recent times.
Such contracts are indicative of solid revenue growth prospects for the company's Aeronautics business segment, which comprises C-130 Hercules program. Notably, during third-quarter 2019, revenues at this unit increased 10% year over year and we expect the upcoming quarterly reports to reflect similar growth on account of contract wins like the latest one.
With the fiscal 2020 defense budget offering investment potential worth $57.7 billion in aircraft, we may expect Lockheed Martin's Aeronautics unit to receive consistent order flows from the Pentagon in the near future as well. This, in turn, should lead to top-line growth for the unit in the coming days.
Price Movement
In a year's time, shares of Lockheed Martin have gained 24.2% compared with the industry's 7.3% increase.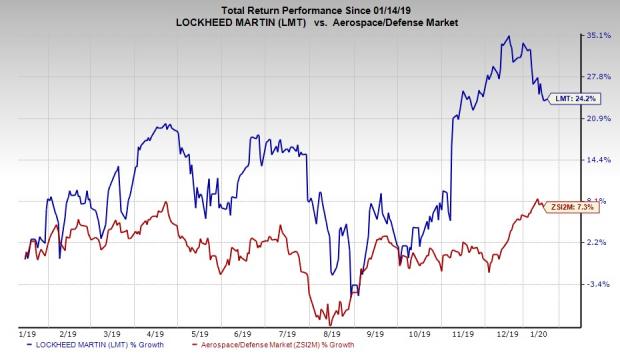 Zacks Rank & Another Stock to Consider
Lockheed Martin currently carries a Zacks Rank #2 (Buy). Another top-ranked company in the same space is Leidos Holdings, Inc. LDOS, which bears the same Zacks Rank as Lockheed Martin. You can see the complete list of today's Zacks #1 Rank (Strong Buy) stocks here.
Leidos Holdings delivered average positive earnings surprise of 6.51% in the last four quarters. The Zacks Consensus Estimate for 2019 earnings has moved up 1.1% to $4.58 over the past 60 days.
Breakout Biotech Stocks with Triple-Digit Profit Potential
The biotech sector is projected to surge beyond $775 billion by 2024 as scientists develop treatments for thousands of diseases. They're also finding ways to edit the human genome to literally erase our vulnerability to these diseases.
Zacks has just released Century of Biology: 7 Biotech Stocks to Buy Right Now to help investors profit from 7 stocks poised for outperformance. Our recent biotech recommendations have produced gains of +50%, +83% and +164% in as little as 2 months. The stocks in this report could perform even better.
See these 7 breakthrough stocks now>>
Want the latest recommendations from Zacks Investment Research? Today, you can download 7 Best Stocks for the Next 30 Days.
Click to get this free report
Lockheed Martin Corporation (LMT): Free Stock Analysis Report
Leidos Holdings, Inc. (LDOS): Free Stock Analysis Report
Rolls-Royce Holdings PLC (RYCEY): Free Stock Analysis Report
General Electric Company (GE): Free Stock Analysis Report
To read this article on Zacks.com click here.
Zacks Investment Research