Onconova (ONTX) KRAS Inhibitor Shows Activity in Lung Cancer
Onconova Therapeutics, Inc. ONTX announced promising preliminary data from the phase I/II study evaluating its oral pipeline candidate, rigosertib, in combination with Bristol-Myers' BMY immune checkpoint inhibitor, Opdivo (nivolumab), in advanced KRAS mutated (KRAS+) non-small cell lung cancer (NSCLC).
The study is evaluating the combination regimen in patients who have failed two or more lines of prior therapy and whose disease has progressed on standard of care with anti-PD-1 monotherapy or anti-PD-1 in combination with chemotherapy. The novel combination of rigosertib and Opdivo targets two of the most important oncogenic pathways in cancer biology.
The data from the study demonstrated that the combination of rigosertib plus Opdivo achieved disease control in 43% of the patients with partial response in 29% of evaluable patients. The data suggests that the addition of rigosertib to the current standard of care immunotherapy medicines for treating KRAS mutated NSCLC can delay disease progression.
The preliminary data from the study are being presented at the 3rd Annual RAS Targeted Drug Development Summit.
Shares of Onconova gained 28.6% on Sep 22, following the study data readout. The company's shares have declined 9.8% so far this year compared with the industry's decrease of 12.5%.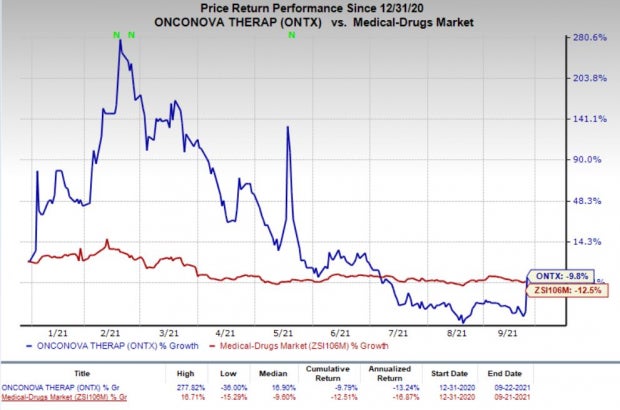 Image Source: Zacks Investment Research
We note that Amgen's AMGN Lumakras received approval from the FDA for treating KRAS-mutated NSCLC earlier this year. Another company, Mirati Therapeutics MRTX is currently developing a pipeline candidate as a potential treatment for KRAS-mutated NSCLC. Novartis is also developing a mid-stage candidate targeting KRAS-mutated NSCLC. Onconova's rigosertib combination regimen is likely to face competition from these drugs, following its potential approval.
The company is also developing rigosertib monotherapy as a treatment for advanced squamous cell carcinoma. An investigator-initiated phase I/IIb is currently evaluating the candidate in this indication.
A phase III study evaluating intravenous rigosertib in patients with higher-risk myelodysplastic syndromes had failed to meet the primary endpoint of improved survival last year. Following this failure, the company focused on developing oral rigosertib for treating cancers with solid tumors.
Apart from rigosertib, the company is also developing another pipeline candidate, narazaciclib (ON 123300), for treating solid tumors in a phase I study.
Onconova Therapeutics, Inc. Price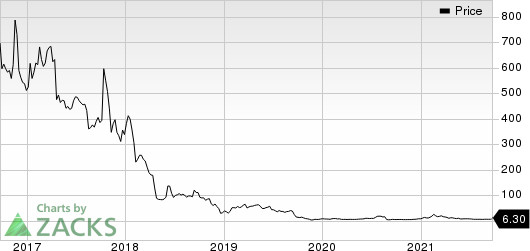 Onconova Therapeutics, Inc. price | Onconova Therapeutics, Inc. Quote
Zacks Rank
Onconova is currently a Zacks Rank #2 (Buy) stock.
You can see the complete list of today's Zacks #1 Rank (Strong Buy) stocks here.
More Stock News: This Is Bigger than the iPhone!
It could become the mother of all technological revolutions. Apple sold a mere 1 billion iPhones in 10 years but a new breakthrough is expected to generate more than 77 billion devices by 2025, creating a $1.3 trillion market.
Zacks has just released a Special Report that spotlights this fast-emerging phenomenon and 4 tickers for taking advantage of it. If you don't buy now, you may kick yourself in 2022.
Click here for the 4 trades >>
Want the latest recommendations from Zacks Investment Research? Today, you can download 7 Best Stocks for the Next 30 Days.
Click to get this free report
Bristol Myers Squibb Company (BMY): Free Stock Analysis Report
Amgen Inc. (AMGN): Free Stock Analysis Report
Onconova Therapeutics, Inc. (ONTX): Free Stock Analysis Report
Mirati Therapeutics, Inc. (MRTX): Free Stock Analysis Report
To read this article on Zacks.com click here.
Zacks Investment Research