Digital & Global Growth to Aid lululemon's (LULU) Q1 Earnings
lululemon athletica inc. LULU is about to report first-quarter fiscal 2019 results on Jun 12. The company has been witnessing continued top and bottom-line momentum, driven by positive trends in traffic, guest engagement and product margin, aided by initiatives to expand global and digital presence. The benefits of these efforts are also well reflected in the company's robust comparable store sales (comps) trend, which demonstrates continued increase in traffic and conversion rates across stores and online. Clearly, meaningful progress on these lines may significantly contribute to the upcoming results.

Notably, the lululemon stock has gained 18.7% in the past three months, outperforming the industry's 0.2% growth. This outperformance was mostly due to robust outcomes of the company's strategies, which help it attain goals set out in its Strategy for 2020.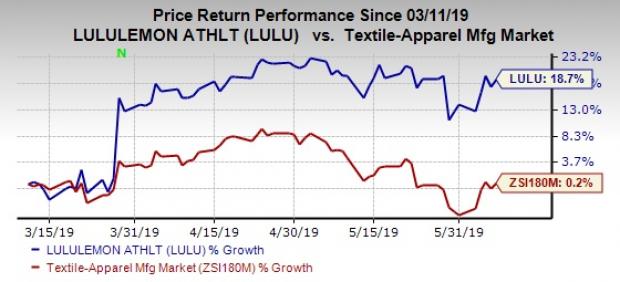 Let's see if these endeavors can help this yoga-inspired apparel retailer to retain its sturdy record this time around as well.

E-commerce and International Businesses Reflect Strength

lululemon is strongly focused on enhancing the e-commerce retailing channel and investing in the innovation of new product categories and bringing improvements to its website. Improved capabilities in personalized digital marketing and data analytics led to traffic and conversion growth at the company's site in the fiscal fourth quarter.

As a result, traffic at e-commerce sites rose more than 30% while conversion increased in a low-single digit. Direct-to-consumer (DTC) comps gained 37% (or an increase of 39% in constant dollars) in the fiscal fourth quarter. E-commerce contributed $344 million or nearly 30% to total sales in the fiscal fourth quarter. Moreover, e-commerce penetration reached 26% in fiscal 2018, ahead of the targeted 25% penetration for fiscal 2020. This indicates that the company's top line and comps in the fiscal first quarter should reflect significant gains from robust e-commerce sales.
lululemon athletica inc. Price, Consensus and EPS Surprise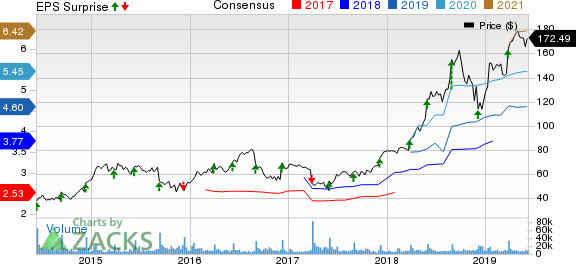 lululemon athletica inc. price-consensus-eps-surprise-chart | lululemon athletica inc. Quote
Apart from this, this Zacks Rank #2 (Buy) company has an unmatched level of long-term growth opportunity in the industry, based on its potential to expand square footage and enhance business globally. It remains focused on expanding operations outside the United States and Canada, particularly in the Europe and Asia markets. This is evident from total market growth of more than 70% in Asia and nearly 60% recorded in Europe in the fiscal fourth quarter.

Particularly, the company witnessed solid e-commerce growth in China, where revenues improved 140% in the fiscal fourth quarter and 150% in fiscal 2018. Apart from China, lululemon's growth efforts in Asia were quite evident from the opening of its first store in Osaka, Japan, and its first airport store in Hong Kong. In Europe, the company's brand is resonating well with customers. It attracted guests in Berlin with a new store in the Mitte district. Additionally, the company opened its first store in Amsterdam.

Moreover, lululemon plans to expand its digital reach in international markets with the launch of local sites in Japan, France and Germany. Overall, the company plans to expand its international base by opening 25-30 stores in fiscal 2019.

Overall Earnings & Sales Expectations

lululemon is likely to witness strong momentum across the business while executing growth strategies in the quarters ahead. This is reflected by its solid view for the first quarter and fiscal 2019.

For first-quarter fiscal 2019, lululemon anticipates revenues of $740-$750 million, with constant-dollar comps expected to increase in a low-double digit. The company expects gross margin to expand marginally from the year-ago quarter. This is likely to be driven by higher product margins alongside an incremental reduction in average unit costs, backed by ongoing supply-chain initiatives to scale efficiencies. Management anticipates SG&A expense rate to be flat to up marginally, driven by persistent investments to boost the top line.

lululemon envisions earnings of 68-70 cents per share for the fiscal first quarter compared with adjusted earnings per share of 55 cents in the year-ago quarter.

For fiscal 2019, the company projects revenues of $3.7-$3.74, with comps growth in a low-double digit, on a constant-dollar basis. It expects modest gross margin expansion, driven by anticipated gains in product margins, and leverage on occupancy and other fixed costs. Earnings for the fiscal year are projected to be $4.48-$4.55 per share.

Looking for Other Lucrative Picks? Check These

Crocs Inc. CROX has an impressive expected long-term earnings growth rate of 15%. It currently sports a Zacks Rank #1 (Strong Buy). You can see the complete list of today's Zacks #1 Rank stocks here.

Under Armour, Inc. UAA has a long-term earnings growth rate of 24.5% and a Zacks Rank #2 at present.

Columbia Sportswear Company COLM presently has a long-term earnings growth rate of 8.9% and a Zacks Rank #2.

Breakout Biotech Stocks with Triple-Digit Profit Potential

The biotech sector is projected to surge beyond $775 billion by 2024 as scientists develop treatments for thousands of diseases. They're also finding ways to edit the human genome to literally erase our vulnerability to these diseases.

Zacks has just released Century of Biology: 7 Biotech Stocks to Buy Right Now to help investors profit from 7 stocks poised for outperformance. Our recent biotech recommendations have produced gains of +98%, +119% and +164% in as little as 1 month. The stocks in this report could perform even better.

See these 7 breakthrough stocks now>>
Want the latest recommendations from Zacks Investment Research? Today, you can download 7 Best Stocks for the Next 30 Days.
Click to get this free report
lululemon athletica inc. (LULU): Free Stock Analysis Report
Under Armour, Inc. (UAA): Free Stock Analysis Report
Columbia Sportswear Company (COLM): Free Stock Analysis Report
Crocs, Inc. (CROX): Free Stock Analysis Report
To read this article on Zacks.com click here.
Zacks Investment Research