Hanesbrands (HBI) Stock Up 28% YTD: Will Momentum Stay?
Strength in the International business, synergies from acquisitions and focus on Project Booster have been driving Hanesbrands Inc.'s HBI performance. This textile-apparel player's shares have rallied as much as 28.3% year to date, outperforming the industry's growth of 19.3%. In fact, the company has also outpaced the Zacks Consumer Discretionary sector's growth of 22.2% in the same time frame.

Let's delve deeper into the factors that have been driving this Zacks Rank #3 (Hold) stock despite a dismal Innerwear segment and foreign-currency headwinds.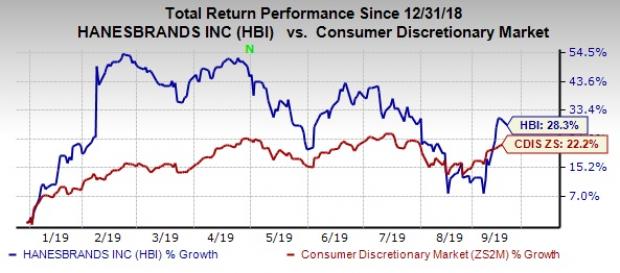 Factors Narrating Hanesbrands' Growth Story

Hanesbrands has long been gaining from the solid performance of its International segment, which constituted 32.3% of the company's net sales in the second quarter of 2019. Consistent growth in the Champions brand and strong performance across Europe, Asia and Australia were key drivers. Moreover, the segment's operating margin improved nearly 20 basis points. This marked the company's fourth consecutive quarter wherein the international unit's operating margin was above the corporate average. Volume gains and acquisition synergies primarily led to operating margin growth in the unit. The company's constant efforts to widen offerings are likely to keep fueling international sales.

Additionally, Hanesbrands continues to make acquisitions to strengthen its business portfolio. To this end, it acquired Alternative Apparel more than a year ago. Also, the company bought Bras N Things last year. Markedly, contributions from these acquisitions have been supporting the company's revenues. Moreover, Hanesbrands focuses on enhancing online sales. During the second quarter, the company's Global consumer-directed sales (including store and all online networks) improved roughly 12% year over year.

Hanesbrands, which is a global partner with Amazon AMZN, is focused on making incremental investments in its online business to keep pace with consumers' evolving shopping patterns. These factors along with a strong organic sales trend bode well for the company. Notably, the company expects to continue with its stellar organic sales performance in the forthcoming quarters, backed by innovation. Encouragingly, management had earlier projected organic sales to improve 2.5% (at cc) in 2019.

Barriers Likely to be Countered

Hanesbrands has been witnessing soft sales at its Innerwear segment for quite some time now. In second-quarter 2019, Innerwear sales dipped 2.3% due to softness across Innerwear intimates and Innerwear basics. In fact, Hanesbrands is quite conservative regarding its Innerwear segment for the third quarter, wherein U.S. Innerwear sales are likely to decline 2%. Although management is on track with product launches, these are yet to positively impact the unit's performance.

Further, adverse currency movements are a threat to the company. We note that this headwind weighed on Hanesbrands' adjusted operating profit in the second quarter of 2019 to the tune of about $4 million. Management expects a negative impact of almost $20 million in sales due to currency headwinds in the third quarter. Apart from this, Hanesbrands is troubled by raw-material inflation, which was a drag on the company's adjusted gross margin during the second quarter. Higher costs are mainly being witnessed for logistics and commodity. Management expects such rising costs to persist.

Nonetheless, we expect the aforementioned drivers and the Project Booster plan to help the company tide over these barriers easily. Markedly, the Project Booster program is likely to boost Hanesbrands's Sell More, Spend Less, Generate Cash strategy for additional gains. The company had earlier stated that by 2019, this project is anticipated to generate nearly $150 million of annualized cost savings.

Clearly, Hanesbrands is likely to sustain its robust momentum.

Looking for Textile-Apparel Stocks? Check These

Guess? GES, with a Zacks Rank #1 (Strong Buy), has a long-term earnings per share growth rate of 17.5%. You can see the complete list of today's Zacks #1 Rank stocks here.

Crocs CROX, also with a Zacks Rank #1, has a long-term earnings per share growth rate of 15%.

5 Stocks Set to Double

Zacks experts released their picks to gain +100% or more in 2020. One is a famous cutting-edge food company that is "hiding in plain sight." Swamped with competitors and ignored by Wall Street, its stock price floundered. Now, suddenly, it acquired a company that gives it an advantage none of its peers have.

Today, see all 5 stocks with extreme growth potential >>
Want the latest recommendations from Zacks Investment Research? Today, you can download 7 Best Stocks for the Next 30 Days.
Click to get this free report
Amazon.com, Inc. (AMZN): Free Stock Analysis Report
Hanesbrands Inc. (HBI): Free Stock Analysis Report
Guess?, Inc. (GES): Free Stock Analysis Report
Crocs, Inc. (CROX): Free Stock Analysis Report
To read this article on Zacks.com click here.
Zacks Investment Research