Beverage Can Demand Aids Crown Holdings (CCK) Despite Cost Woes
Crown Holdings, Inc. CCK has been witnessing strong demand across all product lines with demand for beverage cans being particularly strong, courtesy of consumers' growing preference for the same. CCK's investments in the construction of new plants, addition of production lines to existing facilities and strategic acquisitions to make the most of this trend will act as a key catalyst. Inflated raw material and freight costs, and supply-chain issues remain headwinds.
Upbeat Guidance for 2022
Backed by strong demand, Crown Holdings expects adjusted earnings per share in 2022 between $7.65 and $7.85. In 2021, CCK reported adjusted earnings per share of $7.66.
Efforts to Tap Beverage Can Demand
Over the past few years, demand for beverage cans has been growing as it is the world's most sustainable and recycled beverage packaging. An estimated 75% of new beverage product launches are now packaged in cans. Crown Holdings continues to implement several projects, including both construction of new plants and the addition of production lines to the existing facilities to meet this demand.

To this end, by the close of 2023, Crown Holdings expects to commercialize new production capacity at new plants in Martinsville, VA , Mesquite, NV, Uberaba, Brazil and Peterborough, the United Kingdom. Additional production lines are also being installed at the existing plants in Phnom Penh, Cambodia; Monterrey, Mexico and Agoncillo, Spain and Parma, Italy.
Other Vital Drivers
Crown Holdings is focused on disciplined pricing, cost control and capital allocation. CCK's primary capital-allocation focus will be to reduce leverage while still investing in its business. In addition to capacity expansion, CCK continues to make strategic acquisitions in geographic areas and product lines.
Cost Inflation & Supply Issues: A Bane
Crown Holdings is incurring higher raw material costs as well as increased labor and freight costs. This will weigh on its margins this year. CCK's equipment business continues to face supply-chain delays and disruptions. The company is also bearing the brunt of escalating European energy prices and currency translation headwinds.
Price Performance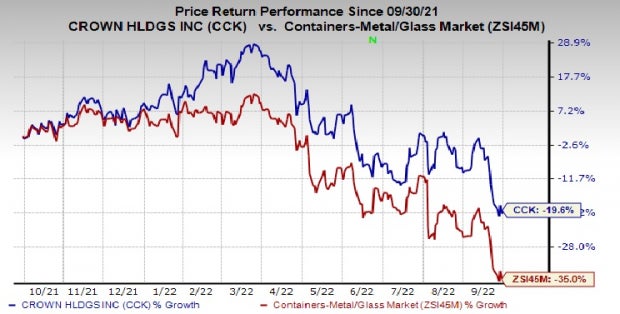 Image Source: Zacks Investment Research
Shares of Crown Holdings have fallen 19% in the past year compared with the industry's decline of 34.7%.
Zacks Rank and Stocks to Consider
Crown Holdings currently carries a Zacks Rank #3 (Hold).

Some better-ranked stocks in the Industrial Products sector are Tenaris TS, CECO Environmental CECE and W.W. Grainger Inc. GWW. While TS flaunts a Zacks Rank #1 (Strong Buy), CECE and GWW carry a Zacks Rank #2 (Buy) at present. You can see the complete list of today's Zacks #1 Rank stocks here.
Tenaris delivered a trailing four-quarter earnings surprise of 34%, on average. Earnings estimates have increased 8% for fiscal 2022 in the past 60 days. The TS stock has risen 18% in the past year.

CECO Environmental delivered a trailing four-quarter earnings surprise of 29.1%, on average. Earnings estimates have increased 17% for fiscal 2022 in the past 60 days. The CECE stock has gained 23% in the past year.

Grainger's earnings surprise in the last four quarters was 7.9%, on average. In the past 60 days, its earnings estimates have increased 4% for 2022. The GWW stock has gained 22% in the past year.
This Little-Known Semiconductor Stock Could Be Your Portfolio's Hedge Against Inflation
Everyone uses semiconductors. But only a small number of people know what they are and what they do. If you use a smartphone, computer, microwave, digital camera or refrigerator (and that's just the tip of the iceberg), you have a need for semiconductors. That's why their importance can't be overstated and their disruption in the supply chain has such a global effect. But every cloud has a silver lining. Shockwaves to the international supply chain from the global pandemic have unearthed a tremendous opportunity for investors. And today, Zacks' leading stock strategist is revealing the one semiconductor stock that stands to gain the most in a new FREE report. It's yours at no cost and with no obligation.
>>Yes, I Want to Help Protect My Portfolio During the Recession
Want the latest recommendations from Zacks Investment Research? Today, you can download 7 Best Stocks for the Next 30 Days.
Click to get this free report
W.W. Grainger, Inc. (GWW): Free Stock Analysis Report
Crown Holdings, Inc. (CCK): Free Stock Analysis Report
CECO Environmental Corp. (CECE): Free Stock Analysis Report
Tenaris S.A. (TS): Free Stock Analysis Report
To read this article on Zacks.com click here.
Zacks Investment Research