Amazon India in Food Delivery
TechCrunch reports that Amazon AMZN is looking to get into the highly competitive food delivery business in India. The retail giant is already in most major and minor cities across India and has been supplying a very limited number of packaged food items as well.

But food delivery is another animal altogether, and the going may not be as easy because of the highly competitive market, dominated by local companies Swiggy and Zomato. The other smaller players have not really captured significant mindshare and Zomato recently bought out Uber Eats' India business as it was struggling for survival.

Amazon was slated to launch its service in the 2019 Diwali season, but that got delayed for unknown reasons. Festival time is the right time to launch any food business, especially in India, as that's the time people cook less. But they're also less likely to be indoors, which isn't great for a delivery business. Road traffic is also higher, which could mean increased time and cost of deliveries. Restaurants also get more business than they can handle, so it's relatively more difficult to sign them on.

Additionally, despite their huge scale, both Swiggy and Zomato remain unprofitable. Both are focused on cloud kitchens and Zomato is also looking at project "Kisan," which sources raw materials directly from farmers, thereby giving the company greater control over the supply chain.
Since these companies have been in operation for a number of years, they have the data to know which items do well or have the potential to do well in which areas. That's what they're banking on to build the cloud kitchen business. This model could ultimately generate the much-needed profits.

For most Indians, restaurant food is either of questionable quality or significantly more expensive than home-cooked food, which has made eating out less popular, except on occasion. The delivery option is changing that landscape to a large extent. Cloud kitchens that eliminate the need for market research and the overheads of running a full-fledged restaurant could bring further change.

Still, India's food delivery market was worth $4.2 billion at 2019-end, according to Bangalore-based research firm RedSeer and this is with most people still eating at home. So this is a simply huge opportunity and one that will only grow in the future as women's employment increases, the cost differential between home-cooked and good-quality commercially-prepared food comes down.
Recommendation

Amazon has a Zacks Rank #3. Buy-ranked stocks in the segment that you could buy instead are Stamps.com STMP, eBay Inc EBAY, ASOS PLS ASOMY and Fiverr International FVRR.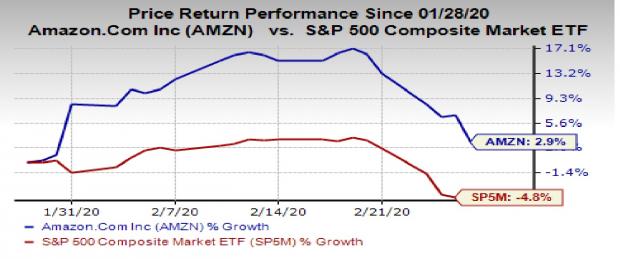 Today's Best Stocks from Zacks

Would you like to see the updated picks from our best market-beating strategies? From 2017 through 2019, while the S&P 500 gained and impressive +53.6%, five of our strategies returned +65.8%, +97.1%, +118.0%, +175.7% and even +186.7%.

This outperformance has not just been a recent phenomenon. From 2000 – 2019, while the S&P averaged +6.0% per year, our top strategies averaged up to +54.7% per year.

See their latest picks free >>

Want the latest recommendations from Zacks Investment Research? Today, you can download 7 Best Stocks for the Next 30 Days.
Click to get this free report
Amazon.com, Inc. (AMZN): Free Stock Analysis Report
eBay Inc. (EBAY): Free Stock Analysis Report
Stamps.com Inc. (STMP): Free Stock Analysis Report
ASOS PLS ADR (ASOMY): Free Stock Analysis Report
Fiverr International Lt. (FVRR): Free Stock Analysis Report
To read this article on Zacks.com click here.
Zacks Investment Research