Citizens Financial (CFG) Removes NSF Fees From Customer Accounts
Citizens Financial Group, Inc. CFG eliminated all non-sufficient funds (NSF) fees across all customer accounts as of Sep 26, 2022. As part of its efforts to enhance the financial well-being of its customers, CFG has taken many steps to make banking more flexible.
Over the last year, the company has removed Savings Overdraft Protection fees and offered Citizens Paid Early, which enables customers to access their paychecks up to two days in advance.
The company also introduced a deposit feature, Introducing Citizens Peace of Mind, to reverse unexpected overdraft fees. It established overdraft-free accounts, Citizens EverValue Checking and Student Checking, to encourage banking access to all consumers.
As additional customer protection, the bank has been offering a $5 Overdraft Pass to waive overdraft fees on transactions of $5 or less.
Through the changes, CFG's overdraft fees have been reduced by more than 50% since 2019 and 80% since 2008.
Of late, banks have been facing increased scrutiny from regulators and lawmakers for charging overdraft and other fees to consumers. Several U.S. consumer banks have been asked to eliminate all consumer overdraft fees to safeguard customers. CFG's actions align with such requests and bode well for the company in the long run.
Over the past year, shares of CFG have declined 27.7% compared with the 18.9% fall recorded by the industry.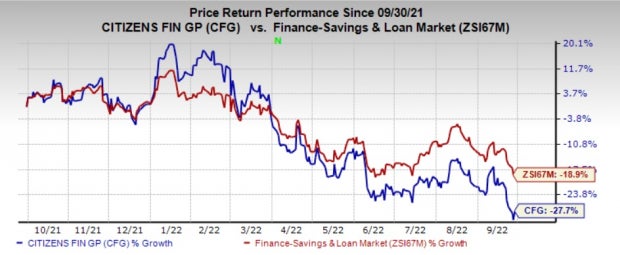 Image Source: Zacks Investment Research
Currently, CFG carries a Zacks Rank #3 (Hold). You can see the complete list of today's Zacks #1 Rank (Strong Buy) stocks here.
Other Banks Taking Similar Steps
Several banks, including Bank of America BAC and Citigroup C, have stopped charging NSF and overdraft fees.
This January, Bank of America announced changes to its overdraft services, including plans to do away with NSF fees, effective February, and lower overdraft fees to $10 from $35, beginning in May. The company said that it would remove transfer fees associated with its Balance Connect for overdraft protection service in May.
Since 2010, BAC has taken several steps to "empower its consumer and small business clients to bank with greater confidence and reduce overdraft usage." These efforts have substantially lowered fees related to overdrafts.
In February, Citigroup announced that it would completely terminate overdraft fees, return item fees and overdraft protection fees by this summer, making it the largest U.S. lender to do so.
Citigroup's overdraft fee collection has been among the lowest compared with its peers. Other than a consumer-friendly overdraft policy, the banking giant continues to expand access to banking products and services, making banking more financially inclusive for underserved communities.
FREE Report: The Metaverse is Exploding! Don't You Want to Cash In?
Rising gas prices. The war in Ukraine. America's recession. Inflation. It's no wonder why the metaverse is so popular and growing every day. Becoming Spider Man and fighting Darth Vader is infinitely more appealing than spending over $5 per gallon at the pump. And that appeal is why the metaverse can provide such massive gains for investors. But do you know where to look? Do you know which metaverse stocks to buy and which to avoid? In a new FREE report from Zacks' leading stock specialist, we reveal how you could profit from the internet's next evolution. Even though the popularity of the metaverse is spreading like wildfire, investors like you can still get in on the ground floor and cash in. Don't miss your chance to get your piece of this innovative $30 trillion opportunity - FREE.
>>Yes, I want to know the top metaverse stocks for 2022>>
Want the latest recommendations from Zacks Investment Research? Today, you can download 7 Best Stocks for the Next 30 Days.
Click to get this free report
Bank of America Corporation (BAC): Free Stock Analysis Report
Citigroup Inc. (C): Free Stock Analysis Report
Citizens Financial Group, Inc. (CFG): Free Stock Analysis Report
To read this article on Zacks.com click here.
Zacks Investment Research