Thermo Fisher (TMO) Q2 Earnings Beat on COVID-19-Led Sales
Thermo Fisher Scientific Inc.'s TMO second-quarter 2020 adjusted earnings per share of $3.89 beat the Zacks Consensus Estimate by 45.7%. The figure improved 27.9% year over year. The adjusted number excludes certain non-recurring expenses including, asset amortization costs and certain restructuring costs.
On a reported basis, earnings per share were $2.90, up 4.7% year over year.
Revenues in the quarter under review grossed $6.92 billion, up 9.5% year over year. The top line edged past the Zacks Consensus Estimate by 0.1%.
Quarter in Detail
Organic revenues in the reported quarter grew 11% year over year. However, currency translation adversely impacted total revenues by 1%.
Thermo Fisher operates under four business segments: Life Sciences Solutions, Analytical Instruments, Specialty Diagnostics, and Laboratory Products and Services.
Thermo Fisher Scientific Inc. Price, Consensus and EPS Surprise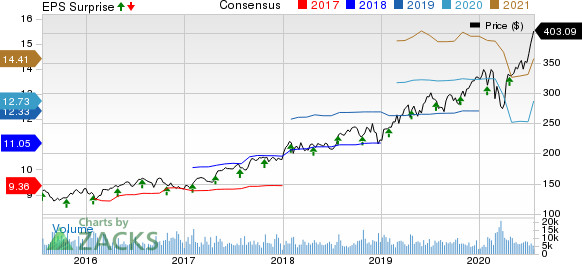 Thermo Fisher Scientific Inc. price-consensus-eps-surprise-chart | Thermo Fisher Scientific Inc. Quote
Revenues at the Life Sciences Solutions segment (37.6% of total revenues) improved 52.2% year over year to $2.60 billion while Analytical Instruments Segment sales (15.2%) declined 20.6% to $1.05 billion.
Revenues at the Laboratory Products and Services segment (40.3%) rose 5.8% to $2.79 billion. The Specialty Diagnostics segment (14.3%) recorded 4.8% year-over-year rise in revenues to $0.99 billion.
Gross margin of 50.6% in the second quarter expanded 394 basis points (bps) year over year on 18.8% rise in gross profits. Adjusted operating margin for the quarter came in at 26.3%, reflecting an expansion of 350 bps.
The company exited the second quarter of 2020 with cash and cash equivalents of $5.82 billion compared with $2.98 billion at the end of the first quarter. Year-to-date net cash provided by operating activities was $2.24 billion compared with $1.94 billion a year ago.
We note that on Apr 6, 2020, Thermo Fisher had withdrawn its 2020 guidance due to the COVID-19 pandemic-led crisis and related customer impact. The company has not mentioned anything about its rest of the year's projection in this earnings release.
COVID-19 Related Major Developments in Q2
In the second quarter, Thermo Fisher received expansion of emergency use authorization (EUA) to run its PCR test on additional instruments and consumables for greater workflow flexibility. The company has also designed and built a new facility in Lenexa, KS, to manufacture highly specialized viral transport media (VTM) for sample collection under a government contract.
In another major development, the company formed a collaboration with WuXi Diagnostics and Mayo Clinic to develop a total antibodies serology test. Further, it has gained a multi-year pharma services contract with the U.S. Biomedical Advanced Research and Development Authority to support accelerated vaccine development and production.
Bottom Line
Thermo Fisher ended the second quarter with better-than-expected numbers. The company delivered an outstanding quarterly performance, leveraging on its capacity to extend support amid the pandemic. In the quarter, it generated $1.3 billion of COVID-19 related revenues.
We are encouraged about the exceptionally strong year-over-year revenue growth at Life Sciences Solutions segment. However, the coronavirus outbreak has massively disrupted the global supply chain. Given its huge international base, Thermo Fisher too recorded a decline in its quarterly Analytical Instruments revenues. Meanwhile, margin expansion in the second quarter is encouraging.
We currently look forward to Thermo Fisher's agreement to acquire QIAGEN N.V. for $11.5 billion (announced in March). It is aimed at expanding the company's specialty diagnostics portfolio with QIAGEN's molecular diagnostics capabilities and also enhancing the company's life sciences offering with QIAGEN's sample preparation technologies.
Zacks Rank and Other Key Picks
Thermo Fisher currently has a Zacks Ranks #1 (Strong Buy).
Some other top-ranked stocks in the broader medical space are ViewRay, Inc. VRAY, Opko Health OPK and ResMed Inc. RMD. All the three stocks carry a Zacks Rank #2 (Buy), at present. You can see the complete list of today's Zacks #1 Rank stocks here.
The Zacks Consensus Estimate for ViewRay's second-quarter 2020 bottom line is pegged at a loss of 16 cents per share, indicating 50% narrower loss from the year-ago reported quarter figure.
The Zacks Consensus Estimate for Opko Health's second-quarter 2020 bottom line stands at a loss of 7 cents per share, suggesting 30% improvement from the year-ago period. The same for revenues is pegged at $234.6 million, suggesting a 3.6% increase from the year-earlier reported figure.
The Zacks Consensus Estimate for ResMed's fourth-quarter fiscal 2020 revenues is $710.9 million, implying a 0.9% increase from the year-earlier reported figure. The same for adjusted earnings per share stands at 99 cents, indicating 4.2% rise from the year-ago reported figure.
Just Released: Zacks' 7 Best Stocks for Today
Experts extracted 7 stocks from the list of 220 Zacks Rank #1 Strong Buys that has beaten the market more than 2X over with a stunning average gain of +24.1% per year.

These 7 were selected because of their superior potential for immediate breakout.

See these time-sensitive tickers now >>
Want the latest recommendations from Zacks Investment Research? Today, you can download 7 Best Stocks for the Next 30 Days.
Click to get this free report
ResMed Inc. (RMD): Free Stock Analysis Report
Thermo Fisher Scientific Inc. (TMO): Free Stock Analysis Report
OPKO Health, Inc. (OPK): Free Stock Analysis Report
ViewRay, Inc. (VRAY): Free Stock Analysis Report
To read this article on Zacks.com click here.
Zacks Investment Research