EV Roundup: TSLA Under NTSB Scrutiny, WKHS Drops Suit Against USPS & More
The electric vehicle (EV) market has been growing prolifically, with both legacy automakers and pure-play EV makers stepping up efforts to launch new models. While electric cars are taking off in a big way, the pickups have been rather slow in shifting gears to electric. But that's about to change soon. Last week, the first edition version of Rivian Automotive's all-electric R1T pickup truck rolled off the assembly line at the company's Illinois factory. With that, this California EV startup becomes the first company to bring an e-truck into the U.S. market, beating auto giants like Tesla TSLA, Ford F and General Motors GM. Deliveries of the "Launch Edition" R1T truck will commence this month. Keeping up with the heightened competition, Ford also commenced pre-production of F-150 Lightning. The company will invest another $250 million to ramp up the production capacity of its upcoming e-pickup to 80,000 annually.
Meanwhile, Canada-based EV maker GreenPower Motor GP announced the delivery of its first fully-electric BEAST School Bus to Santa Maria Joint Union High School District. Another Canada-based EV player ElectraMeccanica SOLO also revealed plans to launch deliveries of its flagship SOLO EV for a select group of early reservation holders and fleets effective Oct 4, 2021. Deliveries to other customers and reservation holders will step up gradually once the output ramps up. Meanwhile, China-based EV startup XPeng XPEV officially launched its P5 family sedan at a price range of RMB157,900-RMB223,900. With customer deliveries in China scheduled to commence by October-end, this would be the world's first production vehicle with built-in LiDAR technology.
Recap of the Week's Most Important Stories
Nikola Corporation NKLA and CNH Industrial's Iveco truck unit inaugurated the joint-venture manufacturing facility in Germany, dedicated to the development of Nikola Tre electric heavy-duty trucks. The production line, currently anticipated to be capable of manufacturing 1,000 units per shift a year, will likely be substantially ramped up in the upcoming years. The first Nikola Tre models produced at the facility will be deployed for select customers in the United States in 2022. The companies also announced their collaboration for testing and subsequent implementation of heavy-duty EVs and charging infrastructure at the Port of Hamburg during 2022.
Tesla's Model 3 crash in Florida last week, which killed two people, will be investigated by the U.S. National Transportation Safety Board ("NTSB"). It is still debatable whether the vehicle involved in the crash was equipped with Autopilot or not. The NTSB will commence its investigation today and complete the work within a week so as to issue a preliminary report in about 30 days. This will be the second probe by the agency in a fatal accident involving Tesla's models in less than six months' time. The NTSB is also investigating a lethal crash in Texas involving a Model S sedan that crashed in a tree and burst into flames, killing both passengers in April. Meanwhile, Wedbush Securities, a Los Angeles-based investment firm,anticipates Tesla — which currently carries a Zacks Rank #3 (Hold) — to deliver 900,000 cars in 2021, followed by 1.3 million deliveries in 2022. You can see the complete list of today's Zacks #1 Rank (Strong Buy) stocks here.
Workhorse Group Inc. WKHS voluntarily withdrew its lawsuit protesting the United States Postal Service's (USPS) decision to let Oshkosh's Defense arm build the next-generation mail truck. The dismissal of the lawsuit comes from Workhorse's newly-appointed CEO, Rick Dauch, who took over just six weeks ago, following several quarters of unattained production targets. Reportedly, Dauch sees multiple business opportunities for Workhorse's last-mile delivery trucks and drone system, and wants to kindle the company's focus on taking advantage of those. Dauch has further stated his intention of cooperating with the government on future electric vehicles (EV), rather than challenge it through litigation.
General Motors is working with South Korea's LG Energy Solution, its long-time EV partner, in tracking and solving problems linked to the battery fires in Chevrolet Bolts that have paralyzed the vehicle's entire production line. General Motors has discovered two manufacturing defects in the battery cells supplied by LG from two of its plants (one in South Korea and one in Michigan) — a torn anode tab and folded separator — which, in rare circumstances, might lead to a battery fire. This has triggered three recalls (affecting roughly 142,000 cars) and cost $1.8 billion to the automaker since last November. To resolve the issue, the entire battery pack for the older models will be replaced, while the newer models will have only the defective modules within the pack replaced. The U.S. auto giant has extended the suspension of Bolt EV and EUV production till mid-October.
Price Performance
The following table shows the price movement of some of the major EV players over the past week and six-month period.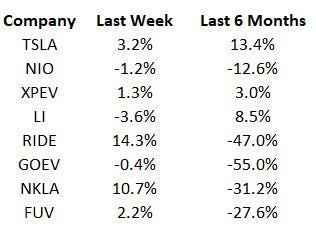 Image Source: Zacks Investment Research
In the past six months, all stocks have decreased, apart from Tesla, XPeng, and Li Auto. Canoo bore the maximum brunt, with shares declining 55%. The past week also displayed a mixed price trend, with Lordstown Motors registering the maximum gain and Li Auto being the worst performer.
What's Next in the Space?
Stay tuned for announcements of upcoming EV models and any important updates from the red-hot industry.
Breakout Biotech Stocks with Triple-Digit Profit Potential
The biotech sector is projected to surge beyond $2.4 trillion by 2028 as scientists develop treatments for thousands of diseases. They're also finding ways to edit the human genome to literally erase our vulnerability to these diseases.
Zacks has just released Century of Biology: 7 Biotech Stocks to Buy Right Now to help investors profit from 7 stocks poised for outperformance. Recommendations from previous editions of this report have produced gains of +205%, +258% and +477%. The stocks in this report could perform even better.
See these 7 breakthrough stocks now>>
Want the latest recommendations from Zacks Investment Research? Today, you can download 7 Best Stocks for the Next 30 Days.
Click to get this free report
Ford Motor Company (F): Free Stock Analysis Report
General Motors Company (GM): Free Stock Analysis Report
Tesla, Inc. (TSLA): Free Stock Analysis Report
GreenPower Motor Company Inc. (GP): Free Stock Analysis Report
Workhorse Group, Inc. (WKHS): Free Stock Analysis Report
ElectraMeccanica Vehicles Corp. (SOLO): Free Stock Analysis Report
Nikola Corporation (NKLA): Free Stock Analysis Report
XPeng Inc. Sponsored ADR (XPEV): Free Stock Analysis Report
To read this article on Zacks.com click here.
Zacks Investment Research