Ventas (VTR) to Post Q1 Earnings: What's in the Offing?
Ventas, Inc. VTR is scheduled to report first-quarter 2021 earnings on May 7, before market open. The company's resultsare expectedto reflect a year-over-year decline in revenues and funds from operations (FFO) per share.
In the last reported quarter, this Chicago, IL-based healthcare real estate investment trust (REIT) delivered a positive surprise of 13.7% in terms of normalized FFO per share. The office portfolio reported a year-over-year rise in same-store cash net operating income (NOI) growth of 2.9%. However, its senior housing operating assets were severely impacted by the coronavirus pandemic.
Ventas surpassed the Zacks Consensus Estimate in each of the trailing four quarters, the average beat being 8.71%. The graph below depicts this surprise history:
Ventas, Inc. Price and EPS Surprise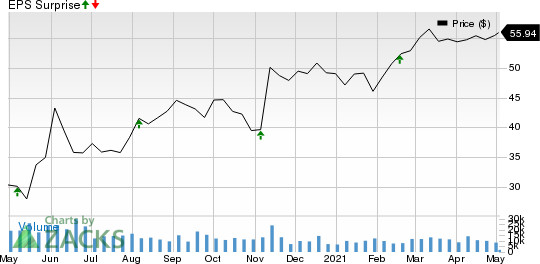 Factors to Note
In first-quarter 2021, the pace of vaccine administration among senior housing residents increased. Moreover, the majority of senior housing communities restarted accepting admission and in-person tour activities. In fact, in March, the Centers for Medicare & Medicaid Services relaxed restrictions on senior housing visitations, given the high vaccination rates among senior housing residents.
Since restriction on non-essential visits has been a major bummer for occupancy at senior housing facilities, the relaxation is likely to have been a breather for healthcare REITs like Ventas, Welltower, Inc. WELL, Diversified Healthcare Trust DHC and New Senior Investment Group SNR, which have seniors housing exposures.
This is likely to have supported customer leads and move-in trends at Ventas' senior housing properties in the last month of the quarter. In fact, as of Feb 12, 2021, all senior housing communities completed at least the first vaccine dose. Moreover, the majority of communities were reopened for move-ins in February. Further, move-in trends and customer leads improved from December to February.
While vaccination has reduced COVID-19 case counts, it has not translated to occupancy revival and this continued to cast a pall on senior housing fundamentals in first-quarter 2021. NIC-MAP's first-quarter 2021 senior housing data reiterates these concerns, with report indicating seniors housing occupancy plunging to a record-low of 78.8% in first-quarter 2021. This marks a decline of roughly 180 basis points (bps) from the previous quarter. This also marks the sixth consecutive quarter of occupancy decline and the fourth one since the onset of the pandemic.
Moreover, annual rent growth and annual absorption sequentially fell 70 bps and 190 bps to 0.9% and negative 7.4%, respectively.
As for Ventas, we note that a significant portion of its NOI is dependent on seniors housing communities. Hence given the significant exposure, the pandemic has continued to take a toll on the company's senior housing operations, hindering occupancy and financial performance.
In fact, the rampant increase in COVID-19 cases in January is expected to have hindered move-in activity and customer leads. While declines in monthly occupancy have moderated significantly from January to February, occupancy continued to decline in first-quarter 2021. In fact, same-store senior housing operating portfolio (SHOP) occupancy has declined from 79.1% as of fourth-quarter 2020 end to 76.4% as of Feb 28, 2021. Management expects first-quarter 2021 occupancy to be "in line with or better than midpoint of guidance" of a sequential decline of 250-325 bps.
Such occupancy erosion is likely to have affected revenues from resident fees and services. Notably, the Zacks Consensus Estimate for first-quarter resident fees and services is pegged at $520 million, indicating a sequential declineof 1.9%.
Also, operating expenses are likely to have remained elevated, driven by higher COVID-19 labor and testing expenses. A decline in income along with high COVID-related expenses is expected to have dampened Ventas' total NOI growth for the quarter under review.
Furthermore, the company has been making efforts to unlock the value of its assets through disposals of non-core assets, primarily across senior housing and MOBs verticals. In fact, in 2020, it realized around $1 billion in healthcare real estate asset sales proceeds and loan repayment.
Although such efforts enable it to optimize its portfolio, better manage financial obligations and reinvest in its attractive development pipeline; dilution in earnings and reduced cash flows in the first quarter from the sale of assets is expected to have been unavoidable. In fact, management expects senior housing dispositions and transitions done in fourth-quarter 2020 to affect first-quarter 2021 normalized FFO per share by a cent.
Asset sales are also expected to have resulted in lost revenues, thereby, hindered top-line growth for the first quarter. The Zacks Consensus Estimate for quarterly revenues is currently pegged at $906.3 million, suggesting a 10.5% decrease from the prior-year reported figure.
As for its office asset segment, the company continued its strategy to increase capital allocation in assets, including life science, medical office buildings (MOBs), and research & innovation (R&I) centers, on the back of developments and acquisitions. This is likely to have enabled it to enjoy the strong fundamentals of these asset classes.
In fact, the company's perpetual life investment vehicle — Ventas Life Science and Healthcare Real Estate Fund, L.P. (Ventas Fund) — which focuses on investments in R&I centers, MOBs and senior housing communities in North America, has agreed to acquire two life science assets spanning 454,000 square feet for $272 million. The properties are strategically placed adjacent to Johns Hopkins Medical Campus and the transaction is anticipated to have closed in first-quarter 2021.
The company witnessed increasing leasing activity at recently-opened research centers. Additionally, the reopening of MOBs drove a gradual rebound in clinical activity, whereas paid parking and building activity also improved.
Rent collection from office tenants remained strong at 99% for January and February 2021. Notably, the consensus mark for first-quarter rental income from its office buildings stands at $200 million, flat from the prior quarter's reported figure.
However, there is a lack of any solid catalyst to instill optimism regarding the company's prospects prior to the first-quarter earnings release. The Zacks Consensus Estimate for quarterly FFO per share has been unchanged at 70 cents over the past month. It also suggests a 27.8% year-over-year decline.
Also, Ventas' first-quarter 2021 normalized FFO per share guidance is at 66-71 cents.
Here is what our quantitative model predicts:
Ventas does not have the right combination of the two key ingredients — a positive Earnings ESP and a Zacks Rank #3 (Hold) or higher — for increasing the odds of a FFO beat.
You can uncover the best stocks to buy or sell before they're reported with our Earnings ESP Filter.
Ventas currently has a Zacks Rank #4 (Sell) and an Earnings ESP of +1.43%.
You can see the complete list of today's Zacks #1 Rank(Strong Buy) stocks here.
Note: Anything related to earnings presented in this write-up represent funds from operations (FFO) — a widely used metric to gauge the performance of REITs.
More Stock News: This Is Bigger than the iPhone!
It could become the mother of all technological revolutions. Apple sold a mere 1 billion iPhones in 10 years but a new breakthrough is expected to generate more than 77 billion devices by 2025, creating a $1.3 trillion market.
Zacks has just released a Special Report that spotlights this fast-emerging phenomenon and 4 tickers for taking advantage of it. If you don't buy now, you may kick yourself in 2022.
Click here for the 4 trades >>
Want the latest recommendations from Zacks Investment Research? Today, you can download 7 Best Stocks for the Next 30 Days.
Click to get this free report
Ventas, Inc. (VTR): Free Stock Analysis Report
New Senior Investment Group Inc. (SNR): Free Stock Analysis Report
Welltower Inc. (WELL): Free Stock Analysis Report
Diversified Healthcare Trust (DHC): Free Stock Analysis Report
To read this article on Zacks.com click here.