SAM: Buy this Soaring Stock for Even More Seltzer Growth?
The Boston Beer Company's SAM shares have been on a tear, having soared 150% in 2020 to outpace tech giants such as Nvidia NVDA and Amazon AMZN and blow away the Beverage industry's 5% decline. The move is part of an impressive three-year run that's come on the back of its strong growth in what is the most popular new category in the market since light beer: hard seltzer
Next Revolution…
Boston Beer was one of the founding fathers of the major craft beer revolution in the U.S. Today, its portfolio includes Samuel Adams, as well as Dogfish Head Brewery, and some other craft brands. And the company launched Truly Hard Seltzer in 2016 to become part of the vanguard of the next frontier. Truly is one of two dominant players in the category, alongside White Claw—owned by Mike's Hard Lemonade maker Mark Anthony Brands.
The success of Truly and hard seltzer as a category forced all of the giants, such as Anheuser-Busch InBev BUD, Molson Coors TAP, and Constellation Brands STZ to dive in with their own offerings, under some of their flagship brands such as Bud Light. The market is so hot and has so much potential that even Coca-Cola KO is set to enter under its Topo Chico brand. For example, reports project that the global hard seltzer market could reach $14.5 billion by 2027, expanding at a CAGR of over 16%.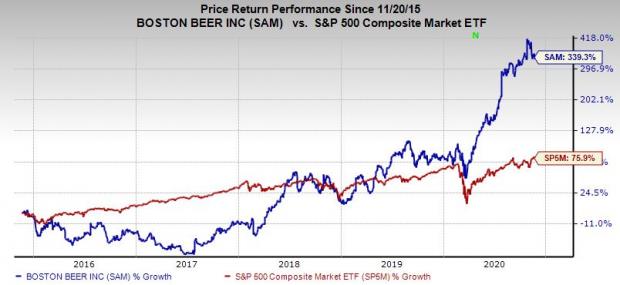 SAM's revenue jumped by 15% in fiscal 2018 and 26% in FY19, after it slipped in FY17 and FY16. The company's sales then surged by at least 30% in the first three quarters of 2020. Looking ahead, Zacks estimates call for its fiscal 2020 revenue to climb 39% to reach $1.73 billion and then jump another 32% in FY21 to hit $2.29 billion. Both of these would mark Boston Beer's strongest growth as a public firm—beating out 2013's 27% climb.
Meanwhile, SAM's adjusted earnings are projected to soar 63% in FY20 and 56% in FY21. And Boston Beer's impressive earnings revisions help it land a Zacks Rank #1 (Strong Buy) right now, alongside its "A" grade for Growth in our Style Scores system. It's also worth noting that it rolled out Truly Lemonade and SAM executives expect to launch Truly Iced Tea Hard Seltzer and Truly Extra, as well as other flavors and package sizes, early next year.
SAM stock sits 15% below its recent highs at $935 a share, which might cause some sticker shock. That said, SAM trades at a solid against its industry in term of forward sales, at 5.1X vs. 16.2X, despite crushing the Beverage market
Therefore, some investors might still want to consider taking at least a few sips of Boston Beer stock, especially since the hard seltzer revolution is really just getting underway.
Zacks Names "Single Best Pick to Double"

From thousands of stocks, 5 Zacks experts each have chosen their favorite to skyrocket +100% or more in months to come. From those 5, Director of Research Sheraz Mian hand-picks one to have the most explosive upside of all.

You know this company from its past glory days, but few would expect that it's poised for a monster turnaround. Fresh from a successful repositioning and flush with A-list celeb endorsements, it could rival or surpass other recent Zacks' Stocks Set to Double like Boston Beer Company which shot up +143.0% in a little more than 9 months and Nvidia which boomed +175.9% in one year.

Free: See Our Top Stock and 4 Runners Up >>
Want the latest recommendations from Zacks Investment Research? Today, you can download 7 Best Stocks for the Next 30 Days.
Click to get this free report
NVIDIA Corporation (NVDA): Free Stock Analysis Report
Amazon.com, Inc. (AMZN): Free Stock Analysis Report
Molson Coors Beverage Company (TAP): Free Stock Analysis Report
Constellation Brands Inc (STZ): Free Stock Analysis Report
CocaCola Company The (KO): Free Stock Analysis Report
AnheuserBusch InBev SANV (BUD): Free Stock Analysis Report
The Boston Beer Company, Inc. (SAM): Free Stock Analysis Report
To read this article on Zacks.com click here.
Zacks Investment Research