6 Reasons Why You Should Buy S&P Global (SPGI) Stock Now
S&P Global Inc. SPGI has performed well over the past year and has the potential to sustain the momentum in the near term. Consequently, if you have not taken advantage of its share price appreciation yet, it's time you add the stock to your portfolio.
What Makes It an Attractive Pick?
An Outperformer: Shares of S&P Global have gained 18% over the past year, outperforming the 4.7% growth of the industry it belongs to and 12.8% decline of the Zacks S&P 500 composite.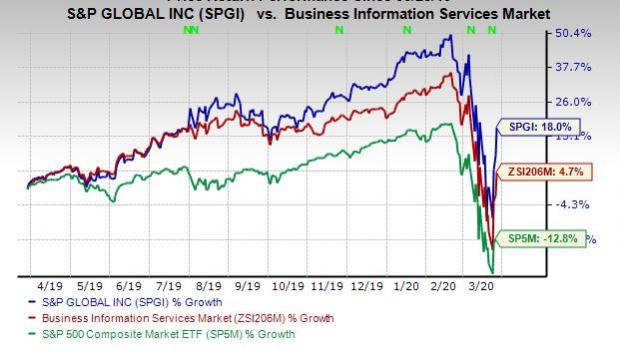 Solid Zacks Rank: S&P Global currently carries a Zacks Rank #2 (Buy). Our research shows that stocks with a Zacks Rank #1 (Strong Buy) or 2 offer attractive investment opportunities for investors. You can see the complete list of today's Zacks #1 Rank stocks here.
Northward Estimate Revisions: The direction of estimate revisions serves as an important pointer when it comes to the price of a stock. The Zacks Consensus Estimate for first-quarter 2020 earnings has increased 1.2% over the past 90 days. Earnings estimates for 2020 and 2021 have moved up 1.3% and 2.4%, respectively, over the same time period.
Positive Earnings Surprise History: S&P Global has an impressive earnings surprise history. Its earnings surpassed the Zacks Consensus Estimate in three of the preceding four quarters, the positive surprise being 4.6%, on average.
Strong Growth Prospects: The Zacks Consensus Estimate for first-quarter 2020 earnings is pegged at 70 cents, indicating year-over-year growth of 15.6%. Moreover, earnings are expected to register 10% growth each in 2020 and 2021, respectively. The stock has a long-term expected EPS (three to five years) growth rate of 10%.
Growth Factors: S&P Global continues to benefit from increasing demand for business information services. Constantly increasing volume of data from private and government organizations has augmented the demand for improved enterprise-wide financial performance visibility. Higher demand for news, information, and analytics solutions will drive growth of the market. Further, the industry is benefiting from rising demand for risk mitigation. Changes in market dynamics are more or less a constant phenomenon and expose companies to credit fund as well as operational risks. Accurate market and financial information is required for risk mitigation, thereby spurring demand for business information services.
Acquisitions have been a key growth strategy for S&P Global, helping it continuously innovate, increase differentiated content and develop new products. In 2019, the company made acquisitions of ESG Ratings Business (from RobecoSAM), Canadian Enerdata, Live Rice Index and Orion technology center. ESG Ratings Business boosts S&P Global's position as a premier resource for essential ESG Data, ratings, benchmarks and insights. Canadian Enerdata enhances S&P Global's Platts division's energy analytical capabilities and strengthens its foothold in North American natural gas market. Live Rice Index is a great addition to S&P Global's Platts global agriculture offering. Orion technology center provides access to the latest technologies and global communications infrastructure to the company's employees.
The company is expected to continue adding advanced technology and data sets through acquisitions, which, in turn, should boost its top- and bottom-line growth.
Other Stocks to Consider
Some other top-ranked stocks in the broader Zacks Business Services sector are Omnicom OMC, TransUnion TRU and Genpact G, each carrying a Zacks Rank #2. You can see the complete list of today's Zacks #1 Rank stocks here.
Long-term expected EPS (three to five years) growth rate for Omnicom, TransUnion and Genpact is 5.6%, 12.8% and 13.9%, respectively.
The Hottest Tech Mega-Trend of All
Last year, it generated $24 billion in global revenues. By 2020, it's predicted to blast through the roof to $77.6 billion. Famed investor Mark Cuban says it will produce "the world's first trillionaires," but that should still leave plenty of money for regular investors who make the right trades early.
See Zacks' 3 Best Stocks to Play This Trend >>
Want the latest recommendations from Zacks Investment Research? Today, you can download 7 Best Stocks for the Next 30 Days.
Click to get this free report
Omnicom Group Inc. (OMC): Free Stock Analysis Report
Genpact Limited (G): Free Stock Analysis Report
TransUnion (TRU): Free Stock Analysis Report
S&P Global Inc. (SPGI): Free Stock Analysis Report
To read this article on Zacks.com click here.