J&J Submits BLA for Subcutaneous Formulation of Darzalex
Johnson & Johnson JNJ submitted a biologics license application (BLA) to the FDA for the label expansion of its cancer drug, Darzalex (daratumumab). The company is seeking approval for a new subcutaneous (SC) formulation of the drug. Darzalex is presently marketed as an intravenous (IV) treatment for certain patients with multiple myeloma.
The BLA was supported by data from the phase III COLUMBA (MMY3012) study. The study showed that the subcutaneous formulation of daratumumab resulted in non-inferior pharmacokinetics and efficacy compared with the current intravenous formulation, and also offered the potential for a fixed-dose administration, shorter infusion times and a lower rate of infusion-related reactions. The data were presented at the American Society of Clinical Oncology (ASCO) Annual Meeting this year.
The BLA was also supported by data from the phase II PLEIADES (MMY2040) study, which is evaluating daratumumab in combination with certain standard multiple myeloma regimens.
Shares of J&J have increased 5.5% year to date compared with the industry's growth of 1.9%.

The submission for Darzalex intravenous formulation was made after the drug received approval in combination with Celgene's CELG Revlimid (lenalidomide) and dexamethasone (Rd) to treat newly diagnosed multiple myeloma ("MM") patients who are ineligible for autologous stem cell transplant ("ASCT"). A combination of Darzalex, Takeda's TAK Velcade (bortezomib), melphalan and prednisone is already approved for transplant ineligible MM patients in the first-line setting.
The submission also follows receipt of Priority Review designation, following the submission of a supplemental BLA based on the phase III CASSIOPEIA study. The phase III CASSIOPEIA study is seeking approval for Darzalex in combination with bortezomib, thalidomide and dexamethasone for newly diagnosed patients with multiple myeloma, who are transplant eligible.
Darzalex is a key drug in J&J's portfolio. Sales of the drug rose 45.5% to $629 million in the first quarter of 2019. In the United States, market growth and market share gains drove sales. Outside U.S. markets, increased penetration and share gains boosted sales.
Meanwhile, Darzalex is being evaluated in a comprehensive clinical development program across a range of treatment settings in multiple myeloma, such as in frontline and relapsed settings. These include combination studies with other cancer drugs like Roche Holding AG's RHHBY Tecentriq, Bristol-Myers' Opdivo and Amgen's Kyprolis.
Johnson & Johnson Price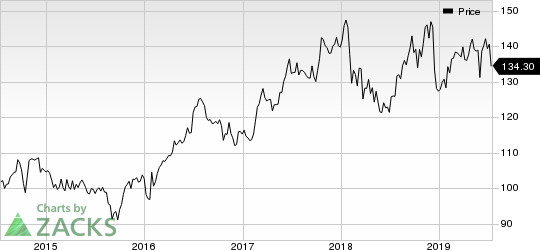 Zacks Rank
J&J currently has a Zacks Rank #3 (Hold). You can see the complete list of today's Zacks #1 Rank (Strong Buy) stocks here.
Wall Street's Next Amazon
Zacks EVP Kevin Matras believes this familiar stock has only just begun its climb to become one of the greatest investments of all time. It's a once-in-a-generation opportunity to invest in pure genius.
Want the latest recommendations from Zacks Investment Research? Today, you can download 7 Best Stocks for the Next 30 Days.
Click to get this free report
Johnson & Johnson (JNJ): Free Stock Analysis Report
Roche Holding AG (RHHBY): Free Stock Analysis Report
Celgene Corporation (CELG): Free Stock Analysis Report
Takeda Pharmaceutical Co. (TAK): Free Stock Analysis Report
To read this article on Zacks.com click here.
Zacks Investment Research