Tractor Supply (TSCO) Cheers Investors With Robust Strategies
Tractor Supply Company TSCO seems well poised for growth, thanks to its robust business strategies. Here, the company's Life Out Here and 'ONETractor' strategies are worth a mention. Moreover, its omni-channel initiatives, including curbside pickup, same day, next-day delivery, a re-launched website and new mobile app, bode well. Strength in everyday merchandise, including consumable, usable and edible products, has been fueling comparable store sales (comps).

Impressively, shares of this the Brentwood, TN-based company have risen 18.8% in the past three months against the industry's decline of 1%.
Factors Narrating Tractor Supply's Growth Story
As part of its long-term initiatives, Tractor Supply is on track to build up on its Out Here lifestyle assortment and convenient shopping format to gain customers and market share. The Life Out Here strategy is essentially based on five key pillars, which include customers, digitization, execution, team members and total shareholder return. Accordingly, the company is boosting space productivity, enhancing omni-channel initiatives and Neighbor's Club loyalty program as well as augmenting in-store merchandising execution.

In sync with the Life Out Here plan, management has issued long-term financial growth targets after the normalizing of macro conditions from the impacts of the COVID-19 pandemic. Management envisions net sales growth of 6-7%, while comps are expected to grow between 4% and 5%. Further, operating margin is expected in the range of 9-9.5% and earnings per share are likely to grow 8-10%.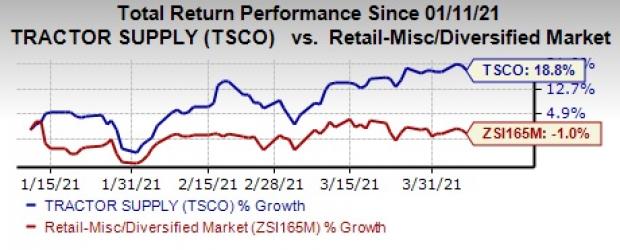 Encouragingly, the company has launched the Field Activity Support Team ("FAST") and is implementing various technology and service enhancements across the enterprise. It is also in the initial phase of transforming its side lots and mature stores to improve space productivity, bringing the latest merchandising strategies to life and advancing efforts to remain nationally strong and locally relevant.

Given the changing consumer trends, Tractor Supply is focused on integrating its physical and digital operations to offer consumers a seamless shopping experience. It is on track with the 'ONETractor' strategy that is aimed at connecting store and online shopping. The company is also benefiting from the rollout of capabilities, including stockyard in-store kiosk and mobile point-of-sale (PoS) in all its stores, as well as enhancement of the Tractor Supply credit card offering and investments in its supply chain. Impressively, this initiative targets building customer-centric engagement, offering suitable products and services, and reinforcing core infrastructure capabilities.

Meanwhile, Tractor Supply is consistently focusing on store expansion and technological advancements to drive traffic and the top line. The company's sales and comps have been considerably gaining from the addition of new stores every quarter. Moreover, the company expects to drive comps by improving marketing and merchandising initiatives as well as supply chain efficiencies. The company is well positioned to expand store base, remaining on track to increase its domestic store to 2,500 in the long term.
Wrapping Up
Despite the aforesaid strengths, Tractor Supply has been witnessing higher SG&A expenses, driven by incremental costs related to the pandemic, elevated incentive compensation due to robust sales and profit performance, and investments in strategic initiatives.

Nonetheless, we believe that momentum in this Zacks Rank #2 (Buy) stock will continue on well-chalked strategies. In fact, the stock's VGM Score of B and long-term earnings growth rate of 9% reflect its inherent strength. Additionally, the Zacks Consensus Estimate for its first quarter and 2021 earnings has increased by a penny to 96 cents and $6.68, respectively, over the past seven days.
Key Picks in Retail
Abercrombie & Fitch ANF has a long-term earnings growth rate of 18% and currently sports a Zacks Rank #1 (Strong Buy). You can see the complete list of today's Zacks #1 Rank stocks here.

Boot Barn BOOT boasts a long-term earnings growth rate of 20% and currently carries a Zacks Rank #2.

Tapestry TPR, also a Zacks Rank #2 stock, has a long-term earnings growth rate of 10%.
Time to Invest in Legal Marijuana
If you're looking for big gains, there couldn't be a better time to get in on a young industry primed to skyrocket from $17.7 billion back in 2019 to an expected $73.6 billion by 2027.

After a clean sweep of 6 election referendums in 5 states, pot is now legal in 36 states plus D.C. Federal legalization is expected soon and that could be a still greater bonanza for investors. Even before the latest wave of legalization, Zacks Investment Research has recommended pot stocks that have shot up as high as +285.9%

You're invited to check out Zacks' Marijuana Moneymakers: An Investor's Guide. It features a timely Watch List of pot stocks and ETFs with exceptional growth potential.

Today, Download Marijuana Moneymakers FREE >>
Want the latest recommendations from Zacks Investment Research? Today, you can download 7 Best Stocks for the Next 30 Days.
Click to get this free report
Abercrombie & Fitch Company (ANF): Get Free Report
Tractor Supply Company (TSCO): Free Stock Analysis Report
Boot Barn Holdings, Inc. (BOOT): Free Stock Analysis Report
Tapestry, Inc. (TPR): Get Free Report
To read this article on Zacks.com click here.
Zacks Investment Research