HSBC to Sell France-Based Retail Banking Unit, Take $2.3B Hit
Finally, HSBC Holdings HSBC has announced the buyer for its France-based retail banking business. The U.S.-based private equity firm Cerberus Capital Management-backed My Money Group has signed a Memorandum of Understanding (MOU) to acquire the business for nominal value of €1.

Under the French law, both the parties have to consult the employees before finally signing the deal. In this case, HSBC and My Money Group will finalize the transaction in the second half of the year, if employees of both the companies agree. Notably, the signing of the MOU has been approved by the boards of directors of all the concerned parties.

The transaction will result in a pre-tax loss of approximately €1.9 billion ($2.3 billion) for HSBC. With the deal expected to close in the first half of 2023, this loss is likely to be recognized in 2022 once the business is classified as "held for sale for accounting purposes."

You must be wondering why HSBC is divesting the France-based retail operation at a loss. Well, the company had placed the business under 'strategic review' in September 2019. Since then, the bank was working with Lazard Ltd. LAZ to find a prospective buyer for its unprofitable business. The unit incurred loss before tax of €167 million and €236 million for 2019 and 2020, respectively.

Another major reason for the divestiture is HSBC's plan to focus more on the Asia region, and retreat from European and American markets. Last month, the company announced its exit from the U.S. retail banking business, with planned divestiture and closure of its retail branches. As part of the divestiture plan, the company inked two separate transactions with Citizens Financial Group CFG and Cathay General Bancorp CATY, which are likely to close in the first quarter of 2022.

On the probable French business deal, Noel Quinn, CEO of HSBC, said "The signing of an MOU for the potential sale of our French retail banking business represents a significant step in progressing the actions we announced during our strategic update earlier this year. It will enable us to dramatically simplify our business in Continental Europe and allow us to accelerate the transformation of our European wholesale banking franchise. We are committed to remaining as a leading international wholesale bank in Continental Europe, capitalising on our global network and serving our multinational customers both inbound and outbound."

HSBC's other France-based operations including its investment and business banking units are not the part of the MOU.
Transaction Details
Apart from the France-based retail banking business, the deal includes the Crédit Commercial de France (CCF) brand, which HSBC had acquired for €11 billion more than 20 years back. Additionally, the bank's 100% ownership in HSBC SFH (France) and its 3% ownership interest in Crédit Logement are part of the transaction.

The operation consists of 244 retail branches and has almost 800,000 customers. Also, as of Dec 31, 2020, it had €21.5 billion in customer loans and €18.9 billion in deposits. Further, as part of the deal, roughly 3,900 employees will be transferred to My Money Group.

Per the My Money CEO Eric Shehadeh, the firm plans to turn the operations profitable withing three years of completion of the deal. Also, the firm will not resort to job cuts until 2024 or 2025.
Other Financial Impacts
Apart from above-mentioned pre-tax loss from the sale, the divestiture will lower credit risk-weighted assets (RWAs) by up to €5.8 billion based on the Dec 31, 2020 figure.

Moreover, the pre-tax loss on sale is anticipated reduce HSBC's common equity tier 1 ratio by 15 basis points.
Our Take
The divestiture is part of HSBC's transformation plan announced in February 2020. The plan aims at reshaping underperforming businesses, simplifying complex organization and reducing costs to counter low interest rate enviroment.

Also, HSBC intends to reduce gross RWAs by more than $100 billion by 2022-end and cut almost 35,000 jobs. This will further improve the operating efficiency.

So far this year, shares of HSBC have rallied 14.1%, underperforming 17% growth recorded by the industry it belongs to.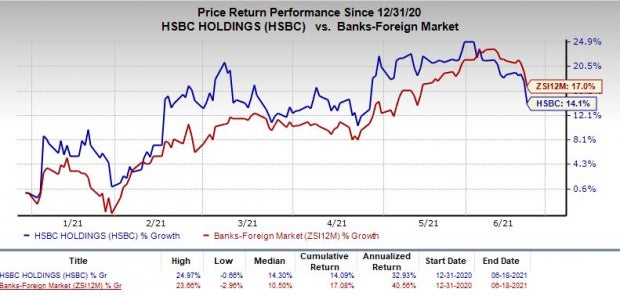 Image Source: Zacks Investment Research
Currently, HSBC carries a Zacks Rank #3 (Hold). You can seethe complete list of today's Zacks #1 Rank (Strong Buy) stocks here.
Infrastructure Stock Boom to Sweep America
A massive push to rebuild the crumbling U.S. infrastructure will soon be underway. It's bipartisan, urgent, and inevitable. Trillions will be spent. Fortunes will be made.

The only question is "Will you get into the right stocks early when their growth potential is greatest?"

Zacks has released a Special Report to help you do just that, and today it's free. Discover 7 special companies that look to gain the most from construction and repair to roads, bridges, and buildings, plus cargo hauling and energy transformation on an almost unimaginable scale.

Download FREE: How to Profit from Trillions on Spending for Infrastructure >>
Want the latest recommendations from Zacks Investment Research? Today, you can download 7 Best Stocks for the Next 30 Days.
Click to get this free report
Lazard Ltd (LAZ): Free Stock Analysis Report
Cathay General Bancorp (CATY): Free Stock Analysis Report
HSBC Holdings plc (HSBC): Free Stock Analysis Report
Citizens Financial Group, Inc. (CFG): Free Stock Analysis Report
To read this article on Zacks.com click here.
Zacks Investment Research