NuStar Energy (NS) Q4 Earnings Miss Estimates, Revenues Top
NuStar Energy L.P. NS reported fourth-quarter adjusted earnings per unit of 13 cents, below the Zacks Consensus Estimate of 22 cents. The partnership's bottom line also fell from the year-ago earnings of 40 cents per unit. Quarterly performance was affected by lower product sales and higher cost of goods.
However, the company reported total quarterly revenues of $387 million, beating the Zacks Consensus Estimate of $360 million, attributable to better-than-expected revenues from the Pipeline unit. Precisely, the partnership's Pipeline unit generated revenues worth $180.8 million, surpassing the Zacks Consensus Estimate of $177 million. The top line, however, declined 3.25% year over year.
Also, the company recorded an operating income of $104.4 million, lower than the profit of $124.1 million in the corresponding quarter of last year.
Segmental Performance
Pipeline: Total quarterly throughput volumes were 1,657,310 barrels per day (Bbl/d), down 19.8% from the year-ago period. Throughput volumes from crude oil pipelines decreased 23.3% from the year-earlier quarter to 1,121,378 Bbl/d. Also, throughput from refined product pipelines witnessed a decrease to 535,932 Bbl/d from 601,505 Bbl/d. As a result, the segment's revenues dipped 6.75% year over year to $180.8 million. Moreover, the firm's Pipeline unit reported an operating income of $85.5 million compared with the operating income of $98.6 million in the year-ago period.
Storage: Throughput volumes descended to 387,149 Bbl/d from 656,000 Bbl/d in the prior-year quarter. However, the unit's quarterly revenues increased to $129.4 million from $126.4 a year ago owing to surging storage terminal revenues (from $83.3 million to $92.9 million). Evidently, the segment's operating income summed $49.1 million in the December quarter compared with $45.9 million in the comparable period last year.
Fuels Marketing: Product sales decreased to $76.5 million from $79.4 million in the year-ago quarter. Moreover, cost of goods rose 8.8% from the prior-year period to $63.2 million. However, NuStar Energy delivered weak margins from its bunkering business. The segment recorded an operating income of $2.5 million in the quarter under review compared with the profit of $11.2 million in fourth-quarter 2019.
NuStar Energy L.P. Price, Consensus and EPS Surprise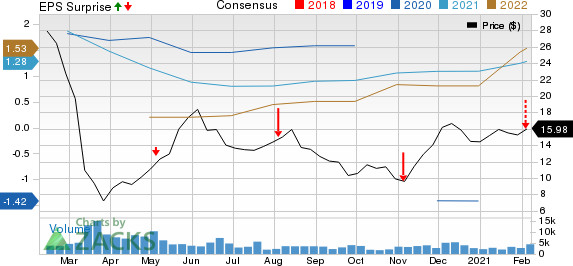 NuStar Energy L.P. price-consensus-eps-surprise-chart | NuStar Energy L.P. Quote
Cash Flow, Debt and Guidance
Fourth-quarter 2020 adjusted distributable cash flow available to limited partners was $63.1 million, lower than $107.1 million in the year-ago period. Moreover, adjusted distribution coverage declined to 1.44X from 1.64X in the fourth quarter of 2019. A coverage ratio in excess of 1 implies that the partnership is generating more than enough cash to cover its distribution.
As of Dec 31, 2020, the partnership's total consolidated debt was $3.6 billion.
For the current year, oil pipeline operator NuStar Energy anticipates its capital expenditure in the $140-$170 million band, all of which will be financed by internally generated cash flows. Of the total estimated capex, nearly $50 million will be allocated to its Permian system while another $50 million will be devoted to renewable fuels along with related improvements of its West Coast storage assets. Further, the company intends to spend around $40-$50 million on reliability capital spending.
Zacks Rank & Key Picks
NuStar Energy has a Zacks Rank #3 (Hold), currently. Some better-ranked players in the energy space are DCP Midstream Partners, LP DCP, Plains Group Holdings, L.P. PAGP and Matador Resources Company MTDR, each presently sporting a Zacks Rank #1 (Strong Buy). You can see the complete list of today's Zacks #1 Rank stocks here.
Biggest Tech Breakthrough in a Generation
Be among the early investors in the new type of device that experts say could impact society as much as the discovery of electricity. Current technology will soon be outdated and replaced by these new devices. In the process, it's expected to create 22 million jobs and generate $12.3 trillion in activity.
A select few stocks could skyrocket the most as rollout accelerates for this new tech. Early investors could see gains similar to buying Microsoft in the 1990s. Zacks' just-released special report reveals 8 stocks to watch. The report is only available for a limited time.
See 8 breakthrough stocks now>>
Want the latest recommendations from Zacks Investment Research? Today, you can download 7 Best Stocks for the Next 30 Days.
Click to get this free report
NuStar Energy L.P. (NS): Get Free Report
Plains Group Holdings, L.P. (PAGP): Free Stock Analysis Report
Matador Resources Company (MTDR): Free Stock Analysis Report
DCP Midstream Partners, LP (DCP): Free Stock Analysis Report
To read this article on Zacks.com click here.