Raytheon (RTX) Wins Modification Contract for Torpedo Spare Parts
Raytheon Technologies Corporation RTX recently clinched a modification contract for the production of the MK54 lightweight torpedo MOD 0 and MOD 1 common part kits and spare torpedo components. The contract has been awarded by the Naval Sea Systems Command, Washington, DC.
Details of the Contract
Valued at $27.6 million, the contract is expected to conclude in May 2025. Majority of the work related to the contract will be executed in Portsmouth, RI.
The modification contract includes 67% of the purchases for the U.S. Navy; 33% for the Spain and Brazil government, as part of the Foreign Military Sales ("FMS") program.
Importance of MK 54
Co-developed and manufactured by Raytheon and the U.S. Navy, the MK 54 is the next generation anti-submarine warfare weapon deployed from a surface ship, helicopter or fixed wing aircraft to track, classify and attack underwater targets.
It is worth mentioning that the MK 54 lightweight torpedo is the primary anti-submarine warfare weapon used by U.S. Navy surface ships, fixed-wing aircraft and helicopters. Designed to operate in shallow waters and in the presence of countermeasures, it can track, classify and attack underwater targets. The MK 54 is designed for both deep water and littoral environments, making it the only lightweight torpedo capable of striking any target in the world's oceans, regardless of water depth.
Undoubtedly such advanced features created a huge demand for the torpedo worldwide, which is likely to sustain going forward. Meanwhile, the U.S Defense Budget 2022 highlights the inclusion of 91 anti-submarine torpedoes. So, we anticipate a solid flow of new and modification contracts from the Pentagon involving MK 54 lightweight torpedoes. The latest deal is a testament to the same.
Looking Ahead
Rising geo-political tensions globally have resulted in countries strengthening their defense system. Additionally, tensions have intensified at the water borders of several countries, resulting in maritime conflicts. Consequently, this has resulted in huge investments in submarines by countries globally over the past few years to improve their underwater capabilities. The huge defense spending on submarines has also been driving the market growth of torpedoes, with light weight torpedoes acting as the key catalyst.
Evidently, per the reports from Imarc group, the global torpedo market is expected to witness a CAGR of 3.3% during 2021-2026 period. Such growth projections will not only benefit Raytheon Technologies but also other torpedo makers.
For instance, Lockheed Martin's LMT MK 48 Mod 7 CBASS torpedo is the U.S. Navy's most potent anti-surface and anti-submarine weapon in use aboard allied submarines. The torpedo has been designed to be exceedingly lethal and effective against threats operating in deep and shallow waters. The Lockheed Martin's CBASS torpedo also has the ability of multiband operation.
Lockheed Martin reported third-quarter 2021 adjusted earnings of $6.66 per share, which surpassed the Zacks Consensus Estimate by a whopping 239.8%. Its shares have returned 19.7% in the last one year.
Northrop Grumman's NOC Very Lightweight Torpedo (VLWT) is the first man-portable torpedo built by the company. Once placed in the same water as the target, the VLWT will search, detect and engage with more maneuverability and anti-torpedo capability than its larger counterparts. Its small size effectively adds magazine depth to a submarine allowing it to defend itself efficiently from a single threat to an entire swarm.
Northrop Grumman reported third-quarter 2021 earnings of $6.63 per share, which surpassed the Zacks Consensus Estimate of $5.93 by 11.8%. Its shares have gained 17.2% in the past one year.
BAE Systems'sBAESY Spearfish Heavyweight Torpedo sets the benchmark for underwater weapon performance, proven to deliver a decisive advantage against the full range of submarine and surface threats in all operating environments.
The long-term earnings growth rate estimate for the company is pegged at 4.8%. Shares of Bae Systems have appreciated 17.2% in the last one year.
Price Movement
In the past one year, shares of Raytheon Technologies have gained 16.7% compared with the industry's growth of 9.7%.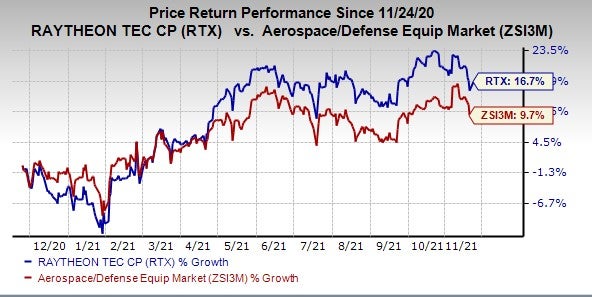 Image Source: Zacks Investment Research
Zacks Rank
Raytheon Technologies currently carries a Zacks #3 (Hold). You can see the complete list of today's Zacks #1 Rank (Strong Buy) stocks here.
Zacks' Top Picks to Cash in on Artificial Intelligence
In 2021, this world-changing technology is projected to generate $327.5 billion in revenue. Now Shark Tank star and billionaire investor Mark Cuban says AI will create "the world's first trillionaires." Zacks' urgent special report reveals 3 AI picks investors need to know about today.
See 3 Artificial Intelligence Stocks With Extreme Upside Potential>>
Want the latest recommendations from Zacks Investment Research? Today, you can download 7 Best Stocks for the Next 30 Days.
Click to get this free report
Lockheed Martin Corporation (LMT): Free Stock Analysis Report
Northrop Grumman Corporation (NOC): Free Stock Analysis Report
Bae Systems PLC (BAESY): Free Stock Analysis Report
Raytheon Technologies Corporation (RTX): Free Stock Analysis Report
To read this article on Zacks.com click here.
Zacks Investment Research