Keysight (KEYS) Q4 Earnings Beat Estimates, Revenues Up Y/Y
Keysight Technologies, Inc. KEYS delivered fourth-quarter fiscal 2019 non-GAAP earnings of .33 per share, which surpassed the Zacks Consensus Estimate of .18. The bottom-line figure rose from .01 reported in the year-ago quarter and fell within management's prior guidance of .14-.2 per share.

Non-GAAP revenues increased 7% year over year to .122 billion, exceeding management's guided range of .08-.1 billion. Non-GAAP core revenues (excluding the impact of currency and revenues from acquisitions in a year's time) increased 7% year over year.

Meanwhile, GAAP revenues advanced 7% from the year-ago quarter to .12 billion. The top line exceeded the Zacks Consensus Estimate of .10 billion.

Robust performance in the quarter was mainly supported by the company's leading position across market such as 5G, aerospace defense, network visibility and general electronics. Further, the company is well-positioned to sustain growth momentum, courtesy of its differentiated and broad portfolio of solutions across several end-markets

Coming to price performance, shares of the company were up 2.6% in after-hours trading on Nov 26. Notably, Keysight's stock has surged 78% in a year compared with the industry's 23.4% growth.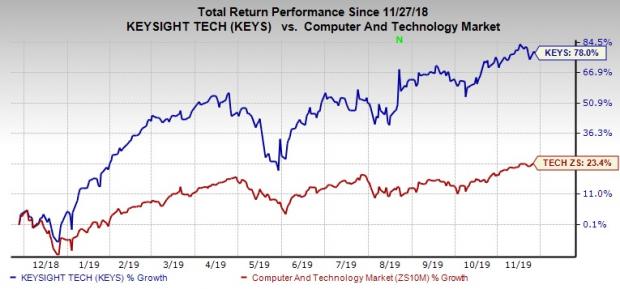 Quarter in Detail

Orders grew 6% year over year to approximately ,194 million during the reported quarter. Notably, core orders also improved 7%.
The company's financial reporting comprises three segments — Ixia Solutions Group (ISG), Electronic Industrial Solutions Group (EISG) and Communications Solutions Group (CSG).

CSG includes commercial communications (CC) and aerospace, defense & government (ADG) end markets. Non-GAAP CSG revenues climbed 7% to 6 million.

CC revenues of 3 million improved 9% year over year on the back of strong growth in the wireless ecosystem primarily triggered by advancement in 5G investment.

ADG revenues came in at 3 million, increasing 5% year over year on a core basis. Higher government spending and investments in China supported the upside. These were partially offset by weakness in Europe and rest of Asia.

Non-GAAP EISG revenues increased 3% to 4 million, primarily owing to portfolio strength in general electronics, investments in next-generation automotive and energy technologies as well as semiconductor solution demand.

ISG reported non-GAAP revenues of 2 million, up 15% year over year, backed by double-digit revenue growth across network test and visibility solutions.

Management highlighted that ISG will be aligned with the CGS segment in first-quarter fiscal 2020.
Keysight Technologies Inc. Price, Consensus and EPS Surprise
Margin Highlights

Non-GAAP gross margin was 64% during the reported quarter. CSG and EISG's gross margin of 63% and 72% expanded 280 bps and 370 bps, respectively, on a year-over-year basis. Further, ISG gross margin increased 140 bps to 71.7%.

Non-GAAP operating margin for the quarter was 26%, reflecting substantial growth from 21.1% in the year-ago quarter.

Balance Sheet & Cash Flow

Keysight ended the fourth quarter with cash & cash equivalents of .598 billion, up from the previous quarter's .394 billion.

As on Oct 31, 2019, the company reported total debt (short-term plus long-term) of .788 billion, down from .792 billion in the previous quarter.

Cash flow from operations during the quarter came in at 3 million compared with the previous quarter's 4 million.

Free cash flow was 3 million compared with the previous quarter's 4 million.

During the reported quarter, the company repurchased approximately 300,000 shares for million. In fiscal 2019, Keysight repurchased nearly 2.1 million shares for million.

Guidance

For the first quarter of fiscal 2020, the company expects GAAP revenues to be .045-.065 billion. Revenues in first-quarter fiscal 2019 were .006 billion.

Non-GAAP earnings per share are projected to be .04-.1. This reflects considerable growth from earnings of 93 cents in first-quarter fiscal 2019.

Management highlighted that fiscal 2020 performance is likely to be adversely impacted by trade restriction affecting a major customer in China. This is likely to lead to a five-point and three-point headwind during the first and second quarter of fiscal 2020, respectively. These unfavorable impacts are likely to show upon the performance of commercial communications end-market.

Zacks Rank & Stocks to Consider

Keysight carries a Zacks Rank #3 (Hold).

Some better-ranked stocks in the broader technology sector are Fortinet, Inc. FTNT, Cirrus Logic, Inc. CRUS and Qorvo, Inc. QRVO, each sporting a Zacks Rank #1 (Strong Buy). You can see the complete list of today's Zacks #1 Rank stocks here.

Long-term earnings growth rate for Fortinet, Cirrus and Qorvo is currently pegged at 14%, 15% and 10.1%, respectively.

Looking for Stocks with Skyrocketing Upside?

Zacks has just released a Special Report on the booming investment opportunities of legal marijuana.

Ignited by new referendums and legislation, this industry is expected to blast from an already robust .7 billion to .2 billion in 2021. Early investors stand to make a killing, but you have to be ready to act and know just where to look.

See the pot trades we're targeting>>
Want the latest recommendations from Zacks Investment Research? Today, you can download 7 Best Stocks for the Next 30 Days.
Click to get this free report
Fortinet, Inc. (FTNT): Free Stock Analysis Report
Qorvo, Inc. (QRVO): Free Stock Analysis Report
Cirrus Logic, Inc. (CRUS): Free Stock Analysis Report
Keysight Technologies Inc. (KEYS): Free Stock Analysis Report
To read this article on Zacks.com click here.
Zacks Investment Research